Christmas Gift Ideas for 2019 for Your Friends!
Author: Nicole Adler Date Posted:23 March 2019


Looking for a special Christmas gift for your friends this year? Why not take advantage of our big selection of luxurious Christmas hampers? The Hamper Emporium provides Christmas hampers containing some of the biggest and most renowned brands in the world, so feel free to head over to our catalogue and discover all the things you can take advantage of.
Have you checked out our extensive catalogue, but finding it difficult to select one hamper for your friends this Christmas? No worries, because the Hamper Emporium has you covered with an overview of the best gift baskets for friends. Check out our selected options below and provide your friends with the ultimate Christmas surprise!
Is the Moet & Chocolates Christmas Hamper A Good Christmas Gift for My Friends?
The Moet & Chocolates is one of the most luxurious Christmas hampers in our range. It contains a bottle of splendid Moet & Chandon champagne, but also selection of some of the finest chocolates this world has to offer. It is an ideal gift basket for chocoholic friends, but also a top suggestion for a Christmas party!
Moet & Chandon Brut Imperial is one of the most iconic champagnes to come from the Moet & Chandon champagne house. The champagne has been around for quite some time as well, considering it was first created in 1869.
The Moet & Chandon champagne was created from a mixture of various reserve wines, providing a champagne with a real complexity and the perfect blend of Pinot Noir, Pinot Meunier and Chardonnay. At the end of the day, it is really hard not to love the Moet & Chandon Brut Imperial NV Champagne.
When you go for one of our Moet & Chocolate Christmas hampers, you also get an exquisite selection of chocolate. You will find a great selection of handmade Butlers chocolates, an Irish chocolate manufacturer with plenty of history and a bunch of secret recipes that make their chocolate truly unique.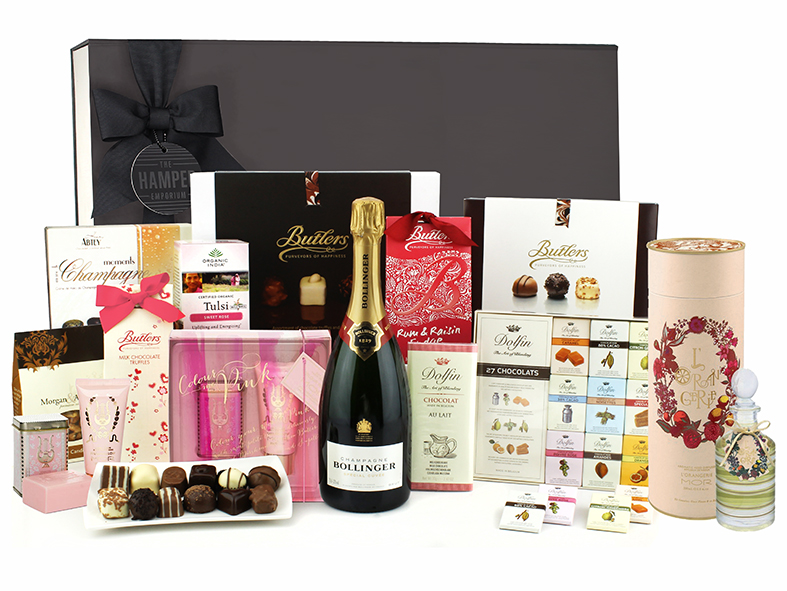 In addition to Butlers chocolates, you can also count on some chocolate from Willie's Cacao, created from the most exotic cacao beans. If you are a fan of extraordinary flavours, you are bound to enjoy the Willie' Cacao ginger & lime or hazelnut and raisin combination.
The Moet & Chocolates Christmas hampers also contain some delicious Christmas treats, including a handmade cake from Baylies Epicurean Delights, which was created with only the finest ingredients from South Australia. Add to that a selection of Belgian Butters Butter Biscuits and your friend are bound to have the best Christmas ever.
Could I Gift the Festive cheer Holiday Hamper?
Another great choice from our Christmas hampers range is the Festive Cheer Holiday Hamper, filled with delicious gourmet delicacies from all around the world. The hamper was created with the utmost attention to detail, and this certainly reflects in the products we have chosen for this Xmas hamper.
When you choose our Festive Cheer Holiday Hamper, your friends are going to be able to enjoy an exquisite bottle of 2010 Scarpantoni School Block Shiraz Cabernet Merlot. The Scarpantoni is not only a great bottle of wine to enjoy with a hearty meat dish, because you can also let it age for another ten years and experience something extraordinary from the Scarpantoni winery.
Naturally, a good Christmas hamper would not be complete without a selection of traditional Christmas treats. For that reason, we selected some special Copperpot Christmas Spiced Butter Fudge, a gorgeous selection of fudge filled with festive fruits and a hint of warm brandy. There is also a Baylies Epicurean Delights handmade cake to enjoy, perfect as a dessert on Christmas Eve.
The Festive Cheer Holiday Hamper also has a nice selection of international biscuits, including some biscuits from the Maison Fossier range. Maison Fossier has a rich history that dates back to the 17th century, so we are more than happy to provide you with some of their classics, including the Maison Fossier French Palmier Pastries and Chocolate Chip Puff Pastries.
Still, the traditional treats do not stop there. In addition to all the excellent products we described above, you will also get traditional ginger syrup, chestnut stuffing, almond thins and a biscuit selection from the English Farrah's of Harrogate.

What Do I Buy for My Champagne Loving Friends?
The Hamper Emporium has a very fine selection of champagnes. Each year, we set out to find the most exquisite bottles of champagnes from all around the world and include them in our most exclusive Christmas hampers. One of our Christmas hampers containing one of the nicest bottles of champagne is the Luxury Chocolate & Veuve Hamper.
Our Luxury Chocolate & Veuve Hamper contains the Veuve Clicquot Yellow Label Champagne, one of the finest champagnes in the world. The Veuve Clicquot is a champagne that has won multiple awards, so many awards that it is quite impossible to name them all here. When you are looking for a bottle of champagne that will be appreciated by a real champagne lover, you really cannot go wrong by picking our Luxury Chocolate & Veuve Hamper containing the Veuve Clicquot Yellow Label.
The Veuve Clicquot Yellow Label champagne is trademarked by a fine acidity and great flavour length, although there is an additional surprise for champagne collectors. If you store the Veuve Clicquot Yellow Label in optimal conditions for a certain period of time, the palate transforms into strong hints of buttered toast, brioche and vanilla.
To complement a luxurious champagne such as the Veuve Clicquot Yellow Label, we needed to find some exquisite chocolates and some of the finest biscuits. For that reason, the Hamper Emporium selected handmade Butlers chocolates, known for their creamy rich flavour. We also added some classics, such as the French Palmier Pastries from Maison Fossier. If you have a love for exquisite biscuits that can be eaten as a snack or go perfectly with a cup of coffee or tea, the Maison Fossier biscuits will certainly please.
Can the Hamper Emporium Help Me Decide Which Hamper to Get for My Friends?
Are you looking for a Christmas hamper with a very unique selection of products? Or do you need some advice on which hamper to choose for your friends? No need to worry, because the Hamper Emporium team is more than willing to help.
For more information on our Christmas Hampers, or to get some personal gift advice, please call the Hamper Emporium or send us a message via email.