Does the Hamper Emporium Offer Gift Cards If I Don't Know What to Purchase?
Author: Nicole Adler Date Posted:13 December 2016


The Hamper Emporium has an extensive range of gift hampers, so you can easily find the perfect gift baskets for your friends and relatives. However, sometimes it can be difficult to pick the best gift hampers for the recipients you have in mind, especially if you are not familiar with their personal preferences. Fortunately, the Hamper Emporium does offer you alternatives, so you are not obligated to buy one of our gift hampers. Curious what these alternatives are? Find out by reading our overview below!
Branded Experience Vouchers
Customers who would prefer to gift their recipient an experience instead of one of our gift hampers, could choose one of the branded experience vouchers our company can provide. These experience vouchers are quite diverse as well, ranging from traditional cooking classes to a helicopter flight over Sydney and Melbourne.

Like our range of gift hampers, the experience vouchers have a long date on them. Recipients can use their voucher over a period of twelve months. The clock starts ticking on the day you make the purchase, but twelve months is certainly a lot of time for your recipient to go an enjoy the unique experience you have obtained for them.

We do need to mentioned that unlike our gift baskets, our experience vouchers are available from one of our sister companies, so you may have to head over to their website to find an experience for your recipient. To find out where to go, please head over to our corporate hampers page and select "branded experience vouchers" from the overview.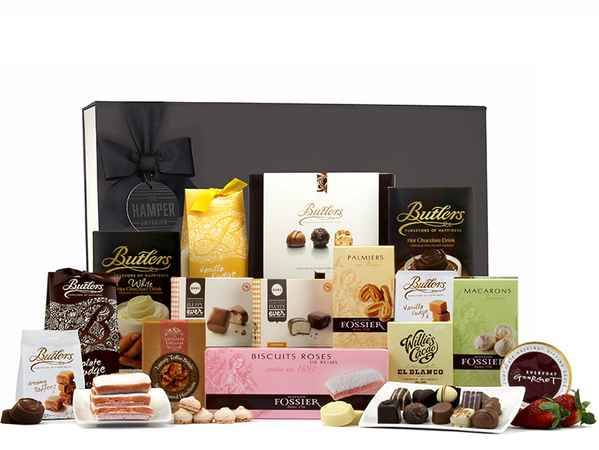 Homewares
Do you want to gift your recipient one of our delicious chocolate hampers, but would you prefer to add some homewares to that as well? No need to worry, because you can also purchase homewares to accompany chocolate hampers at the Hamper Emporium.

The range of homewares that accompanies our finest gourmet and chocolate hampers can be obtained from our sister company – Gifts Australia. In addition to homewares to accompany our chocolate hampers, you will also find different gift options there, including novelty gifts and experiences.
Corporate Branding Options
We understand that companies may need chocolate hampers or gift baskets with corporate branding for their important business relations, which is why corporate branding can be added to all our gift baskets.

Corporate branding can include many ways to add your company's brand to one of our gift baskets; this includes a branded ribbon, corporate gift tags and even engraved gifts to add to a hamper. To see all your options for corporate gifts, please head over to our corporate hampers page or contact the Hamper Emporium team for more information.
Branded Gift Vouchers
Our experience vouchers are not the only additional gift option you have at the Hamper Emporium, because you also have a large range of branded gift vouchers to choose from. With one of these branded gift vouchers, your recipient will be able to choose from thousands of products and experiences, so there is bound to be something your recipient absolutely loves.

Like our branded experience vouchers, our branded gift vouchers are available from our sister company Everything but Flowers. However, you can also contact the Hamper Emporium to request this addition to your gift selection.
Individual Luxury Items
At the Hamper Emporium, you can also get individual luxury items for your recipient. These items are obtained from brands we known and trust; this includes Waterford Crystal, The Aromatherapy Company, Stephanie Alexander, Moet & Chandon, Anne Gare and many more. So, if you could not find anything that matches your recipient, be sure to contact us for additional gift options.
Engraved Gifts
Is there an item you want to get engraved for your recipient, but you could not find this item anywhere? Then be sure to contact our support team, because we might be able to do this for you.

There are many different engraving options at the hamper Emporium, although the most common items to receive engraving are cheese accessories, crystal glasses and champagne bottles. So, if you would like to purchase an engraved gift, but have little to no inspiration at the moment, be sure to consider these options.

At the Hamper Emporium, the items can be purchased beforehand and engraved. After this, they can be stored in our warehouse and used when required. Therefore, this option is not only suitable for individuals in need of an engraved gift for their friends and relatives, but also for businesses who may need many engraved gifts to promote their business.

Need Help Selecting Your Gifts?
Are you having problems deciding on a gift? Or do you need a gift for a recipient that is difficult to buy for? In this case, you can count on the experience of the Hamper Emporium team, who can provide you with gift advice.

The Hamper Emporium team can be contacted in three ways. Customers can contact our team via live chat, email or telephone, so you can easily pick an option you are most comfortable with. We understand that not everyone likes to talk over the telephone; therefore, we offer more than one option for all our customers!
Free Deliveries
Do not forget that our free delivery service only applies to our range of gift hampers. If you purchase one of the items from our sister companies, this free delivery may not apply. Even though our sister companies do provide the occasional free delivery from time to time, our free deliveries apply to our entire range of hampers.
Bulk Orders
Are you a business looking for multiple corporate gifts, but do not have the time to deal with all the hassle surrounding it? No need to worry, simply put your trust in the experience of our professionals and have them do all the heavy work for you. Simply tell us what you wish to order and where to send it to. Of course, we also offer special deals for certain bulk orders, so make sure you inform about these options when you order from us.