2010 Scarpantoni School Block Shiraz Cabernet Merlot 750ml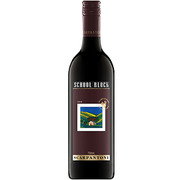 An incredible Scarpantoni style is perfect for meat dishes. Rich and full of flavour. Scarpantoni style wine that rich and densely flavoured goes perfectly with your divine meat dishes. Meet your exquisite meat dishes with this wonderfull concoction of Scarpantoni style wine.
A delicious blend in the typically flavoursome satisfying Scarpantoni style. Enjoy now with hearty meat dishes or cellar for up to 10 years. A gorgeous blend of Shiraz, Cabernet Sauvignon and Merlot. This is truly a gift for those who appreciate perfection.
Check out Our Gift Hamper with Scarpantoni School Block Shiraz Cabernet Merlot
Hamper Emporium strives for quality. Our gift hampers contain the best quality products and this can definitely be seen in the gift hampers containing the much desired 2010 Scarpantoni School Block Shiraz Cabernet Merlot!
Who Is Scarpantoni?
When you look at the range of gift hampers on Hamper Emporium, you will notice that we use the Scarpantoni brand quite often. Hamper Emporium believes in the quality that this brand provides, given the fact that this company has more than 30 years of experience.
Domenico and his wife Paola were the founders of the Scarpantoni brand and bought their first vineyard in 1958. The company kept on expanding and brought more family members into the business. To this day, Scarpantoni is still run by the original family.
The Scarpantoni wines fall under the category of McLaren Vale. All their red wines are generous, mouth-filling and have loads of flavours with regional characteristics. Scarpantoni has released a number of award winning wines and is therefore perfect to include in our gift hampers.
The 2010 Scarpantoni School Block Shiraz Cabernet Merlot
Next to many other Scarpantoni wines you will find in our gift hampers, you will also find the 2010 Scarpantoni School Block Shiraz Cabernet Merlot.
This particular wine is a gorgeous blend of Shiraz, Cabernet Sauvignon and Merlot. This blend therefore provides a true Scarpantoni style flavour. When combining this particular wine with a meal, we advise to go for hearty meal dishes.
The Festive Cheer Holiday Hamper
Customers who are looking for the 2010 Scarpantoni in our gift hampers, will find what they are looking for in our Festive Cheer Holiday Hamper, one of our Christmas gift hampers.
Next to the gorgeous Scarpantoni, you will also find a gorgeous range of delicious crackers made by Partridges Artisan Bakehouse. The Partridges Artisan Bakehouse is a company that prides itself providing products made from fresh and biological ingredients. For that very reason, we provide our customers with some black pepper crackers and Tuscan herb crackers from this company.
Another great brand you will find in this hamper is Elsa's story. We do not only use Elsa's story biscuits in this particular gift hamper, but also in other gourmet hampers we offer on Hamper Emporium. Elsa's Story started as a small family business producing homemade cookies. The small family bakery was a huge success and grew out to an international enterprise providing the world with traditionally baked delights.
Next to these great brands you will also find Tasmanian Fruit Pastes, Anna's Original almond thins, Baylies delights, Farrah's of Harrogate biscuits, Maison Fossier pastries, Pisti Sicilian pistachio cookies, AB ginger syrup and a delicious stuffing mix. In short, the Festive Cheer Holiday Hamper is definitely recommended amongst our gift hampers.
Do you have any additional questions about our gift hampers? Do not hesitate to contact us. Also feel free to contact our friendly support staff when you need help selecting the perfect gift hamper for a certain occasion. Gorgeous dry, red wine from Scarpantoni with a perfect balance of Shiraz, cabernet sauvignon and merlot.