When Santa Claus is Comin' To Town – Order a Christmas Food Hamper!
Author: Nicole Adler Date Posted:25 October 2017


Have yourself a merry little Christmas this season and indulge your tastebuds – and those of your loved ones – with a Christmas food hamper.
As the perfect gift for anyone who likes to eat or drink, you can't go wrong with a Christmas food hamper. Containing a beautifully presented range of scrumptious, finest-quality gourmet delicacies and liquor available in a price range to suit any budget, Christmas hampers are a way to bring joy to the world.
Who should you buy a Christmas food hamper for?
It's true, most children probably won't be impressed by a Christmas food hamper because little people (children, not elves) believe yummy food is part and parcel of Christmas but that doesn't mean it should be parcelled up as a gift – that's what toys and games are meant for!
But for your gift recipients who live interstate, the impossible-to-buy-for elderly relatives, the brother or sister, mum or dad who already has everything, your staff or clients, even a friend, acquaintance or neighbour that you'd like to buy for will LOVE a Christmas food hamper. What's not to love? A basket filled to the brim with beautifully packaged and presented, exquisite foods that taste divine and you hardly ever buy is sure to have even the toughest gift candidate saying 'ho ho ho.'
If you need gifts for clients or staff members, Christmas food hampers are a fabulous way to say Merry Christmas and thanks to those important people. Everyone loves a gift basket and they can be the perfect gift when you need something not too personal, or where you really don't know the recipient's taste. For the marketing-minded shopper, corporate Christmas hampers from The Hamper Emporium can even display your business logo.

What items should be included in a Christmas food hamper?
Anything, as long as it is gourmet, wickedly luxurious or sensationally delectable! There should be no holds barred at Christmas, it's the one time of year we give ourselves permission to eat, drink and be merry. Repeatedly.
When you purchase a freshly made Christmas hamper online they usually contain an assortment of delicious epicurean delights of the finest quality. They are foods not frequently consumed throughout the year, and won't be found in your local supermarket. If you are planning to buy or create a gift basket yourself, you can take inspiration from the hamper gurus at The Hamper Emporium. While they provide many different styles of hampers, from gourmet and corporate hampers right through to new baby and pamper hampers, their Christmas Hampers are unique, festive and truly heavenly quality.
If you're going to include champagne in your Christmas food hamper, it has to be Moet or Veuve, and if you're catering to a lover of red wine, the best Margaret River or McLaren Vale shiraz is a wise choice as can be seen in several of The Hamper Emporium's gift baskets.
The finest craft beers, ales and lagers are welcome inclusions for the lad or lady who isn't a fan of champers or wine. These can be combined with a range of quality, savoury nibbles such as Kalamata olives, beef jerky, beer nuts, crackers and tapenades, packaged and stunningly presented in a festive basket or a handcrafted wooden box.
Your Christmas food hamper may have a theme, such as chocolate or sweet delights, or it may contain a range of sweet and savoury delicacies such as those contained in The Hamper Emporium's Pure Gold Luxury Foodies Hamper filled to the brim with irresistible treats.
Also found in The Hamper Emporium's Christmas food hampers are the finest festive foods such as shortbreads, Christmas pudding, fruit mince tarts and fruit and nut Christmas cakes, exquisite pantry items such as relish, jam, chutney and a variety of pastes such as a delicious quince paste – the perfect addition to a cheese platter. There are both sweet and savoury sauces, a variety of tasty nuts, finely crafted chocolates, dried fruit, sweet biscuits, savoury crackers, terrific tapenades, and wickedly indulgent fudges and truffles.
When a seriously good Christmas food hamper is delivered to someone's door, it really is beginning to look a lot like Christmas!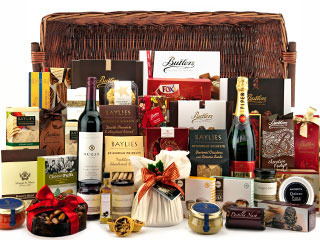 Are Christmas hampers affordable?
One of the best things about ordering a Christmas hamper online is that there is usually one to suit everybody's style and budget. At The Hamper Emporium you can choose from forty different gourmet, corporate or chocolate-themed Christmas hampers in a wide variety of sizes and prices. With delivery anywhere in Australia included for free, this represents exceptional value.
How do I know my Christmas hamper will be delivered on time?
Christmas hampers from The Hamper Emporium can be ordered from early November right up until delivery on the 21st of December, with the exact order and delivery dates for your location available on their website. The delivery times vary depending on your location, so check the website to be sure. The Hamper Emporium provide cut-off dates for ordering, so that you can be assured your hamper will be delivered in time for Christmas if your order is received by the cut-off date.
There is one thing you can count on in life - Santa Claus is comin' to town on the 25th December every year without fail. So when the silly season hits this year, make it a little easier on yourself by ordering your free-delivery Christmas food hampers from The Hamper Emporium.