How to choose between Christmas Hampers
Author: Justin Grossbard Date Posted:26 March 2014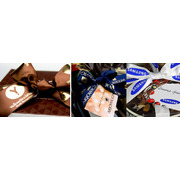 Choosing presents during Christmas for people you care about is always special. Christmas time is the best time to express your love and affection for people you care about the most. Christmas gives you an opportunity to show how special your family is and what it means to you. What to choose? Is it going to be loved? These are some of the questions that linger your mind when buying gift hampers. Treat a friend or a loved one with Christmas hampers at the hamper emporium filled with a wide assortment of Christmas goodies in style including champagne, wine, gourmet hampers, treats, chocolates and cookies. Celebrate Christmas holidays with
Christmas hampers
at the hamper emporium.


Gift that everybody loves
Be it a 2 year old or 50 year old, everyone likes chocolates. The chocolate hampers are one of the best Christmas gift hampers one can think of. It does sound like one perfect gift for every age group. Choose from a plethora of chocolate assortments at hamper emporium and bring that perfect smile on the face of your loved ones. Whether you are buying it for your best friend, a relative, kids or your partner, chocolates make a classic gift option. At hamper emporium you will find excellent quality Christmas hampers to meet your style, personality and most importantly, budget.

Gourmet hampers
Gourmet hampers are a symbol of luxury and indulgence. Hamper Emporiums gourmet Christmas gift basket is one of the finest in the culinary arts such as food, drink and everything that is needed to make your Christmas celebrations special. Our specialty includes quality champagne; fine wine, exceptional beer, scrumptious chocolates etc. Browse through our range of gourmet hampers at hampers emporium Christmas hampers selection. Gourmet treats hamper by hamper emporium is one of the popular gourmet hampers.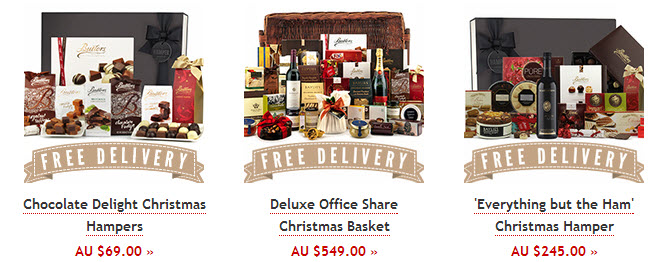 Food for thought
Our food hampers are one of the best ways to gift for Christmas occasion. The food hampers are carefully hand picked to make your gift basket one of a kind and unique. Christmas pudding, biscuits, condiments creates a beautiful gift basket to woo your loved ones. The gift hamper is presented in a luxury keepsake box finished with elegant black fabric ribbon that makes your gift hamper one of a kind. After all, Christmas isn't Christmas without sweets. The alcohol free truffles and pralines will make your gift hamper stand out among a bunch of other hampers. The extensive and unique range of Christmas gift hampers at hamper emporium has been designed to suit your gift hamper needs. Every single item is meticulously hand picked and arranged in a way you'll love. We work hard to create magic that you and your family members will cherish for years to come. So why wait, make someone's Christmas even more special with gift ideas from Hampers emporium.