The International Foodies Hamper
Author: Emily McWaters Date Posted:28 June 2016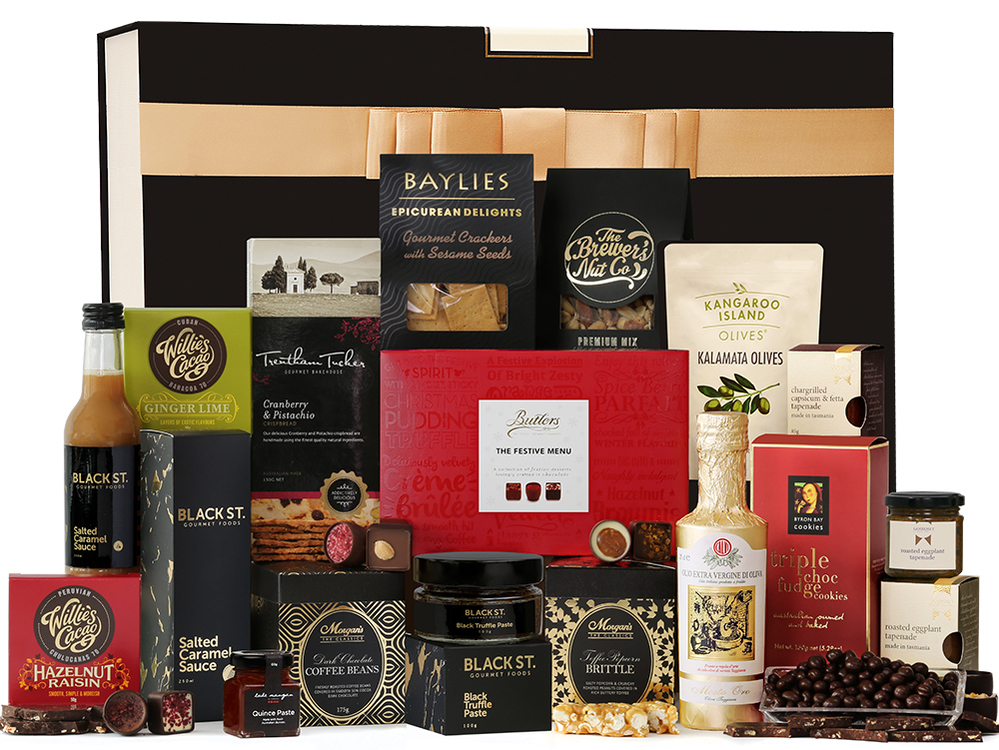 The International Foodies Hamper is a great treat for adventurous people. This hamper gives you an experience many gift hampers wouldn't. It combines exquisite delicacies from all over the world making it one of the most interesting gift hampers in our Christmas catalogue. You simply cannot afford to miss this delightful Christmas gift.

We are known for our great delicacies combination, and in our International Foodies Hamper we do it even better. We have combined delicacies that complement each other in every single way. For example, in this gift box, you will find Le Cordon Blue Olive spread that combines greatly with Elsa's Story crackers to give you a unique experience.

We have also selected the bestselling and experienced companies to give you treats that you won't regret. For example, in this gift box, we have treats from Jules Destrooper, a Belgian biscuit company that was founded way back in 1886! You can only imagine how experienced this company is. They are prominent for their exquisite biscuits and foodies such as the small butter waffle lukken. If you haven't tasted a biscuit flavour from this company, then you haven't lived enough!

The International Foodies Hamper also contains some foodies with Italian ancestry such as the Antichi Sapori Virgin Olive Oil and Morra Salsa Tartufata. So you can really add some Italian touch to your gift. Besides, the gift contains mushroom salsa and the white Alba truffle to add a certain degree of uniqueness to your kitchen; a reason enough to purchase this hamper.

Hamper Emporium's International Foodies Hamper wouldn't be complete without a French foodie. So in this hamper, we selected one of the best manufacture companies in France, Maison Fossier, who have its ancestral roots in Reims. Talk about experience, most of Maison Fossier's foodies recipes can be traced back to the 17th Century! So if you are looking for classic and unique aspects, then is just the treat for you!

If you are a foodie, then this is the perfect hamper for you; we have included delicious savoury nibbles, pantry items, chocolates, sweets, and biscuits.

The precise hamper content;
 500ml Antichi Sapori "Oro Tonda" Extra Virgin Oil — this Italian treat made from lovely virgin Olive oil is just wonderful when drizzled over pasta's soup as well as grilled vegetable.

 80g Tartufi Moraa Salsa Tartufata — also an Italian rooted foodie made from mushroom and Alba Truffles. Perfect variant sauce.
 50 Rio Caribe 44' Milk Chocolate — this is a delicious Willie's Cacao Milk of the Gods chocolate made from high quality chocolates from the finest international ingredients.
 100g Destrooper Butter Crisps — these are beautifully crafted crisps from Belgian butter. This foodie is a top notch for crisps lovers.

 100g Almond Florentines — made by Jules Destroopers , these sweet biscuits are served with Belgian Royal Court.

 125g French palmer Pastries — classic pastries made with 30% butter, with their incredible flavour, they are just superb with a fresh coffee mug.


 70g Comtesse du Barry Terrine De Gascogne — stylish pork foodie made with garlic, parsley, salt, and carrot.

 125g Crisp Baked Crackers Rosemary & Olive — made by Elsa's Story, these deliciously prepared crackers with Rosemary & Olive offers a unique taste.

 170g Oat Biscuits with Cornish Seasalt — these biscuits products manufactured by Rick Stein offers an elegant taste. They are produced in Cornwall; an English countryside.

 180g Le Cordon Bleu Paris Green Olive spread with Fennel — a delightful spread preferably served with a beautiful cheese platter.

 100g of Pollastrini Sardines Olive Oil and Tomato — a lovely appetizer or snack with plenty of phosphorus, iron, and zinc and very low on fat.

Quite plentiful right? This hamper gives you an opportunity to experience different flavors from different luxury gourmet from around the world. From the delicate French biscuits to high quality foodies and chocolate from other parts of the world such as Italy, Belgium, and England, the International Foodies Hamper has it all!

Now available at Hamper Emporium with FREE DELIVERY around Australia. Where are you located? Check out our delivery time in the table below and you can place your order.

| | |
| --- | --- |
| Region | Delivery Time |
| Darwin and outside major cities | 1 - 3 Business Days |
| NSW, VIC, QLD metro areas | 1 - 3 Business Days |
| Sydney Metro Area | Same Day Delivery |
| Melb, Bris, Adel, Perth, Hob, NSW cities | Next Business Day |
| TAS, SA metro areas | 3-5 Business Days |
| Perth and regional areas | 5 - 8 Business Days |

Note: We also have an Express Delivery option for only $22.95 per hamper

Looking for something else? At Hamper Emporium, we are flexible enough to bend and meet their needs. If you want a special hamper for your love ones, we can pack it and help you put bright smiles on their faces. We also have all sorts of corporate gifts for business purposes. Why don't you give us a call? Our contacts are 1300 459 452, or +61 2 9645 3516 for those calling from overseas. We are available between 9 am and 5 pm (AEDT) working days. You can also contact us through our email address sales@thehamperemporium.com.au.