What Is New In Christmas Hampers This Year?
Author: Nicole Adler Date Posted:12 November 2015


The Hamper Emporium is always looking for new products to add to their Christmas hampers. Just like every year, we have been searching for some extraordinary products to add to our Christmas hampers. Curious what we came up with for 2015? Read on to find out the latest products in our Christmas hampers!

What New Products Have Been Added To The Christmas Hampers?

Hamper Emporium has come up with a number of new products for their Christmas hampers. One of these new products is the English Copperpot Christmas Spiced Butter Fudge, a traditional Christmas treat that is incredibly popular in England.

Copperpot Christmas Spiced Butter Fudge is made with fresh fruit and a generous dose of alcohol, providing a treat that is really heart-warming and delicious. Fudge has been consumed in England as a Christmas treat for years, so a good fudge could not be missing in our Australian hampers.

Another new product you can find in our range of hampers is Morgan's peanuts and almonds. These premium nuts have been prepared with superior Australian ingredients, including premium honey and cinnamon. So if you wanted to try some Australian nuts for Christmas this year, be sure to have a look at our latest Christmas hampers.

We also included other international products this year, such as Anna's Original Ginger Thins. These biscuits were made in Sweden according to an old family recipe. After trying a few of these biscuits, Hamper Emporium had no choice but to add the Anna's Original Ginger Thins to the Christmas hamper range.

Hamper Emporium also looked at some of our existing brands for new products. Baylies Epicurean Delights has been included in our gift hamper range for years and their products always go down well with our customers. This year, we found a delicious shortbread from Baylies Epicurean Delights that needed to be added to some of our best hampers. Customers who want their holiday to be unforgettable should definitely have a look at the hampers containing this shortbread, since it is a treat that is appreciated by young and old.





Did Some Of The Classic Christmas Products Remain?

When something is working, you do not try to fix it. Based on that principle, we decided to keep the most popular products in our range this year and given the fact that our customers adore our selection of hampers, the product we kept are quite diverse.

Brown Brothers is a wine house that has been appearing in our gift hampers for years. Every Shiraz or limited release wine coming from this wine house has been an absolute favourite for wine experts and customers alike. We added a few limited release wines to our hamper range this year, but we also kept some Brown Brothers classics, which includes the 2013 Brown Brothers Heathcoate "18 Eighty Nine" Shiraz, the 2014 Devil's Corner Tasmanian Pinot Noir and the 2014 Devil's Corner Tasmanian Sauvignon Blanc.

The Brown Brothers wines are not the only alcoholic beverages that have conquered a permanent spot in our gift hampers range, since we also kept some exquisite champagnes from France. The two popular champagnes in our range that have maintained their number one position in our range are the Moet & Chandon Brut Imperial NV Champagne and the Veuve Clicquot Yellow Label NV Champagne. Be on the lookout for these two champagnes in our range, because it cannot be Christmas without them.

Customers who shopped with Hamper Emporium before probably know that we have an incredibly range of chocolates in our hampers as well. Even though we have added some new chocolates to the Christmas range this year, we still kept some old favourites, which includes Willie's Cacao, Butlers Chocolates and Fardoulis. These three brands created the perfect blend of a traditional gourmet experience and exotic chocolate delights.

When we mention some of the superior products we have kept in our hamper range, we cannot forget about two classics that will never disappear from our hampers – Maison Fossier and Jules Destrooper. Both Maison Fossier and Jules Destrooper have a history that goes over many centuries. They also became the official biscuit supplier of the royal family in their country of origin, more specifically France and Belgium.

Which Hampers Contain New Products?

Want to get one of our gift hampers with some of the new products we mentioned above? Then you may want to have a look at one of the hampers below!

The first hamper where you can find some new products is the Christmas Bites Xmas Hamper. Inside the hamper, you will find new products such as Morgan's Christmas Milk Chocolate Cranberries, Morgan's Honey Roasted Peanuts and Anna's Original Almond Thins.

More interested in the Copperpot Fudge? Then you should head over to the Indulgence Xmas hamper, which contains this gorgeous English treat. In addition to the Copperpot Christmas Spiced Fudge, customers will also get spoiled with the new Morgan's peanuts and cranberries and all-time classics such as Maison Fossier and Baylies Epicurean Delights.

Another updated Christmas hamper that is worth a visit is the Sparkling Christmas Hamper. Inside the hamper you will find top brands such as Partridges Artisan Bakehouse, Valley Produce, Tasmanian Fruit Pastes, Maison Fossier, Baylies Epicurean Delights and one of our latest additions, Farrah's of Harrogate.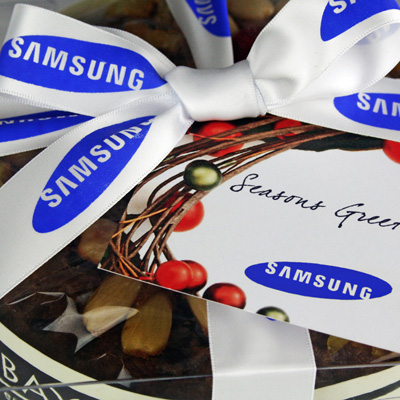 Any Champagne Related Hampers You Can Recommend This Christmas?

A champagne hamper is a perfect gift for Christmas and New Year, so we have plenty to offer this year. If champagne is your main objective for Christmas, we can recommend having a look at the Champagne Triple Treat.

The Champagne Triple Treat is a hamper that contains the three best champagnes in the world, more specifically the Moet & Chandon Brut Imperial NV, the Bollinger Special Cuvee and the Piper-Heidsieck.

Would you rather have a combination of champagne and delicious gourmet treats? If this is the case we can recommend the Luxury Chocolate & Champagne hamper or the Celebrate Xmas Hamper. Each hamper contains a fine bottle of champagne and international gourmet products that will make your Christmas the best Christmas you ever had!