Hamper Emporium: Premium Office Share Christmas Gift Basket
Author: Nicole Adler Date Posted:28 June 2016


Celebrating the festive season with your officemates is a memorable event that should only be done in pomp and style. So, go all out this Christmas and pamper your colleagues with Hamper Emporium's Premium Office Share Gift Baskets. These large-share gift hampers in our Christmas collection are packed with the finest savoury delicacies, which are perfect for enjoying special occasions and achievements with your co-workers at the office.
Premium Office Share Gift Basket Contents
Our Premium Office Share Christmas Gift Baskets come with a wide assortment of delicious treats, giving you and your friends plenty of options to savor such that you simply won't know where to begin.
From exceptional wine and champagne, to assorted savoury nibbles; and irresistible chocolates, biscuits and sweets - these gift hampers are filled with only the highest quality delectable foods and drinks guaranteed to impress everyone. Once you've tasted these scrumptious delicacies, you and your workmates will never want anything else again!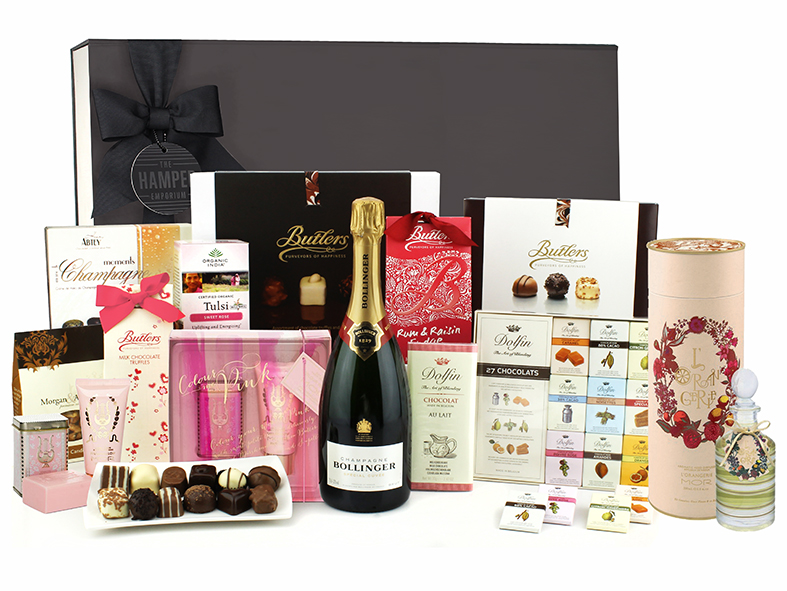 For this hamper, we have selected luxurious brands such as Maison Fossier, Partridges Artisan Bakehouse, Bollinger, Butlers, Baylies, and Willie's Cacao, among many others.
Here is what to expect:
 130g Baylies Gourmet Crackers with Sesame Seeds:
An exquisite selection of handmade gourmet crackers that are perfect for entertaining and platters. These luscious South Australian treats are prepared with sesame seeds and fruity olive oil.
 170g Rick Stein's Savoury Oat Biscuits with Cornish Sea Salt:
A healthy savoury snack made with the finest English ingredients that's bursting with delectable flavours. For health-conscious individuals, this delicacy is an ideal alternative to sugar-filled biscuits.
 100g Partridges Artisan Bakehouse Black Pepper Crackers:
An excellent selection of flavoursome Artisan crackers for gourmet lovers with a refined taste. These fine treats will add a unique peppery flavour to any entertaining platter.
 75g Valley Produce Co Pear and Hazelnut Fruit Paste:
A flavourful Australian fruit paste made from a perfect blend of roasted hazelnuts and freshly pureed William pears. This exquisite paste from the Valley Produce Company is a must try.
 75g Valley Produce Co Pyramid Fig and Almond:
Made in Australia, this delightful fruit pyramid pairs perfectly with soft cheeses. It's prepared using fresh almonds and black mission figs.
 100g Partridges Artisan Bakehouse Tuscan Herb Crackers:
Ideal for cheeses, fruit pastes and dips, this tasty selection of natural herb crackers are made with the freshest herbs including basil, rosemary and oregano.
 180g Le Cordon Bleu Paris Green Olive Spread with Fennel:
World-famous traditional olive spread made in France, that's a true delight for all foodies. It brings a delicious unique flavour toall cheese platters or simply dip in gourmet crackers.
 170gm Valley Seed Crisps Fig and Olive:
A unique selection of yummy seed crisps from Australia, that provide a savoury taste sensation which never disappoints. They are suitable for any occasion.
 170gm Valley Seed Crisps Cranberry and Hazelnut:
Nutty and sweet, seed crisps with hazelnuts and cranberries, which make an exquisite treat for everyone. They are a nice accompaniment for fine cheese.
 120g Brewer's Nut Co. Brewer's Blend of Smokey BBQ Nuts:
This amazingly delicious selection of smokey barbecue nuts is ideal for summer parties. Pair this delicacy with any Australian beer and you will surely enjoy the moment.
 120g Brewer's Nut Company Premium Nut Mix:
A great blend of the freshest, mouthwatering seasoned nuts including Australian peanuts and almonds, creamy cashews, salted Brazilian nuts, and hazelnuts.
 120g Brewer's Nut Co. Classic Beer Nuts:
A true delight for beer and cider lovers, this classic blend of Australian beer nuts is simply irresistible.
 100g Gaea Sweet Sundried Tomato Tapenade:
Prepared with sun ripened tomatoes, this gorgeous, slightly sweet tapenade with rich flavours is perfect as a dip or spread.
 100g Gaea Smoked Aubergine Dip:
A truly luscious smokey aubergine flavoured dip that can be used to dip vegetables or crackers.
 60g Tasmanian Fruit Pastes, Quince Paste:
Made in Tasmania, this sensational quince fruit paste is an ideal complement for your favourite cheese.
 60g Tasmanian Fruit Pastes, Fig and Walnut Paste:
Excellent as a spread or as a dip, this Australian fruit paste that's made using fresh walnuts and figs is a true delight for entertainers.
 125g Maison Fossier French Palmier Pastries:
Incredibly rich in flavour, these classic delicious puff pastry biscuits made in France, go well with a fresh cup of coffee.
 100g Maison Fossier French Almond Macarons:
An exquisite selection of wonderfully delicate, finger-licking macarons with hints of almond from France, which make an ideal accompaniment for your afternoon tea.
 135g Maison Fossier French Galettes St Remi:
Authentic traditional French buttery delicacies created by one of the oldest biscuit factories in France, Maison Fossier. They appeal to people of all ages.
 100g Jules Des Trooper Virtuoso:
World famous Belgian butter biscuits with a perfect combination of Indonesian cinnamon and Belgian chocolate to delight your senses.
 150g Anna's Original Almond Thins:
Made to satisfy your sweet tooth cravings, these delectable almond biscuits with hints of cinnamon are perfect treats for special occasions.
 300g Great Temptations Raspberry Swirl Cupcakes:
Delicious, moist Australian cupcakes, topped with a gorgeous layer of Raspberry flavoured frosting, that go well with Champagne.
 300g Great Temptations Carrot and Walnut Cupcakes:
Fantastic handmade, Australian walnut and carrot cupcakes covered with a swirl of luscious cream frosting.
 250g Maison Fossier French Gingerbread Fondant:
A stunning gingerbread fondant from France with rich authentic balanced flavours that makes it perfect for the holidays.
 175g Morgan's Honey Roasted Peanuts:
Packed in a lovely gift box, these delicious roasted peanuts are traditionally prepared in 100% Australian honey, providing a nice balance of saltiness and sweetness.
 175g Morgan's Lux Chocolate Enrobed Fruits and Nuts:
An incredible assortment of Australian fruits and nuts, covered with the finest white, milk and dark chocolate to give you the ultimate treat of sweetness.

 750ml bottle of 2010 Scarpantoni's School Block Shiraz Cabernet Merlot:
This outstanding dry, red wine is a uniquely delicious blend of cabernet sauvignon, merlot and Shiraz. It's a perfect accompaniment for hearty Christmas dishes.
 750ml bottle of Bollinger Special Cuvee Brut NV Champagne:
Unquestionably unique in all aspects, this full-bodied, luxurious, tantalizing champagne with excellent maturity is one of the finest of all French champagnes.
 180g Butlers Chocolates Handmade Chocolate Collection:
A delicious assortment of handmade white, milk, and dark chocolate truffles from Ireland.
 50g Willie's Cacao El Blanco Venezuelan Pure White Chocolate:
Incredibly tasty and yummy, milky piece of chocolate, created from a perfect blend of British milk and natural cacao butter from Venezuela.
 50g Willie's Cacao Milk of the Gods; Rio Caribe; Milk Chocolate:
A high-quality, silky smooth mouthwatering milk chocolate, made with the finest international ingredients by Willie's Cacao.
 Harney & Sons Vanilla Camoro Tea 5 Silk Tea Pyramids:
Traditional decaffeinated black tea with hints of vanilla and other fresh natural ingredients. It's one of the most delightful black teas in the world.
With such an incredibly exceptional collection of fine delicacies, this Premium Office Share Gift Basket is certainly the best choice for celebrating this year's festive season with your workmates. Furthermore, it also makes a great Christmas gift for large families or couples. Get these gift hampers on the Hamper Emporium and you will not regret it.
Delivery Times
Standard Delivery for all Christmas gift hampers for areas within Australia is FREE! Below are our delivery times:
| | |
| --- | --- |
| Region | Delivery Time |
| Darwin and outside major cities | 1 - 3 Business Days |
| NSW, VIC, QLD metro areas | 1 - 3 Business Days |
| Sydney Metro Area | Same Day Delivery |
| Melb, Bris, Adel, Perth, Hob, NSW cities | Next Business Day |
| TAS, SA metro areas | 3-5 Business Days |
| Perth and regional areas | 5 - 8 Business Days |
Note: We offer Express Delivery at only $22.95 per hamper.
For more delivery information, visit our Delivery page. Our dedicated team is also available on working days from 9 am to 5 pm Sydney, Australia time (AEDT). Do not hesitate to reach us on +1300 459 452; for all your questions and enquiries. You can also contact us on +61 2 9645 3516 if calling from overseas. Our sales team is also available through our email address sales@thehamperemporium.com.au; or through corporate@thehamperemporium.com.au for all enquiries on corporate Christmas/gift hampers.