What Are the Perfect Gift Hampers for My Parents?
Author: Loreena Walsh Date Posted:18 July 2019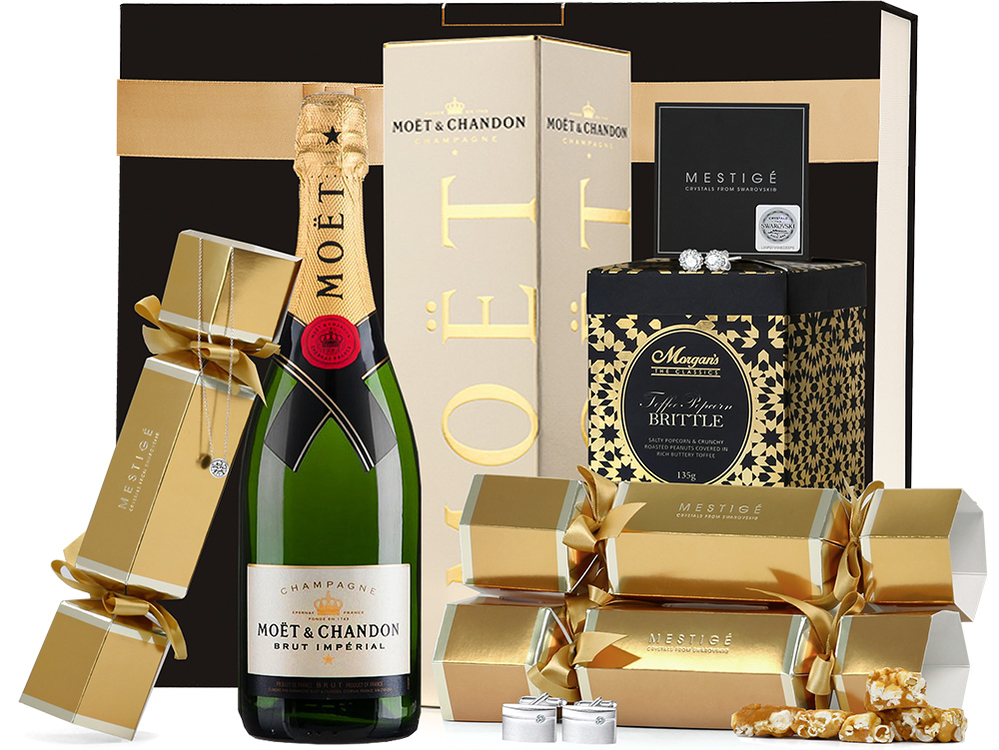 Mums and dads provide endless and unconditional love and support the whole year through. At Christmas, and all other special occasions, the best kids seize the moment to reward their parents with the finest festive gestures, at prices that are tailor made to match pint-sized budgets.
The Hamper Emporium makes a big impact on even the smallest gift givers with an extensive selection of Christmas hampers that have been expertly sourced, curated and superbly packaged to impress with finesse.
Your parents will be richly rewarded with the premium range of luxury gourmet foods, the finest local wines, world-famous Champagnes, spirits, craft beers, ciders and so many more supreme flavours to savour.
The smiles will be winning as the whole family are grinning, sampling, sharing and celebrating the festive spirit of festive love and appreciation with these gourmet pleasures for all to treasure.
What are some good Christmas hampers for parents?
There's an enticing selection of luxurious Christmas hampers for parents that are filled with the highest-quality products, yet priced to suit all budgets and tastes.
The Veuve Christmas Hamper is a perfect example. This designer-worthy selection is custom made for discerning mums and dads who appreciate life's little luxuries. The Veuve Christmas hamper features an exquisite bottle of Veuve Clicquot Brut Imperial and gold-encased Mestige Christmas crackers that are filled with Swarovski crystal jewellery and cufflinks. There's also a handpicked assortment of sweet treats to tempt the finest festive tastes.
Your chocoholic parents will be convinced that all their Christmases have come at once with The Sweet Epicure Hamper. This premium sweet-tooth selection is resplendent with gourmet chocolate truffles, chocolate-covered nuts, pretzels and berries, rich buttery shortbreads, nutty brittles and sweet nuts by the cream of Australian chocolatiers and confectioners. It's also priced to please petite purse strings. This family-friendly Christmas hamper selection is also curated, perfectly packaged and promptly delivered for sharing with the sweetest gift givers.
What to put in a Christmas hamper for parents?
The Christmas hampers selection for parents is brimful with festive-themed gourmet foods, including handmade Christmas cakes, fruit mince tarts, Christmas puddings, premium roasted and sweet nuts, buttery traditional and macadamia shortbreads, sweet and savoury spreads, gourmet cracker, artisan chocolates and all other sweet sauces and treats are also available and especially popular at this celebratory time of year.
How to choose Christmas hampers for parents?
Gift-giving kids should jump online at The Hamper Emporium to view the complete range of Christmas hampers for parents available for immediate purchase.
There's an extensive selection of specialty gift hampers that have been expertly curated for the festive season.
The Hamper Emporium also provides an online chat function for one-on-one customer service support for prompt assistance with your Christmas hampers and all gift-giving recommendations and guidance.
What is a good gift idea for Christmas hampers for parents?
The perfect Christmas hampers gift ideas for parents are found in plentiful supply with ever-affordable price tags at The Hamper Emporium. The White Wine and Nibbles Hamper, Chandon Christmas Hamper and Barossa Shiraz and Christmas Cake Hamper are just a few gift selections that are designed to impress with the finest festive offerings. Premium Australian red, white and sparkling wines, taste-tempting gourmet foods for sweet and savoury palates and Swarovski crystal jewellery in gold-encased Christmas crackers provide unforgettable touches of luxury and supreme taste that enhance the Christmas spirit of loving and giving.
Which is the best website to buy Christmas hampers for parents?
The Hamper Emporium's website is your go-to zone for all the latest and greatest Christmas hampers for parents. The finest selection is overflowing with premium local wines, world-renowned Champagnes, spirits, craft beers, ciders, gourmet foods for sweet and savoury palates and all the luxurious trimmings.
The Hamper Emporium's gift hampers are all set to arrive in elegant keepsake gift boxes with premium gift-wrapping and a complimentary gift card for you to personalise your greeting.
Free Australia-wide delivery is also included with every hamper purchase at The Hamper Emporium. This small but immeasurable gesture for the gift giver, courtesy of The Hamper Emporium, occurs not only at Christmas, but for birthdays, anniversaries, with all personalised gift ideas, corporate gift giving and for special occasions the whole year through. So start your online shopping today for the perfect Christmas hampers for parents at The Hamper Emporium.