Benefits from Premium Corporate Christmas Hampers
Author: Nicole Adler Date Posted:23 March 2019


Do you want to send a gift to a good business relation during the holiday season? Then be sure to consider the Australian Christmas hampers at the Hamper Emporium, which are the perfect gifts to advertise your business!
Every gift basket at the Hamper Emporium can be used as a corporate hamper, simply by using the corporate branding options available online. Choose one of our premade gift baskets and request corporate branding by contacting our helpful team, it is that simple.
Of course, the Hamper Emporium also creates corporate hampers, so you are not obligated to choose a hamper from one of our other categories. Curious how these Australian Christmas hampers can strengthen the bond between yourself and an important business relation? Read on to find out everything you need to know!
How Do I Select Australian Christmas Hampers Suitable for Business Relations?
To get a corporate hamper that represents your business perfectly, you can choose any of the Australian Christmas hampers (or a hamper from another category). Simply select your favourite and then the Hamper Emporium will add your company's brand to it. We can also send your Australian Christmas hampers to recipients directly, so you do not have to deal with all the hassle!
Even though there are many Australian Christmas hampers suitable for your recipient, businesses can also advertise with their own product. If you want to add corporate branding to one of your products – or select another gift from one of our sister sites – you can contact the Hamper Emporium for more details. The possibilities are endless!

What Corporate Branding Options Are Offered at the Hamper Emporium?
The Hamper Emporium can transform your chosen Christmas hamper with many personalisation options; this includes corporate ribbons and gift tags. All personalisation options can be designed to meet your brand; this includes your company's colours, logo, name, or slogan.
When you visit our corporate hampers page, you will see some examples of the personalisation possible with the Hamper Emporium. There are many Australian businesses who already took advantage of our services, so you might even spot one you know!
In addition to our basic options such as corporate ribbons and gift tags, businesses can take it a step further with our additional options; this includes engraved gifts, branded experience vouchers, gifts, accessories, and homewares!
What Are the Engraved Gifts at the Hamper Emporium?
There are several gifts that could be engraved with your company's brand. These items can easily be obtained from the Hamper Emporium, so you do not have to look for another supplier to provide these gifts to you.
The Hamper Emporium gives you the option to choose between crystal glasses, wine bottles, champagne bottles, and cheese accessories. If you prefer any of these products, simply contact the Hamper Emporium and select your favourite item to be personalised.
We do need to mention that prices for engraved gifts may vary. Therefore, we recommend visiting the corporate hampers page, where you can view all relevant prices for the available items. Alternatively, you could request our engraving services for one of your own products.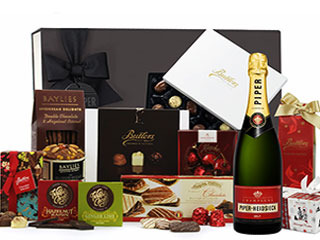 What Branded Experience Vouchers Does the Hamper Emporium Offer?
The Hamper Emporium has two sister sites that can provide branded experience vouchers. Fortunately, you do not have to go anywhere to acquire them, because you can contact the Hamper Emporium and get them through us. If you would rather have an overview of these branded experience vouchers before you make a purchase, then you can always visit our sister sites for a complete overview.
A branded experience voucher makes a lovely gift for every recipient, because there are many experiences to choose from. You could choose a corporate bonding experience in the Australian mountains, but you could also select a lovely gourmet dinner in one of the many available locations. It is certainly a gift that won't be forgotten easily.
What Are Hamper Emporium's Branded Gift Vouchers?
If you want to reward your most loyal customers, you could also choose Hamper Emporium's branded gift vouchers. With our branded gift vouchers, you can choose an amount between $30 and $1,000 to give your customer the ultimate reward. We also offer discounts for bulk purchases, so be sure to enquire about those if you need more than one branded gift voucher for your customers.
As the name suggests, the branded gift vouchers can be personalised with the brand of your company, just like our hampers. It is the perfect option for businesses who do not know the personal preferences of their important clients, but still want to reward these customers with a gift they will never forget.
Can I Get Other Corporate Gifts from the Hamper Emporium?
The Hamper Emporium and its sister sites stock many brands; this means that our range is not limited to gift hampers. Amongst a sea of options, you can count on well-known brands such as MOR, Vera Wang Wedgwood, Stephanie Alexander, Moet & Chandon Champagne, and Waterford Crystal.
Since there are so many options, we recommend visiting our sister site Everything but Flowers to get a full overview of the gifts we can offer. If you would like to use one of these gifts instead for your important business relation, simply contact the Hamper Emporium and we will take care of the rest.
Thanks to our experienced team of customer service representatives, we can cater to the needs of most our business clients. Even if you choose a separate gift from our sister website – and decide you need that gift in bulk – you might still be eligible for a special deal. Therefore, always contact the Hamper Emporium for your corporate branding needs if you want the best deal!
Contact the Hamper Emporium for Your Corporate Branding Today!
Do you want to take advantage of the Hamper Emporium's corporate branding services? Contact us today to take advantage of our outstanding service! Customers can leave us a message on the live chat window, which can be found on the lower left corner of the screen. You can also send us an email if you do not have the time to contact us by telephone.
Still, to get the information regarding your order immediately, it is recommended to call the Hamper Emporium and speak to our team of customer representatives. By speaking to us directly, we can set up your corporate branding and inform you about any special deals right away!