What Quality Products Does The Hamper Emporium Use In Corporate Christmas Hampers?
Author: Nicole Adler Date Posted:23 March 2019


When you are choosing something from our collection of Christmas hampers, you want your hamper to be filled with products of the most exquisite quality. In order to provide our customers with the quality they deserve, Hamper Emporium handpicks the quality brands deserving to be in our selection of Christmas hampers.
Curious what we have to offer this year? You are in for a treat, because our hamper designer has selected some of the world's finest brands! Our collection contains a lot of Australian brands, but we also found some international gems we know you are going to be interested in. To learn more about these brands, be sure to read the information provided by our team below.
What Biscuits and Sweets Brands Are in Your Christmas Hampers?
The quality of biscuits and sweets at Hamper Emporium is undeniable. In order to provide you with the best products, we do not only look for great biscuits and sweets within Australia, but internationally as well; this enables us to provide gift baskets with loads of versatility and flavour!
One of the biscuit brands we discovered for our Christmas hampers is Maison Fossier. Maison Fossier is a French biscuit manufacturer with worldwide renown. They are most famous for their biscuit roses, but their other releases are just as perfect.
Maison Fossier is located in Reims, France. The company itself has been around since 1756, during the reign of the French king Louis XV. The success of their first invention, biscuit roses, was undeniable after they were served during the coronation of Louis XVI. Ever since, Maison Fossier biscuits have been known as a French delicacy. Customers who never tried Maison Fossier biscuit roses before can now enjoy them as well by getting one of our Christmas hampers.
Of course, there are more famous biscuit brands to discover in our Christmas hampers. One of these extraordinary brands is Jules Destrooper, a Belgian biscuit manufacturer with a rich history. Jules Destrooper was founded in 1886 and became famous for its traditional Belgian butter waffle.
The Belgian butter waffles Jules Destrooper became famous for are still available today, so you can also find them in our Christmas hampers! However, the success of Jules Destrooper did not stop with Belgian butter waffles, because there are a lot more Jules Destrooper biscuits that have been awarded some of the most prestigious food awards in the world. If you are curious about these biscuits, be sure to check out our range of Christmas hampers!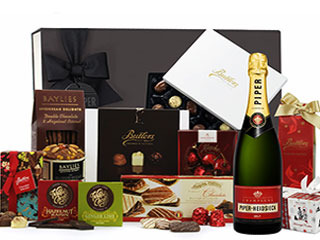 What Champagnes Can I Find in Your Hampers?
When it comes down to celebrating Christmas, you really cannot go without a good glass of champagne. For that reason, Hamper Emporium has selected some of the finest champagnes for our Christmas hampers this year. We bring you the finest champagnes from the heart of France, some of which are listed below.
One of the champagnes you can find in our range is the Moet & Chandon Brut Imperial. The champagne was created in 1743 and has been one of the world's most favourite champagnes ever since. The Moet & Chandon Brut Imperial is mainly known for its bright fruitiness and seductive palate. It also has an elegant maturity, which makes it the perfect champagne to celebrate Christmas with.
Another exceptional champagne you can find in our hampers is the Veuve Clicquot Yellow Label, a champagne produced with grapes from 50 to 60 different crus. The champagne contains approximately 50 to 55% pinot noir, which gives it the strong structure of a good house wine, 15 to 20% pinot meunier to ensure a good blend and 28 to 33% of chardonnay to give the champagne the elegance and balance it needs. If you are looking to buy a champagne for a real connoisseur, you really cannot go wrong with this one.

Do Your Christmas Hampers Contain Australian Products?
There are many high-quality products that are being produced in Australia, so customers can also find some of the best Australian products in our hampers. One brand you can find in our hampers, and that you are probably already familiar with, is Brown Brothers.
Brown Brothers is one of the biggest and most successful wineries in Australia. The company has been making wine since 1889 and this certainly shows in the quality of their wine time and time again. Some famous Brown Brothers releases you can find in our hamper range are Devil's Corner Pinot Noir and the 18 Eighty Nine Shiraz.
Another great product made in our very own Australia is Fardoulis chocolate. The company started creating their chocolate delights in 1985, when they invented an after dinner mint for various restaurants and cafés. Their creations were a big success and Fardoulis has been creating some of the most exceptional chocolates ever since. When you have a look at our range of hampers this Christmas, you will notice various chocolate gift boxes from the Fardoulis brand.
In addition to chocolate and wine, you can also find a nice selection of Australian beers in our range, for example our MicroBreweries of Australia Hamper, which contains some of the best beers Australia has to offer. Customers who are a real lover of James Squire beer can also find their thing in our James Squire Ale Hamper.
Can I Get Corporate Branding for All Christmas Hampers?
Christmas is not only a great time to bond with friends and family, it is also the ideal time to work on the relationship with your business relations. If you would like to gift one of our Christmas hampers to a client, business partner, colleague, supplier or other business relation, you can take full advantage of our corporate branding services.
Customers who want to add their own brand to a specific Christmas Hamper can contact the Hamper Emporium for more details. Or in-house graphics designer will take the time to discuss the design with you and create a hamper according to your wishes. Thanks to the corporate branding of the Hamper Emporium, you will be able to add ribbons, greeting cards and more.
Can I Contact the Hamper Emporium If I Have a Question About the Brands in Your Hamper Collection?
Are you not so familiar with a certain brand used in our Christmas hampers? Do not hesitate to contact the Hamper Emporium for more information. Simply call us and our staff will be more than happy to tell you more about the quality brands used in our hamper range.