The Exquisite Red Wines in the Australian Christmas Hampers Collection
Author: Nicole Adler Date Posted:29 June 2017


If your recipient is quite the fan of red wine, you will always have some Australian Christmas hampers at your disposal when you shop at the Hamper Emporium. When selecting wines for our Australian Christmas hampers, our hamper designer looks at merit, blend and even individual aspects such as palate and aroma. Do you want to discover the finest red wines in our Australian Christmas hampers? Read on to find out more!
Does the Hamper Emporium Offer Red Wines from the McLaren Vale Area?
There are some red wines that come from the popular McLaren Vale wine region. One of the wines in our gift hampers range that comes from this region is the 2014 Robert Oatley McLaren Vale Shiraz, which is also a part of the Robert Oatley Signature Series.
The 2014 Robert Oatley McLaren Vale Shiraz has obtained 91 points from James Halliday, so it certainly lives up to the standards of the Robert Oatley wine label. It is the perfect wine to impress, featuring lots of fruity flavours and spices. In addition to its vibrant fruity palate, the 2014 Robert Oatley McLaren Vale Shiraz also has numerous fine tannins, balanced acidity and a lingering juicy finish that leaves everyone wanting more.
A bottle of 2014 Robert Oatley McLaren Vale Shiraz is also a nice gift for wine collectors and connoisseurs, because this wine can be cellared between five and ten years. It can also be enjoyed with various gourmet meals, including delicious lamb chops and red meats.
There are several Australian Christmas hampers that contain the 2014 Robert Oatley McLaren Vale Shiraz. One of these hampers we recommend is the Red Wine & Nibbles Hamper, which contains an amazing selection of gourmet nibbles from superior brands such as Baylies Epicurean Delights, Partridges Artisan Bakehouse, the Brewer's Nut Company, L'Orto di Franco, Kangaroo Island, Gourmet Regional and Tasmanian Fruit Pastes. So, if you want a good all-round hamper, be sure to consider this exquisite option.

Does the Hamper Emporium Have Any Unusual Shiraz Releases?
If you want to find something out of the ordinary where red wine is concerned, then you will also find some great options at the Hamper Emporium. One unusual shiraz release that is perfect for collectors and connoisseurs is the Cape Mentelle Shiraz.
The 2013 Cape Mentelle Shiraz is certainly different from most shiraz releases. The grapes for this shiraz were obtained from a region you might not immediately expect – the Margaret River area – one of the most underestimated wine regions in Australia. Of course, the release of the Cape Mentelle Shiraz has proven that the Margaret River area can deliver one of the best shiraz releases in Australia! So, never underestimate the underdog!
A 2013 Cape Mentelle Shiraz delivers a wine that takes full advantages of French and Australian winemaking techniques, featuring a palate with black cherries and numerous dry spicy notes. Therefore, you could describe this wine as a true savoury rocket.
In addition to packing a lot of punch, the 2013 Cape Mentelle Shiraz can be cellared for more than ten years. Therefore, this shiraz is certainly an option for wine collectors and wine connoisseurs. Even though there are other shiraz releases in our collection that might please a collector or a connoisseur, the Cape Mentelle Shiraz brings something special to the table that is hard to find anywhere else.
If you are considering the 2013 Cape Mentelle Shiraz, then you should certainly look at the Chocolates & Red Hamper. In addition to a nice bottle of 2013 Cape Mentelle Shiraz, the Chocolates & Red Hamper also contains an exquisite selection of chocolates; this includes Butlers Handmade Chocolate Selection, Willie's Peruvian 70% Dark Chocolate with Hazelnut & Raisin, and Butlers Chocolate Truffles. In short, a great hamper for chocoholics as well as wine connoisseurs.
The Chocolates & Red Hamper also contains some exquisite biscuits and sweets; this includes Byron Bay Triple Chocolate Fudge Cookies, Morgan's Dark Chocolate Coffee Beans and Morgan's Luxury Chocolate Fruit & Nut Mix. These snacks can be enjoyed on their own, but they also match the 2013 Cape Mentelle Shiraz. In conclusion, this is again a great all-round hamper for a variety of recipients.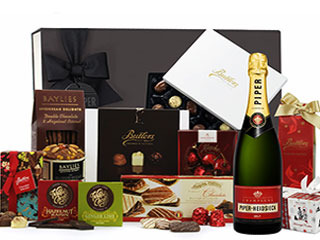 What Other Wines Can You Recommend from the Hamper Emporium Collection?
In addition to the exquisite red wines we have recommended, there are some other options in our collection of gift hampers too. So, if you are thinking beyond red wine, be sure to check some of our additional recommendations.
If you are stepping away from red wine, why not choose one of the finest champagnes in our collection? The Moet & Chandon Brut Imperial Champagne is one of the best champagnes in the world. It is often served at high-end restaurants, but also at red carpet events. Therefore, a bottle of Moet & Chandon Brut Imperial Champagne is surely going to please a recipient.
In addition to champagne and wine, we must also urge our customers to look at the beers and ciders in our collection. Our hampers with beers and ciders have a lot to offer, because all the beverages chosen for these hampers are obtained from renowned breweries in and outside of Australia.
One of the best beer hampers in our range is the Premium United Nations of Beer Hamper, which contains the Chimay White Trappist, La Trappe Blond, Bitburger, Menabrea Birra Lager and Hoegaarden. So, this is undoubtedly a beer hamper your recipient cannot miss out on.
Can I Get More Recommendations from the Wine, Beer or Champagne Range?
Do you need some additional recommendations from our wine, beer or champagne hamper? Or do you have a question about any of the wines, beers and champagnes in our collection? Be sure to head over to our main catalogue or contact the Hamper Emporium for some additional recommendations.
Customers can contact our team during business hours via telephone and email, but there is also a live chat function customers can use when the Hamper Emporium is open for business! So, pick your favourite contact method and get the information you require.