Discover the Special Day Hampers at the Hamper Emporium!
Author: Nicole Adler Date Posted:15 May 2017


Sometimes it is difficult to choose a matching gift for your recipient. Fortunately, the Hamper Emporium creates dedicated hampers for special occasions, which enables you to find the perfect present for your recipient despite not knowing their personal preferences. Curious what special day hampers you can acquire from the Hamper Emporium? Find out by reading our overview below!
Australian Christmas Hampers
Customers who need a gift for the holidays could consider obtaining one of our Australian Christmas hampers. Our Australian Christmas hampers can contain a variety of gourmet products; this includes champagne, wine, savoury nibbles, chocolates and much more.
To ensure our Australian Christmas hampers stay the best on the Australian market, our hamper designer searches for new gourmet products all the time. Our hamper designer also checks each product for quality and freshness, so your recipient only gets the best when you choose to use our Australian Christmas hampers!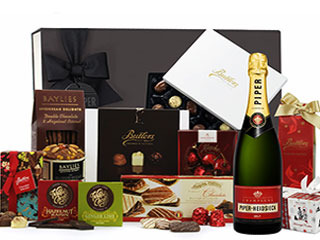 Mother's Day Hampers
Customers can also count on the Hamper Emporium for a fine selection of Mother's Day hampers. Each of our Mother's Day hampers is made for women, often featuring a fun pink theme. Not only the hamper itself has a female theme though, because even the packaging of the products can match Mother's Day.
The products inside our Mother's Day hampers can be quite varied. Our Mother's Day hampers could contain some champagne, chocolates, and biscuits, but also luxurious cosmetics from well-known Australian brands such as MOR. In conclusion, everything your mum needs to celebrate Mother's Day.
Father's Day Hampers
There are some special hampers for dads too, so customers can also come to the Hamper Emporium for exquisite Father's Day hampers. Like our Mother's Day hampers, the Father's Day hampers are made with dads in mind, featuring a manly theme throughout the hamper.
To ensure one of our Father's Day hampers is appreciated by your dad, our hamper designer selects some of the most popular products amongst men; this includes whisky, beers, and savoury nibbles. Of course, there are also options available for men who like good wine and French gourmet treats.
Anniversaries
When you need a gift hamper for a couple celebrating their anniversary – or when you need a superior gift for your other half for your anniversary – the Hamper Emporium can certainly deliver the great gift hamper you are looking for.
In our main collection of hampers, you will find a category called gourmet food & wine hampers. If you need a present for an anniversary, it is recommended to get your hamper from this hamper collection.
The gourmet food & wine hampers contain a great variety of products; this includes Cape Mentelle Shiraz, Robert Oatley Wine, Partridges Artisan Bakehouse Crackers, Baylies Epicurean Delights Gourmet Treats, Moet & Chandon Champagne, and much more. The possibilities with this collection of gift hampers are endless, so be sure to have a look at our entire range to find the perfect hamper for the happy couple.
Valentine's Day
Every year, our hamper designer creates a unique selection of Valentine's Day hampers. These hampers often contain gourmet products associated with this romantic day; this includes chocolates, champagne, wine, shiraz, French gourmet treats and more. So, if you want to give your other half a romantic surprise on Valentine's Day, one of these hampers is bound to be loved!
Housewarming Gifts
Do you know someone who recently moved to a new house and is now giving a housewarming party? The best way to celebrate their momentous occasion is by choosing one of our wine hampers. Our hamper designer hand-selects each wine available in our range, so there really is no wrong choice when you shop at the Hamper Emporium.
Some of the wines available at the Hamper Emporium are obtained from well-known Australian wineries; this includes wineries such as Brown Brothers, Cape Mentelle and Robert Oatley. Of course, each of the wines obtained from these wineries is also checked by our hamper designer; this to ensure that only superior quality will make it to the housewarming party!
Naturally, our exquisite range of wines is not only suitable for housewarming parties! If you need a gift for a wine connoisseur or a wine collector, then you could also choose one of the many wine hampers available at the Hamper Emporium.

Birthdays
Customers can also count on the Hamper Emporium for some birthday hampers, because who does not like a nice bottle of bubbly, delicious snacks and countless gourmet treats on their birthday? If you are looking for a present for a birthday, you could obtain a hamper from many categories, because most of our hamper are quite versatile.
Births & Christening Gifts
The Hamper Emporium does not only create exquisite gift hampers for adults, because we also have a range of hampers for newborns. Inside this collection of hampers, customers can find anything from baby blanks and clothing to toys and organic baby products.
Some of the hampers for births and christenings contain gifts for the parents too; this could include a selection of biscuits, sweets, or a bottle of bubbly. Only the finest sparkling wines and champagnes are allowed in our baby hampers, so if you need such a hamper in the future, be sure to check our baby hampers collection to find the perfect present!
Getting Help with Your Gifts
Do you have problems selecting the right present for your recipient? Or are you in doubt about the category that contains the right hampers for a special occasion? Why not contact the Hamper Emporium team and benefit from our extensive experience?
Customers have many ways to contact the Hamper Emporium. The first way to contact us is through the live chat window, where you can chat with our team live or send an email to us outside business hours. Customers can also call us and speak to a member of our team directly, so they can get their gift advice quickly. Of course, these services are also available for businesses who want to send corporate hampers to important business relations.