Discover the Top Three Christmas Hampers for 2019!
Author: Nicole Adler Date Posted:23 March 2019


Have you been looking for the best Christmas hampers for 2019? No need to look any further, since we are about to reveal the best Christmas hampers for 2019 right here at the Hamper Emporium!
If you have been looking for great Christmas hampers, but did not really know which one to go for, be sure to buy one of these three Christmas hampers to ensure you have chosen the right one.
Which Christmas Hamper Got the Number 3 Rank?
One of our favourite Christmas hampers for 2019 is the Moet with Australian Chocolates & Nuts, an excellent gift hamper containing some of the finest chocolates in the world and one of the most beloved champagnes.
When you look a little closer at the product descriptions of the Moet with Australian Chocolates & Nuts, you will notice an excellent bottle of Moet & Chandon Brut Imperial NV Champagne. Many customers are already familiar with this champagne, considering it is the most loved French champagne in the world.
Moet & Chandon champagne is characterised by its classic blend of Pinot Noir, Pinot Meunier and Chardonnay. The champagne also has an outstanding aroma of lemon, which makes this champagne an excellent addition to gourmet meals or sophisticated parties.
Of course, our number 3 Christmas hamper also has a fine selection of chocolates. Inside this hamper, you will find a delicious chocolate selection provided by Australia's own Morgan's.
The Moet & Chocolates Christmas Hamper is ideal for recipients who like both traditional and exotic chocolates. The hamper contains chocolates with various flavours, ensuring the chocolates will appeal to all recipients.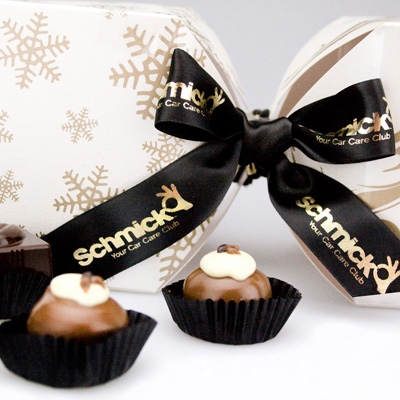 Which Christmas Hamper Obtained the Number 2 Rank?
Our number 2 Christmas Hamper this year is the Luxury Chocolate & Veuve Hamper, one of the most luxurious gift hampers in the range.
The first exceptional product in this gift hamper is the Veuve Clicquot Yellow Label NV Champagne. Veuve Clicquot Yellow Label NV Champagne has a perfect aroma balance of fruit and toast. When you take your first sip, you will immediately detect a strong hint of white fruit. However, champagne lovers can also get another taste palate experience if they allow this delicious bottle of champagne to age. With ageing, the Veuve Clicquot Yellow Label NV Champagne will provide champagne lovers with an outstanding taste of brioche and vanilla, so there is a lot more to this bottle of champagne that meets the eye.
An outstanding Christmas hamper would not be completed without handmade chocolates, so Hamper Emporium also included a fine selection of Butlers chocolates. Butlers has been one of the most prominent chocolatiers in the world over the past ten years, so their handmade quality chocolates were an absolute must for the Luxury Chocolate & Veuve Hamper.
To finish our Luxury Chocolate & Veuve Hamper, we also added biscuits and savoury nibbles this year. In addition to the delicious chocolates and outstanding champagne, customers can also find Morgan's Honey Roasted Peanuts, Woods Farm Macadamia Pure Butter Shortbread, and more. Each of these brands is known for outstanding quality and surprising flavours, so if you are a real foodie this hamper needs to be on your Christmas list.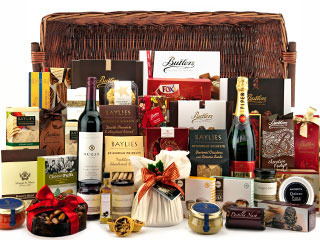 Which Hamper Conquered the Number 1 Spot?
Choosing a number one is never easy, especially when you consider the quality of our hampers and the great variety of products in each of them. However, if we need to put one hamper forward for Christmas 2019, we would like to recommend the Festive Cheer Christmas Hamper.
Our Festive Cheer Christmas Hamper radiates Christmas unlike any other Christmas hamper in our range. As soon as you take a look at the products in this gorgeous gift hamper, you will understand why, because each of the products in the Festive Cheer Hamper has a clear holiday theme.
A good example of the holiday spirit of this gift hamper is the handmade Christmas cake from Baylies Epicurean Delights. The cake is a combination of delicious Barossa Valley brandy and other Australian ingredient, creating the ultimate Australian Christmas cake.
Of course, it would not be Christmas without good Christmas crispbread, so you will also find some excellent Christmas crispbread in this hamper. We also included a bunch of Christmas-themed pantry items; this includes cherry chutney, cranberry relish, brandy butter, and butterscotch sauce.
In addition to all the Christmas treats we mentioned before, this hamper also a delightful Islander Estate 'Bark Hut Road' Shiraz Cabernet. This wine received 96 points, making it one of the best wines for the holiday season.
Are There Other Christmas Hampers You Could Recommend?
The gift hampers we mentioned earlier are just recommendations, because the Hamper Emporium has many more gift hampers that are suitable as a Christmas gift. In order to pick the right one for the recipient you have in mind, it is a good idea to ask yourself the following questions: "Does the recipient like alcohol?", "Does the recipient prefer sweet or savoury treats", "Is the recipient a foodie or gourmet lover?"
Customers who are not entirely sure which type of hamper to go for, should go for one of our Christmas hampers with a great variety of products. The Hamper Emporium has created a number of hampers with savoury nibbles, biscuits, sweets and alcoholic beverages. These hampers are usually the safest choice if you do not really know which hamper to go for. If you still need some advice on your hamper, feel free to contact our customer support team.