What Do You Put in a Christmas Hamper?
Author: Nicole Adler Date Posted:13 September 2017


If you are thinking of creating your own Christmas hampers this year, there are loads of products to choose from. Of course, you do have to consider the personal preferences of your recipients when creating your Christmas hampers, but they are some reliable choices you can always fall back on. Need some inspiration on what to put in your Christmas hampers this year? Be sure to read our recommendations below.
What Products Should I Add to My Christmas Hampers If I Do Not Know the Personal Preferences of My Recipient?
Creating a Christmas hamper for a recipient of which you don't know the preferences can be difficult, but there are always some products you could choose that make the hamper attractive for anyone. A good example of a product you could incorporate for someone you do not know the personal preferences of is chocolate, because this is a product that most people tend to love. There are also other products that are great all-round Christmas gifts; this includes products such as shortbread and crackers.

What Wine Should I Add to My Christmas Hampers for Wine Connoisseurs?
If you are not that familiar with wine, it can feel a little difficult to choose the perfect wine for your recipient. However, there are some well-known Australian wineries that provide the best wines and from which you can easily obtain a good wine for your recipient.
One Australian winery the Hamper Emporium uses frequently is Brown Brothers. The Brown Brothers winery was founded as early as 1889. Since then, they have created some of the finest wines, released under a variety of labels; this includes Brown Brothers, Devil's Corner, Pirie, and Tamar Ridge.
If Brown Brothers is not quite the wine label you want for your recipient, you could also go with the Robert Oatley winery instead. Like the Brown Brothers winery, Robert Oatley is a winery with extensive experience and an incredible history. So, choosing any of their wines will certainly guarantee a good gift for your recipient.
What Whisky Should I Add to My Christmas Hampers for Liquor Lovers?
When you intend to create a Christmas hamper for a male recipient, adding a good bottle of whisky might not be such a bad idea. Whisky tends to be one of the most popular products amongst male recipients, so whisky or liquor could be a safe choice for the Christmas hamper you intend to create.
For your Christmas hamper, there are several whisky brands you could choose. At the Hamper Emporium, we only offer whisky hampers with some of the best premium whiskies from around the world; this includes Glenmorangie, Jameson, and Glenlivet. So, if you intend to create a hamper yourself, it is usually a good idea to stick to these well-known brands to make sure your recipient likes his new whisky.
What Flavours Should I Stick with in the Holiday Season?
If you want to create a Christmas hamper, there are usually some flavours you can incorporate to ensure your hamper fits the holiday season. Common flavours used during the holiday season include vanilla, chocolate, fudge, caramel, and raspberries. So, if you intend to incorporate any gourmet treats, it is usually a good idea to choose products with any of these flavours.
What Should I Use to Present My Christmas Hamper to My Recipient?
The products you put inside your Christmas hamper are incredibly important, but so is the presentation of your Xmas hamper. There are many presentations possible for your Christmas hampers, as you will also see in the Xmas hampers range of the Hamper Emporium.
For heavier objects such as whiskies, beers, and wines, we recommend choosing a sturdy presentation box made of wood. You can purchase countless handcrafted wooden boxes online, and some are even specifically made for beers, wines, and whiskies.
Of course, the possibilities are endless for hampers that are a little lighter. You could choose the typical wicker basket, but you could also choose a premade gift box with several sections for the products you have chosen.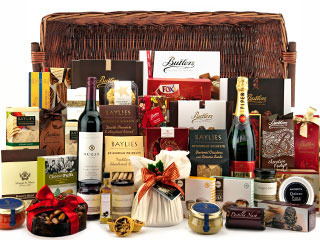 How Do I Make Sure the Products Inside My Xmas Hamper Do Not Expire?
One big problem many people encounter when they create their own Xmas hamper is the expiration date of products. Therefore, it is always a smart idea to choose products with a long shelf-life.
Some products have a long shelf-life naturally; this is usually the case for products such as biscuits, crackers, wines, champagnes, beers, and even a typical Christmas product – shortbread. If you decide to add gourmet products to a Xmas hamper, then choosing one of these products is usually a good idea.
However, we do need to mention that even products with a long shelf-life must be refrigerated at times. A good example of this is a nice selection of cheeses. While they last long enough for a Christmas hamper, these gifts are best kept cool before they are added to the Xmas hamper you made.
How Do I Give My Hamper a Little Personal Touch?
Before you gift your finalised hamper to the recipient, it is always best to add a little personal touch to your Xmas hamper. One of the ways you can do this is by adding a gift card to the hamper, and adding a personal message to it. Alternatively, you could also add an engraved gift to the hamper, which contains the name of your recipient.
Where Can I Get More Inspiration for the Creation of My Christmas Hamper?
If you need some inspiration for your Christmas hamper, you can certainly have a look at the range of Xmas hampers available at the Hamper Emporium. We are Australia's experts in gift hampers, so you can certainly get some good ideas by looking at our range.
Do you prefer to purchase a personalised Christmas hamper from the Hamper Emporium instead, and save yourself some work in the process? Head over to our range of Christmas hampers and discover a countless number of pre-designed gift hampers for the holiday season!