What Is in a Christmas Hamper?
Author: Nicole Adler Date Posted:13 September 2017


Christmas hampers typically contain non-perishable foods, featuring flavours that are commonly associated with the holiday season. They can also contain personalised gifts such as engraved glasses. So, the possibilities with Christmas hampers are almost endless.
Are you curious about the Christmas treats you can find in the Christmas hampers at the Hamper Emporium? Discover some of the products we use regularly for our Christmas hampers, so you can get some expert information for your own Christmas hampers this year!
What Kind of Biscuits Do You Include in a Christmas Hamper?
Biscuits are a must-have during the holiday season, so this is certainly a product you need to incorporate into your Christmas hampers this year. At the Hamper Emporium, we use a variety of well-known biscuit brands; this includes Maison Fossier, Byron Bay, Anna's Original, and more.
The biscuit flavours you include in your Christmas hamper must be associated with the holiday season. Fortunately, there are loads of flavours that remind someone of Christmas; this includes flavours such as chocolate, fudge, vanilla and cranberries.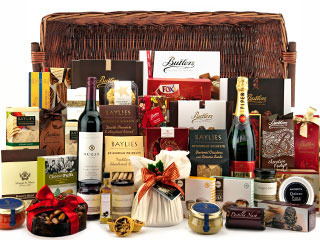 What Kind of Wine Do You Include in a Christmas Hamper?
Wine is also a popular choice during the holiday season and there are many good Australian choices you could add to your hamper. At the Hamper Emporium, we mainly rely on the best-known Australian wineries, which also have a good reputation amongst wine connoisseurs and collectors.
One winery we often use is Brown Brothers, a winery that has been creating wines since 1889. Brown Brothers is quite known for their sparkling wine, which has obtained the 'best sparkling wine in Australia' title numerous times. However, the winery also released other exquisite wines under the Devil's Corner, Pirie, and Brown Brothers labels.
Another successful Australian winery is Robert Oatley, and customers can find numerous wines from this label in our Christmas hampers. Since Robert Oatley is one of the highest awarded wineries in Australia, it is certainly not a bad idea to incorporate any of their wines in a Christmas hamper.
The last winery we use for wines at the Hamper Emporium is Cape Mentelle, a label that is undoubtedly known amongst regular shiraz drinkers. At Cape Mentelle, you can find some of the finest shiraz releases in the country, so adding a shiraz from this label to a Christmas hamper is certainly a good idea.
What Kind of Chocolates Do You Include in a Christmas Hamper?
Nobody can have Christmas without a nice selection of chocolate, so this is certainly a product that cannot be missing from an Xmas hamper. Fortunately, there are many possible choices, not only from Australian chocolatiers, but also from international chocolate manufacturers.
One of the international companies the Hamper Emporium uses for their hampers is Butlers Irish Chocolates, one of the best chocolatiers in the world. Butlers Irish Chocolates has been around since 1832 and is known for handmade confections. So, for a Christmas hamper, they are certainly the advised choice.
Naturally, you can also include more exotic chocolates in your Xmas hamper; this is especially recommended for recipients who prefer pure and darker chocolates. At the Hamper Emporium, customers can find such chocolates in our Xmas hampers too, more specifically through the unique and delicious chocolates from Willie's Cacao.
What Whisky Do You Include in a Christmas Hamper?
There are many whiskies you could choose for a Christmas hamper, since there are many distilleries that released renowned whiskies over the years. So, even if you are not that familiar with the personal preferences of your recipient, there are many whisky labels you can fall back on.
Common whisky labels used in Christmas baskets include Jameson, Glenlivet, Glenmorangie, Hennessy and Jack Daniels. Most of these whiskies can also be found in the gift baskets of the Hamper Emporium. So, if you prefer to buy a pre-designed hamper that is beautifully presented, be sure to check out our whisky hampers for the holiday season.
What Champagne Do You Include in a Christmas Hamper?
Adding a bottle of champagne to a Christmas hamper is also a good idea, because many people like to celebrate with a glass of champagne during the holiday season. There are several French champagnes you could choose, but some are more popular than others.
At the Hamper Emporium, we usually fall back on some of the most popular and highest rated champagnes in the world. So, when you browse through our Christmas baskets, you may notice options such as the Moet & Chandon Brut Imperial NV Champagne, Piper-Heidsieck Champagne and Veuve Clicquot Yellow Label NV Champagne.

What Beers Do You Include in a Christmas Hamper?
Looking to create a Christmas hamper for a beer lover? If so, then there are many beers you could consider! Before you create your beer hamper, it could be a good idea to determine the beer preferences of your recipient. For example: does your recipient prefer Australian craft beers? Or does your recipient prefer international beers?
At the Hamper Emporium, we create Christmas gift hampers with a variety of beers. Our catalogue contains hampers with good international beers such as Chimay, La Trappe and Menabrea, but also beer hampers containing Australian craft beers from breweries such as James Squire. So, if you have no idea which beers to include, you can always fall back on our gift baskets.
Where Can I Find More Products That Are Usually Added into Christmas Gift Baskets?
We only covered some of the most popular products that are included in Christmas gift baskets, which means there are a lot more products you could be adding to your Christmas hamper this year. To get some inspiration, be sure to have a look at our range of Christmas gift baskets!
Do you have a question about any of the products we include in our Christmas gift baskets? Or would you like to obtain one or multiple Christmas gift baskets from the Hamper Emporium? Do not hesitate to contact the Hamper Emporium team via email, phone or live chat. Our team will be happy to assist!