Hamper Emporium White Wine and Nibbles Hamper Details
Author: Nicole Adler Date Posted:27 June 2016


Are you a white wine lover? Good news! We have just what is perfect for you this festive season. Our White Wine and Nibbles Food Hamper offers everything a typical white wine lover would wish for. This gift hamper combines a perfect wine with delicious bites for you, your friends, your family, or your colleagues to enjoy. At Hamper Emporium, we understand that gifts are an important prerequisite for a perfect Christmas season, and over the years, we have helped thousands over thousands celebrate merry Christmas in Style. With our hampers, we go an extra mile to pack delightful gifts for your loved ones. Our gift hampers have been labelled by many as epic!
We understands that celebrating Christmas has never been easier without sharing delicious treats and wine with the people you love. If you are looking for a gift for your loved ones, then White Wine and Nibbles Hamper will bring a smile to them without a doubt, and if you are lucky, they might just even share it with you! This delightful hamper is not just about Christmas; it can also be a lovely birthday gift, a delicious treat to share during an anniversary, or just a treat to celebrate important life events. What's more, it comes at a very affordable rate.
What is the White Wine and Nibbles Hamper content?
This enchanting
Christmas hamper
is filled with lovely Christmas food. All of the foods and drinks in this treat offer unique flavours and entirely new gourmet adventure; a perfect hamper for gourmet lovers. We guarantee that this gift will take your passion for wine and Christmas foods to a whole new level. Nearly all of our Christmas hampers contain some delicious nibbles; White Wine and Nibbles Hamper also provide you with a selection of savoury treats that are meant to complement the delicious flavour of the wine. Some of the varieties included in these luxury Christmas gift hampers are Random Harvest, Partridges Artisan, Cat Cora's, Morgan &
Albert's, and Bakehouse.

•
Wine and Champagne
—as aforementioned our White Wine and Nibbles Hamper offers everything a white wine lover could ever want, this includes an exquisite 750ml bottle of 2013 Devil's Corner Tasmanian Sauvignon Blanc. This is a perfect white wine with a superb concentration of citrus and passion fruit as well as grassy notes. Thanks to its superior taste palate, our customers have loved it, and the wine has conquered a permanent spot in our range of popular Christmas hamper.
• Savoury
—we have a range of savoury treats in this hamper, in fact, very few Hamper Emporium Hampers can match the varieties in this package. We have collected the best savoury from the best companies around. This, in particular, has treats from Gaea, Brewer's Nut Company, Partridges Artisan Bakehouse, Baylies Gourmet, and Cat Cora.
They include;
 Quince Paste 60g—a fresh fruit paste perfectly made Tasmania as a lovely side to your cheese platter. Made by Tasmanian Fruit Pastes.
 100g Sweet Red Pepper & Goats Cheese Dip—this is prepared from a mix of goat cheese and red peppers. Made by Gaea.
 100g Smoked Aubergine Dip—this is a delicious aubergine-flavoured dip with a super Mediterranean effect. Made by Gaea.
 120g Brewer's Nut Co. Premium Nut Mix—a freshly roasted Brazilian nuts, almonds, peanuts, hazelnuts, and cashew nuts for the nuts lovers.
 120g Brewer's Nut Co. Brewer's Blend of Smokey BBQ Nuts—this is a perfect treat for beer lovers, the nuts have been roasted in a smokey BBQ flavour.
 100g Bakehouse Tuscan Herb Crackers---these are perfect natural herb crackers prepared with fresh Tuscan herbs by Partridges Artisan.
 65g Sun Ripened Kalamata Olives—a healthy treat for those who are health conscious. Enjoy these plump pitted olives. Made by Cat Cora.
 100g Bakehouse Black Pepper Crackers—perfectly selected gourmet crackers for epicures with refined taste. Made by Partridges Artisan.
 130g Baylies Gourmet Crackers with Sesame Seeds—a wonderful selection of South Australian crackers and made with Australian extra virgin olive oil.
 60g Organic Green Olives with Basil and Lemon—this is an excellent selection of olives full of delicious flavours by Cat Cora.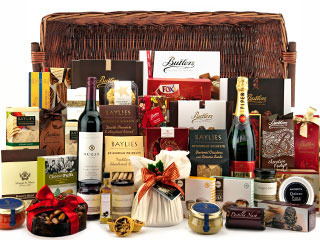 That is how packed this White Wine and Nibbles Hamper is! A variety of delicious savoury to choose for to complement a delightful palate of the 2013 Devil's Corner Tasmanian Sauvignon Blanc. Place your order now and this wonderful treat will be delivered to you as you wish. This hamper is also suitable as a corporate gift for those employers who feel to treat their corporate stuff this festive season; or those wishing to treat their fellow colleagues. Business has an option to send this hamper direct to the recipient, saving you time and effort, plus we place your business logo! Your gift box is also designed to please the eye, such that the recipient will feel special and unique.