Popular Corporate Hampers
View Our Corporate Catalogue
When you value your customers and employees, you know how important it is to foster long-term trust with them. Knowing that it is essential for your staff and clients to feel appreciated and valued, it's important to partner with a brand that you trust to deliver the same level of quality and service that you do.
For large orders with six or more hampers, please take advantage of our Bulk Order Form.
Your corporate hampers can be sent with individual gift card messages to each of your staff and clients. You can place your order now and have your hampers dispatched immediately, or select the most convenient dispatch week at check out.
Delight your customers with Corporate Branded Ribbons, Gift Cards & More!
Available to order through the website or our Bulk Order Form.
Your company logo can be printed in silver or gold foil on luxurious double-sided satin ribbon in a variety of colours.
We produce all printed ribbon in-house and offer same-day dispatch for orders received before 1pm AEST.
$5 per hamper
One-off set up $75
No minimum orders
Set up and order online
Gold Branding
Gold on Black
Gold on Navy
Gold on Blue
Gold on Green
Gold on Orange
Gold on Red
Gold on Purple
Gold on Jade
Gold on Pink
Gold on White
Gold on Yellow
Silver Branding
Silver on Black
Silver on Purple
Silver on Blue
Silver on Green
Silver on Orange
Silver on Red
Silver on Purple
Silver on Jade
Silver on Pink
Silver on White
Silver on Yellow
Corporate Branded Gift Cards
Available to order through the website or our Bulk Order Form.
Choose from our 12 designs templates or work with our Graphic Designer to create a custom card that suits your brand. Printed on quality stock, approximately 98mm x 80mm.
1-2 business days for your first order, same-day dispatch thereafter.
$3 per hamper
One-off set up $75
No minimum orders
Set up and order online
Gift Tag 1
Gift Tag 2
Gift Tag 3
Gift Tag 4
Gift Tag 5
Gift Tag 6
Gift Tag 7
Gift Tag 8
Gift Tag 9
Gift Tag 10
Gift Tag 11
Gift Tag 12
Gift Tag 13
Gift Tag 14
Gift Tag 15
Gift Tag 16
Gift Tag 17
Gift Tag 18
Gift Tag 19
Gift Tag 20
Corporate Brand Packages
Enhance the impact of your brand by adding a keyring engraved with your logo, a premium wooden chopping board with engraved swing tag, or branded wine wrap or hamper sleeve to your hamper.
Minimums orders apply; please contact our team for further information.
Engraved keyring $12.95
Premium chopping board $24.95
Branded wine wrap POA
Branded hamper sleeve POA
Packages & Wraps

How to access
Exclusive to our Corporate Customers,
branded packaging, wraps and engraved items are available
by contacting a member of our Corporate Team
1300 459 452
Corporate Gift Platform
A large scale gifting solution.
Would you like to offer consistent gifting and brand representation company-wide? Our corporate gifting platform www.myhampers.com.au is what you've been looking for.
Custom-built ordering platform
Exclusive access login
Dedicated account manager
Consistent brand image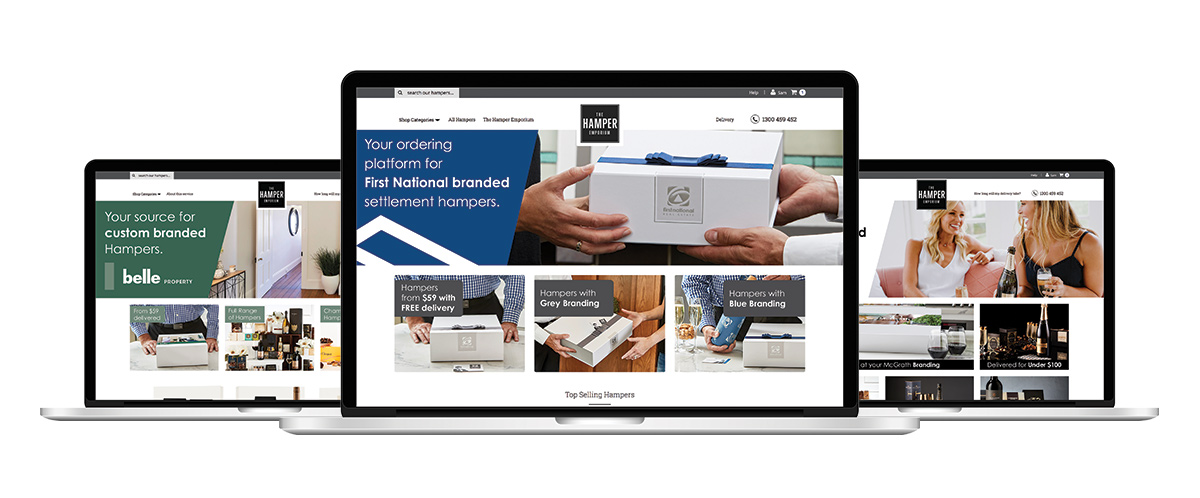 How to access
Exclusive to our Corporate Customers requiring a large scale gifting solution.
Please contact a member of our Corporate Team
for more information.
1300 459 452
Have a Question? Check out our FAQs
Meet Some Of Our
Happy

Customers
The customer service at the Hamper Emporium was outstanding. The staff were excellent to work with in customising a large order of corporate hampers in a very short turnaround time. The quality of the hampers also exceeded our expectations.
Gemma, Origin Energy
We send hundreds of luxury hampers every Christmas to our clients with The Hamper Emporium. The customer service we receive is excellent and the feedback from our clients is superb. I would highly recommend them to other companies.
Enrico, Shaw and Partners
The hampers were awesome and everyone was very impressed. Thank you again to the team at The Hamper Emporium for all your help organising this.
Lynette, Executive Coordinator at Genzyme Australasia
I would just like to express my gratitude to The Hamper Emporium who from the onset, right through to the delivery were helpful, patient and eager to assist. I would also like to congratulate you on your service as well as the exquisite look and quality of the hamper. I will be your greatest advocate and a customer for life.
Roze Popovski, Business Manager at Westpac
What excellent service The Hamper Emporium provided us and all the hampers looked so lovely and were very gratefully received!! Our Board members were very excited and impressed by them. We will definitely be in touch with you again for all our hamper requirements in the near future.
Kerri, Royal Automobile Club
Just a quick email to say, how impressed I was with your fast service today. I will definitely be using The Hamper Emporium again.
Melissa, CBA
I have experienced efficient and professional service and all of the products in the hamper are of great quality. The hamper was delivered on time and professionally presented and wrapped.
Terry Houlihan, Managing Director at Pryme
Thank you for subscribing!
We'll be in touch soon