Corporate Hampers for the New Year 2019
Author: Nicole Adler Date Posted:8 March 2016


2019 is almost upon us, so it is time to reveal some of our latest corporate hampers. If you have been thinking about advertising your business, or work on the relationship with some very important clients, our corporate gift hampers can certainly help this process in the right direction. Curious what our new corporate gift hampers have to offer? Read our information below to find out!

Pre-Made Corporate Gift Hampers

Buying the right gift for a business associate or important client may seem a little daunting at first. If you have no idea what kind of gift would be appreciated by the person you want to impress, you can count on a number of pre-made corporate gift hampers this year on the Hamper Emporium.

Businesses who want to take advantage of a pre-made corporate gift hamper can choose a hamper from our extensive gift hamper range. Once you have chosen the hamper, the Hamper Emporium will add the corporate branding for you, making the hamper in question your own.

There are many hampers to choose from on the Hamper Emporium and each of these gift hampers contains something unique. Of course, if you have some idea of the personal preferences of your recipient, you will immediately know which hamper to go for. Still, if you do not know the personal preferences of the recipient there is no need to worry. Businesses can always go for some of our most successful gift hampers such as the Champagne Triple Treat, the Everything but the Cheese Hamper or the Classic Port Hamper.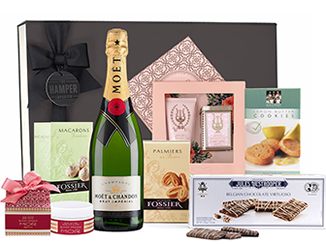 Custom-Designed Hampers

Businesses who cannot find a suitable choice amongst our existing range of hampers can always request a custom-designed hamper from the Hamper Emporium. The custom design option enables customers to add their favourite items and their own corporate branding, ensuring that the corporate gift is the best it can be.

Unique Gift Vouchers

If the personal preferences of the recipient are unknown to you, and you believe that personal preference is very important for the person or business you buy the corporate gift for, then we can always recommend one of our branded gift vouchers.

The branded gift voucher is a great way to advertise your business and still take into account the personal preferences of your recipient. Of course, you do not have to choose a basic voucher from the Hamper Emporium, since we can also add corporate branding to the gift voucher of your choosing.

What Corporate Branding Options Are Available for Corporate Gift Hampers?

The Hamper Emporium aims to provide each customer with a custom gift, no matter if it is one of our basic gift hampers or a beautiful corporate hamper. With the Hamper Emporium, businesses can choose from a variety of corporate branding options to make their corporate gift hampers even more unique.

Corporate branding on the Hamper Emporium can involve a number of things. For example, businesses will be able to add their own ribbons and business card to the hamper. The corporate branding options of the Hamper Emporium are bound to leave an impression, so why not have a look at our corporate branding pages and discover all the great options waiting for you.

Are There Still Special Deals for Bulk Orders?

Businesses who have used corporate hampers from the Hamper Emporium before are aware that there are special deals for bulk orders. This has not changed with the coming of our new corporate hampers, since businesses can still benefit from bulk order offers and deals.
Clients who intend to order more than twenty-five gift hampers will do well by contacting the Hamper Emporium before they place their order. Orders of twenty-five gift hampers and over can be eligible for a special reward.

Ordering multiple hampers one by one can be quite tedious, so there is also a special bulk order form that can be downloaded on the corporate hampers page. By using this form, you cannot only enter the various corporate hampers you wish to order, you can also add the address of the recipient, so the Hamper Emporium can take care of the delivery for you.

What Businesses Have You Done Corporate Hampers for?

The Hamper Emporium has taken care of corporate hampers for some of the biggest companies in Australia. Some of the companies we have done corporate hampers for are American Express, bp, Allianz, ten and SumoSalad. Join the family of more than a hundred thousand happy customers today and advertise your business with our corporate hampers!

How Are the Corporate Hampers Presented?

Corporate hampers are always presented in a beautiful presentation box, just like the other gift hampers that are available on the Hamper Emporium. Still, corporate hampers can be different from our normal hampers, since corporate hampers also come with the custom-designed ribbon and business card.

The Hamper Emporium also uses a variety of gift boxes, depending on the items the presentation box has to hold. For example, light items will be presented in a smooth presentation box with a beautiful satin ribbon, while some heavier items may be presented in a handcrafted wooden box.

Can I Give My Own Input for the Corporate Design?

The design of your corporate hamper comes to fruition through a cooperation between our graphics designer and yourself. You may have some idea of how the corporate hamper should look like and you are more than free to share these ideas with the Hamper Emporium. After receiving your ideas, our graphics designer will incorporate your ideas in a beautiful corporate hamper design, which will be applied to the gift hamper of your choice.





Businesses and individuals who want to purchase corporate hampers, but have no idea how they should look like, can also count on the experience of our own graphics designer. The graphics designer can design your corporate hamper based on your company's logo or slogan, depending on the situation. The graphics designer can also choose to discuss the possibilities with you, so in the end you can make the decision.