Wine Gift Basket Ideas at the Hamper Emporium
Author: Emily McWaters Date Posted:15 April 2016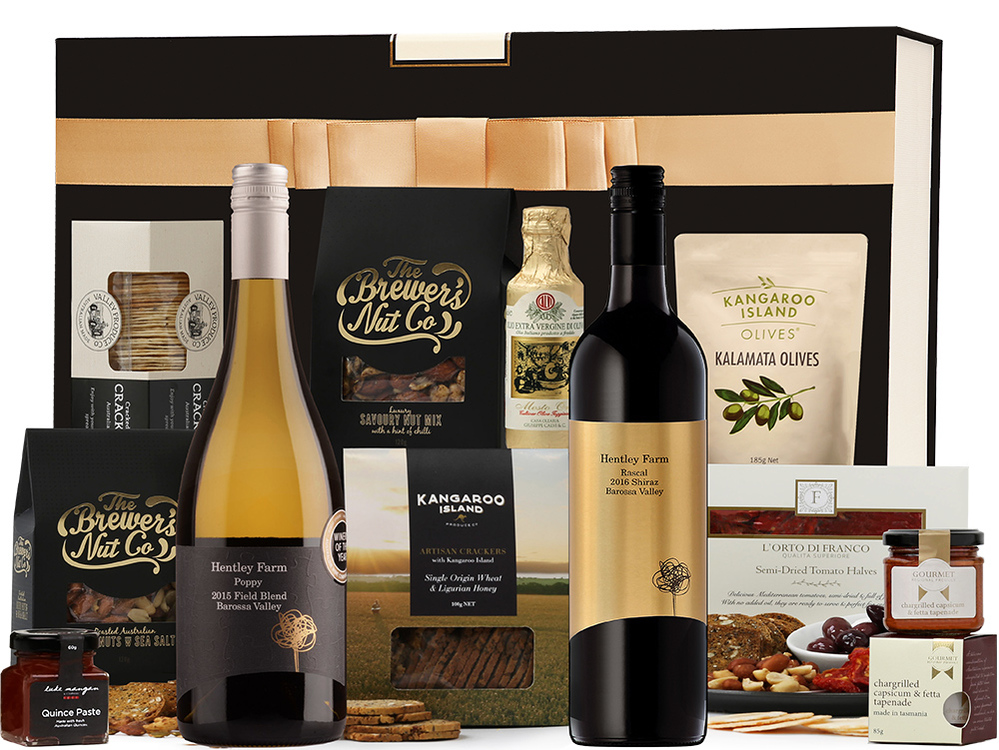 Do you love a good glass of wine? Or do you need the perfect gift for someone who likes to collect or drink wine? Discover the large range of unique gift baskets on the Hamper Emporium, which contain some of the best wines Australia has to offer.

Which Wines Can I Find in Hamper Emporium's Gourmet Gift Baskets?

The wine gift baskets on the Hamper Emporium are often referred to as gourmet gift baskets, considering these gift hampers contain both wine and gourmet food gifts. Therefore, when you order gift baskets from the Hamper Emporium, you will get an amazing combination of food and wine you have never experienced before.

So let us go over some of the wines you can find on the Hamper Emporium. Well, one of the wineries that is used regularly for the Hamper Emporium gift hampers is Brown Brothers, an Australian wine label that has been delivering the most outstanding handcrafted wines since 1889.

When you are in the mood for something special, a Brown Brothers wine will not disappoint. Our gift hampers can also provide you with some exclusive Brown Brothers wines that are not available on the market yet, since they can only be purchased at the cellar door of the Brown Brothers wine house. Getting a hamper with one of these exclusive wines will be the perfect gift for a wine collector, because they will be able to enjoy these releases at their peak drinking time.

Can I Find Wines in Hamper Emporium's Holiday Gift Baskets?

When you are looking for the best value gift during the holiday season, we can recommend one of the Christmas hampers on the Hamper Emporium. Many of our Christmas hampers contain an outstanding wine and some handmade Christmas treats that cannot be missing from your Christmas table.

One of the handmade Christmas treats you can find in our Christmas hampers is the Handmade Christmas Cake with Barossa Valley brandy. This traditional fruitcake is a real classic during the holiday season and is loved by every recipient.

Of course, there are more handmade treats to be found in our Christmas hampers. One of these handmade treats are the Butlers Irish Chocolate Crackers, a classic for your Christmas table. The quality and taste of Butlers Irish Chocolates are unmatched by any other brand, so they should definitely be on your Christmas list.

Does the Hamper Emporium Include Other Alcoholic Beverages in their Hampers?

There are many alcoholic beverages available on the Hamper Emporium. In addition to our wine hampers, customers will also find champagne hampers, shiraz hampers, christmas gift baskets alcohol and whisky hampers. Even our baby gift baskets and fruit baskets may contain a nice bottle of bubbly to guarantee a successful celebration.

When you are looking for a good bottle of champagne, the Hamper Emporium will not let you down. In our champagne range, customers can find Moet & Chandon Brut Imperial, Bollinger Special Cuvee, Piper-Heidsieck Brut and Veuve Clicquot Yellow Label NV. These champagnes are some of the highest rated and most-awarded champagnes from the French champagne region, so you will definitely get value for your money when you order a champagne hamper from the Hamper Emporium.

Our range of shiraz is quite remarkable as well, considering we have some Brown Brothers shiraz releases lined up for you. Every shiraz lover in Australia will agree with the fact that Brown Brothers has some of the best shiraz releases in the world, so you cannot afford to miss out on these outstanding releases.

The whisky hampers on the Hamper Emporium are the preferred gifts for many Australian dads and granddads. With outstanding brands such as Glenlivet and Glenmorangie, you can give your dad or granddad an unforgettable experience. Most people try to savour their bottle of Hamper Emporium whisky for some time, but they usually get finished quite quickly.

Can I Get Office Hampers with a Good Wine?

Office hampers are the perfect way to thank your employees or to celebrate a special occasion with your colleagues. Of course, any celebration requires an alcoholic beverage, which is why you can find a good wine and champagne in our office hampers.

When you are in the mood for something truly special, and want to give your employees or colleagues the ultimate treat, we can certainly recommend one of our Premium Office Share Gift Baskets. The Premium Office Share Gift Basket is a combination of international gourmet foods, Australian premium nibbles, a bottle of luxurious champagne and a limited release Shiraz from the Brown Brothers winery. Considering the fact that this office hamper contains a variety of treats and nibbles, everyone will be able to have something they enjoy.

What Wines and Champagnes Are Included in Baby Gift Hampers?

Even though wine goes down well for most occasions, the Hamper Emporium mainly selects champagne for their range of baby hampers. Champagne is a celebratory drink, while wine is more associated with private enjoyment and sophisticated cheese & wine evenings.

One of the champagnes you will encounter frequently in our baby hampers is the Moet & Chandon Brut Imperial NV Champagne, one of the finest champagnes in the world. Moet & Chandon is not only the favourite champagne of most Australians though, because it is also the favourite champagne of celebrities such as Scarlett Johansson and Roger Federer.

Customers who love a good champagne can also order one of our unique champagne hampers, for example the Champagne Triple Treat. The Champagne Triple Treat contains the three best champagne in the world, more specifically the Moet & Chandon Brut Imperial NV, the Piper-Heidsieck and the Bollinger Special Cuvee. Even though these are some of the most luxurious champagnes in the world, they are offered for a sharp price on the Hamper Emporium.

More Great Hampers on the Hamper Emporium

If you cannot get enough of the excellent hampers on the Hamper Emporium, be sure to check out some of the other categories on our website. The Hamper Emporium adds new hampers on a regular basis, so be sure to come back to us from time to time.