Wine Hampers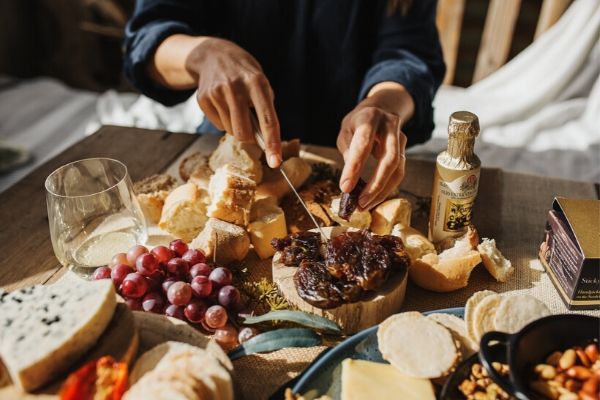 Cheese & Charcuterie Platter Ideas A long time favourite of dinner parties, the not-so-humble cheese p...
Read Full Post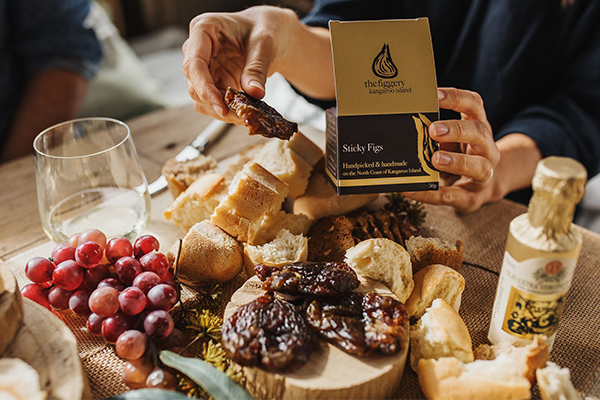 Tempting Food Hampers To Make Your Mouth Water Food is the perfect gift for the passionate food lovers...
Read Full Post
Wine Hampers & Australian Wine
With so many sumptuous wine hampers to choose from, you'll find the perfect gourmet food and wine hamper for every occasion. Romantic hampers with Champagne for a wedding, engagement party, anniversary or Valentine's Day. Birthday hampers with the perfect mix of sweet and savoury gourmet food and their favourite bottle of wine. Or pampering wine hampers for a little luxury to spoil someone special. Capture the very heart of Christmas with wine hampers full of the most popular Christmas foods paired with the perfect bottle of wine. Whatever the occasion, from a family get-together to a romantic Christmas Eve, there's a wine hamper to suit every moment.
Wine Hampers That Are Perfect As A Gift
Wine lovers, rejoice! Our selection of gourmet food and wine hampers feature premium drops you'll love to share. Quality is the fundamental principle at the heart of all our gourmet wine hampers. That's why wine lovers, foodies, connoisseurs and gastronomes are sure to love them. We work closely with our favourite brands and suppliers to provide a truly gourmet wine experience. Our delicious snacks are combined with the finest reds, whites and champagnes. The result is pure indulgence!
We put the hard work into curating our gift hampers and researching the best wines in Australia, so you don't have to. That means you don't have to worry about sourcing the perfect food and wine combination—it's already taken care of! Balance is key, which is why the products in each wine hamper are designed to complement each other perfectly!
We have worked tirelessly for over a decade to ensure our gourmet wine gift baskets not only look luxurious but are packed full of award-winning wines. We accompany each bottle with the finest produce from both Australia and around the world. Some of our best-selling items are gourmet food and wine hampers featuring boutique artisan fare made by family-run Australian businesses.
Our wine hampers truly are the perfect gift for every occasion. Whether it's to say congratulations, thank you, or happy birthday, a premium bottle of wine is always appreciated. Need a large gourmet food and wine hamper for a family? Choose the perfect theme for your event from an indulgent, pampering wine gift basket for couples to share, to a lavish festive feast just in time for a family Christmas.
The Hamper Emporium has proudly delivered gift hampers to over 300,000 Australian customers, and we've learned a thing or two along the way. We've listened to our customers, we've gathered feedback from thousands of recipients, and we've continuously worked with world-class suppliers of the best food and award-winning wines. As Australia's wine gift hamper experts, our job is to help you deliver happiness to someone special. Send your wine gift hamper Australia wide to friends, family, and clients. Save money with free shipping and bulk hamper order discounts.
Wine Hamper Ideas For Any Occasion
Wondering which wine hamper is the best? For a summer picnic wine hamper, choose delicate bubbles and refreshing red fruits with Veuve Clicquot Rosé French Champagne hamper. Looking forward to sitting by the fire with a glass of wine in hand? As the days get colder, we have a selection of gorgeous red wine hampers to keep you warm. Are you looking for a memorable wine gift hamper idea for Father's Day? Spoil him and organise a wine delivery Australia wide for your Dad. Luxury Father's Day wine hampers are a gift he'll love. The Hamper Emporium also has a range of classic port and spirit hampers including luxury whisky tasting gift packs to impress.
Need gift inspiration for a wedding or engagement? A gift box with Moët & Chandon Brut Imperial NV Champagne is the hamper to choose for a celebration event. Or surprise the happy couple with a wedding wine hamper. Choose a wine twin pack with a bottle of red and white as a great his and hers gift. They'll love to share the chocolate and treats included in their romantic food and wine gift basket. Anniversary gifts and special Mother's Day gifts that include wine are easy. Planning a romantic wine hamper for her? Make your gift sparkle. Nothing is more impressive than a sparkling wine and jewellery gift hamper for her special day.
Gourmet wine and pate hampers are also a fantastic gift to present to the host when you bring a gift to a party. Choose a foodies hamper with wine and a selection of savoury nibbles and sweet treats for a complete entertaining spread. If you love wine hampers and you're planning a special event, read our guide on How To Make The Perfect Cheese Board. If you want to go one step further with food and wine pairing inspiration for a rosé wine hamper, dry white wine hamper, or your favourite deep-bodied red wine, you'll be a cheese and wine connoisseur in no time with our Beginner's Guide To Wine & Cheese Pairings.
If you're looking for the best wine hamper gifts for Christmas, or a variety of different wine bottle hampers to suit a virtual Christmas party, you'll find more great ideas in our Christmas Hamper selection. For a corporate gift, a sweet hamper with gourmet delicacies and Australian wines to support local is a great way to make your gift count. Our wine hampers are available for free delivery Australia-wide.
Sending Wine Hampers By Post
Australian hampers for overseas orders are simple! If you live overseas, especially in New Zealand, the UK or North America, you probably have friends and family in Australia. Easter wine hampers with chocolate, festive Christmas food and wine gift boxes, and wine birthday hampers are the most popular occasions for gifting hampers to Australian relatives. But you are not limited to just wine hampers when you order online from The Hamper Emporium. We can deliver grocery hampers Australia wide, chocolate gift baskets, baby gift hampers, beer hampers, and more. Rather than send English wine hampers all the way from the UK, or New Zealand wines from over the ditch, it's easier to arrange your gift for delivery direct within Australia.
The Hamper Emporium offers fast delivery for wine hampers Sydney and express shipping options for wine hampers Brisbane and our capital cities. Delivery may take an extra day or two if you are ordering wine hampers for Perth delivery. Wine hampers in Adelaide and specialty gourmet wine tasting hampers in Victoria are especially popular. These regions produce some of the finest Australian wines, and locals love wine tasting hampers to sample new wines each year. Rest assured that shipping is free right across the country no matter if you are sending a gift to your loved ones in the Melbourne CBD or outback Australia. You can purchase your wine hampers on AfterPay or ZipPay, use your PayPal account, or pay via VISA, MasterCard or Direct Deposit. Our gift delivery service makes it easy to buy online from overseas with AfterPay gift baskets and wine hampers AU. If you need more help to find the best way to order wine gift hampers from overseas for delivery in Australia, read our step by step blog post on How To Send A Gift Hamper To Australia From Overseas.
Learn About Our Gourmet Hamper Foods To Accompany Wine
We have partnerships with artisan producers from around Australia and the world. Each gourmet brand we work with puts the same care and thought into their products as we do, which is why we are so proud to collaborate with them. Taste gourmet nibbles from Kangaroo Island, Sydney, Melbourne, Italy, Britain and beyond. You might just find your new favourite pantry essential!
The Woods Farm Jervis Bay
Nothing says country living quite like the idyllic setting of The Woods Farm. Nestled among the ocean breezes of Huskisson Beach New South Wales, this gorgeous farm has created its own line of artisan nibbles and sweet delicacies that we can't get enough of! Their range of mouth-watering favourites exclusive to The Hamper Emporium was inspired by their lush green farmland and the beauty of country life. The Woods Farm Peanut Brittle and Shortbread can be found in a selection of our wine, champagne, gourmet food and pamper hampers.
The Brewer's Nut Co.
In the words of this fabulous supplier: 'We Only Mix With The Best'. With beautifully presented gold embossed packaging and the finest nut blends in Australia, The Brewer's Nut Co. offer the perfect selection of nibbles for our wine, champagne, beer and spirits gift hampers. As another exclusive supplier to The Hamper Emporium, when it comes to quality, we trust Brewer's to create the perfect flavours for our gift boxes every time.
Kangaroo Island Produce Co.
If you've never been to Kangaroo Island, you're truly missing out. Known as Australia's Galapagos, this is a destination famous not only for its remote beauty and amazing wildlife but also its unique landscapes and cuisine. Proudly Australian, one of our favourites from Kangaroo Island Produce Co. are their delicious artisan crackers. These gems are made with single-origin Kangaroo Island wheat and cultivated in a location with clean air, water and soil. It's not hard to taste the difference. For a sweet treat to accompany your white wine hamper, Kangaroo Island honey coated popcorn is sublime.
Gourmet Regional Produce
Can you tell that we love showcasing Australian producers? Gourmet Regional Produce products are the perfect addition to your cheese board or platter. We particularly love their Tasmanian-made tapenades and fruit chutney featuring the best Australian ingredients. They are cooked with a love and passion that makes their goodies undeniably delicious.
What Is The Best Wine To Include In Wine Gift Hampers?
We've spent over a decade sourcing a range of wines that are perfect for gifting. Only the best will do! Many of the wines we choose to feature in our hampers have been awarded 95 points or more by James Halliday, a respected wine critic and vigneron who has written or contributed to nearly 80 books on the subject. From birthdays to other events , these delightful drops are sure to be the pièce de résistance of any special occasion. You'll love our decadent red wine and white wine gift boxes with award winning wines.
Cape Mentelle Wine Gifts
Consistency, sustainability, and attention to detail: these are key ingredients in Cape Mentelle's winemaking philosophy. The Margaret River region is renowned among wine fanatics, and it's clear why. Its unique terroir conjures a sense of place in each bottle. Cape Mentelle was established in 1970 as one of the founding five wineries of the region. From humble beginnings, this stunning winery now forms part of estates and wines owned by Moët Hennessy Louis Vuitton.
Hampers Including Moët & Chandon Wine and Champagne
There's a reason Moët & Chandon's champagne is world-renowned. Their unique savoir-faire has been cultivated over the years to create a distinctive style. Bright, balanced, and radiant, each champagne blends fruitiness with maturity. The terroir of France's Champagne region can be experienced with each bottle. There is no better way to celebrate! Whether your desired hamper features a gorgeous Moët champagne or an elegant Chandon sparkling wine, delight is guaranteed.
Wine Hampers With Free Delivery Australia-Wide
Beautiful wine gifts deserve to be beautifully wrapped. That's why we put just as much thought into the presentation of our hampers as we do their contents. Your gourmet food and wine hamper will be delivered in a luxury keepsake box, complete with ribbon detail. They also include FREE standard delivery to anywhere in Australia. Enhance the next birthday or anniversary in your calendar with an indulgent wine hamper. Better yet, surprise that special someone for no reason at all with a gift from The Hamper Emporium.