Cream Gift Box with Pale Yellow Ribbon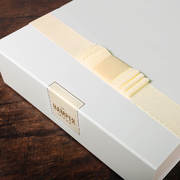 A luxurious cream keepsake gift box, lined with elegant embossed paper and finished with a crossgrain ribbon in delicate yellow. All things precious and sweet inspired this luxury cream gift box that features embossed inner lining and an elegant yellow ribbon finish. The most gorgeous yellow ribbon accents our luxury cream gift box, completed by an stylish embossed inner lining for a touch of elegance.
Finished with grosgrain ribbon in a gorgeous shade of pale yellow, this luxury keepsake box beautifully presents the gifts inside.
Styled to create a feel of true elegance. The combination of luxury cream gift box & embossed lining is perfectly accented by soft yellow ribbon. Beautiful presentation matters; which is why we adore our luxury cream gift boxes and the sweet yellow ribbon detail of this combination.
---