Handcrafted Wooden Wine Box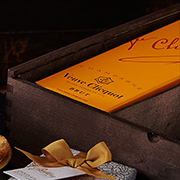 For our most premium presentation of our luxury wine and gourmet food, we use this handcrafted and stained wooden wine box. The perfect presentation for our gourmet hampers is our handcrafted stained wooden wine box. Durable and perfect to re-use at home. Our gourmet wine hampers are beautifully presented in stylish handcrafted wooden crates with sliding lid. Perfect for home storage.
Stained in a deep chocolate hue, this wooden box with its tinted sliding lid, is the most luxurious way to present a fine wine and gourmet food.
Once they've enjoyed their goodies; our gorgeous handmade wooden wine crates are a handy storage addition around the home.
Featuring hand-crafted design, and a sliding lid; our beautiful wooden crates can be re-purposed once their goodies have been savoured.
---