Burleigh Brewing My Wifes Bitter 330ml (Burleigh, QLD)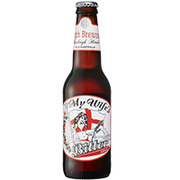 English styled bitter from Australian brewery Burleigh, providing a unique beer that has been filtered through lava rock. Award-winning ale from the Australian Burleigh brewery, includes an aroma and flavour of citrus. One of the latest additions to the Burleigh brewery beer range, an exquisite beer with a bright golden colour.
English Bitter style that has been filtered through local lava rock, it has a bright golden colour with sweet citrus aromas. A sweet, citrus infused, golden lager that is uniquely filtered through local lave rock will have you say wow . Fancy something a little more "exquisite"? This ale is filtered through lava rock that is beautifully sweet.
---