Chimay White Trappist 330ml (Belgium)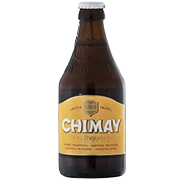 Exquisite Belgian Trappist with citrus aroma, good malt strength and a flavour to never forget. Solid Belgian beer with an amazing flavour and a good citrus aroma, considered to be one of the best beers in the world. Genuine Trappist beer with a strong hop flavour and a citrus aroma, recommended for any beer lover or beer enthusiast.
Full-bodied and strong fruity bitter citrus flavour, long 'mouth-gripping' dry finish with medium to large frothy head.
Superior because it's earned it. Featuring citrus, a light bitterness and whirl of aroma that's sure to delight.
Fruity, bitter and citrus explosions keep you refreshed,complemented by a crisp and frothy caramel hint.