Hawthorn Brewing Golden Ale 330ml (Hawthorn, VIC)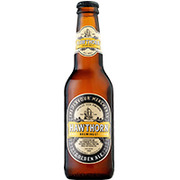 Award-winning ale that obtained the gold medal at the International Beer Challenge in London and the bronze medal at the Australian International Beer Awards. Beautifully golden ale that does not contain any added sugar, chemicals or preservatives, perfect for the health-conscious consumer. Golden ale containing German malts, suitable to combine with various foods including burgers and seafood.
An all malt beer, full flavoured with modest bitterness. A light to moderate body, suited to a wide range of food types. Malty, light and classic. Simple and crisp. Nothing more than clean and divine. They're guaranteed to enjoy this one! All malt and classic bitter taste, light in consistency and perfect for any food at dinnertime, maybe even lunch!