Hoegaarden White Beer 330ml (Belgium)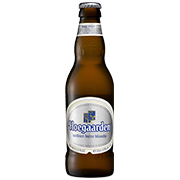 Award-winning Belgian beer with 500 years of history, a fruity orange peel aroma and light-yellow colour. White beer from award-winning Belgian brewery Hoegaarden, who were the first to discover the unique recipe for wheat beer in 1445. Legendary Belgian beer with an orange peel aroma, coriander and herbs imported by monks.
Subtly flavoured with Coriander and Curaçao, pouring in a swirling cloud of yeast with a pale yellow colour.
Belgium beer at it's finest. Whirls of spices, fruit and notes of white chocolate, make this the perfect drink to impress.
Pale yellow with hints of coriander and Curaçao, this yeast whirlwind of flavour is incredibly divine.