Kingfisher Lager 330ml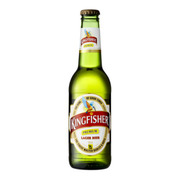 The most popular beer in India, made from a recipe that is more than 150 years old. Lager produced in India according to a recipe that is more than a century old! Indian lager produced by brewery Kingfisher, established in Bangalore in 1857.
Light gold in colour with a clean and hoppy aroma, this Indian Lager is clean and refreshing.
Clean, fresh and hoppy. A great Indian lager with a warm light gold colour is everything you hoped a good lager tasted like.
Wanna know what a good Indian lager tastes like? Fresh, clean and looks fantastic too with its light gold finish.