Kronenbourg 1664 Lager 330ml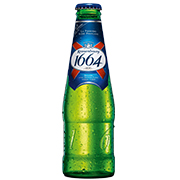 Historic beer made from aromatic hops, providing this beer with a very distinct and unique aroma. Pale lager first brewed in 1952, contains water, barley malt, maize, wheat malt and hop extract. Popular international beer made with aromatic hops from the Alsace area, giving the beer a truly unique flavour.
Made in France with Strisselspalt hops, considered the 'caviar of hops'. Delivering a satisfying taste.
Sit back and relax and enjoy perfection with every mouthful wih this beautifully crafted French inspired beer.
One to relax with. With it's french origins, you'll be sure that the quality of this lager is above perfection.