La Trappe Blond 330ml (Netherlands)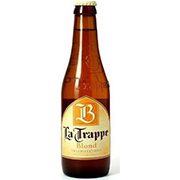 Filtered Trappist beer bottled with sugar and yeast, trademarked by a fruity, fresh aroma. A brilliantly balanced Trappist beer made from water, barley malt, hops and yeast. Dutch Trappist beer, but still considered a Belgian styled ale. Distinguishes itself by its amber body and medium carbonation.
La Trappe is the only Trappist beer located outside of Belgium and is only one of the seven still producing. This Dutch beer is a statement in it's own right. Featuring notes of fruit that's perfect for a summer party. Made in only one of the seven Trappist beer regions in Belgium. So full of flavour, it'll become a sure favourite.