Little Creatures Pale Ale 330ml (Fremantle, WA)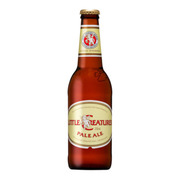 Gorgeous crafted beer with an intense citrus and grapefruit aroma, perfect for anyone who enjoys a well-balanced beer. One of the freshest beers in the world thanks to the live-yeast bottle and kegs conditioning. High-quality beer without any artificial preservatives and made with only the finest ingredients.
A unique blend of premium hops drive an intense citrus and grapefruit aroma and flavour in this Pale Ale. A classic combination of citrus and grapefruits leaves a slight bitter taste yet perfectly splendid note of fruity flavour. A pale ale with citrus and grapefruit delivers a perfectly fruity experience they're guaranteed to enjoy with every sip.
---