Monteith's Crushed Apple Cider 330ml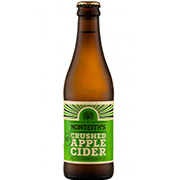 Delicious cider made from the best New Zealand apples, which are all handpicked and ripened in the sun. One of New Zealand's best ciders, created from sun ripened apples and fermented until suitable for consumption. Gorgeous New Zealand cider, fermented over a period of three months and a real crowd-pleaser.
Contains fresh sun-ripened New Zealand apples that have been crushed to retain the fruit's natural flavours.
Fresh and natural New Zealand apples are simply a wonderful, fresh take to the classic apple cider.
Natural flavour of New Zealand apples will have you crying "more, please"! It's a pleasure to the mouth.
---