Moon Dog Love Tap Double Lager 330ml (Melbourne, VIC)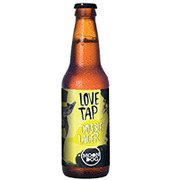 Delicious hop-styled lager with strong citrus and passionfruit aroma, but with a lower alcohol content. Double lager with the malty sweetness combined with a yeast character, providing a long, dry and bitter finish. Handcrafted, traditional lager produced by the Moon Dog Brewery and created with hops from the United States, Australia and New Zealand.
Somewhere between a smashable lager and a hoppy IPA this is a refreshing lager with big hoppy flavours. A unique blend of hoppy flavours deems this as a sure favourite among all our beer hamper recipients. Explosions of hoppy flavours leaves a big smile of satisfaction with every mouthful.