Peroni Nastro Azzurro 330ml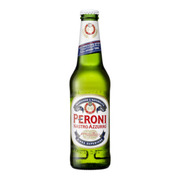 Excellent beer created by the Peroni Brewery, founded in 1846 and now proudly worldwide favourites. Italian beer made with barley malt, maize, hop pellets and hop extract for a full-flavoured brew. Historic beer from Italian brewery Peroni, combining flavour with thirst-quenching abilities.
Peroni Nastro Azzuro is brewed to the authentic Italian recipe originating in Lombardia, Italy in the 19th century.
A 19th century Italian recipe is so full of flavour, showcasing the joy of authentic brews.
Made with an authentic Italian recipe, This 19th century beer is simply wonderful.