Peroni Nastro Azzurro 330ml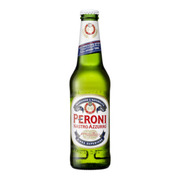 Excellent beer created by the Peroni Brewery, founded in 1846. Italian beer made with barley malt, maize, hop pellets and hop extract. Historic beer from Italian brewery Peroni, combining flavour with thirst-quenching abilities.
Peroni Nastro Azzuro is brewed to the authentic Italian recipe originating in Lombardia, Italy in the 19th century.
H
amper Emporium
-
The Peroni Nastro Azzurro
Ever Tried Italian Beer? Grab Your Chance with Peroni Nastro Azzurro from Our Gift Hampers!
Beer fanatics are in for a treat when they look at our range of gift hampers, since we added a great Italian beer to the mix as well. Peroni Nastro Azzurro is an amazing Italian beer that has conquered its place amongst the best beers in the world. Read on to find out more about Peroni Nastro Azzurro and additional exquisite beers in our range of gift hampers.
What Can You Tell Me About Peroni?
Peroni Italy does not only brew beer, because there is a range of products that carry the Peroni name. In addition to Peroni Nastro Azzurro, Peroni also released products such as luxury foods. Peroni also endorses several Italian fashion houses, ensuring they have a big impact on Italian culture and how the world sees Italian products.
Can You Give Me More Details On Peroni Nastro Azzurro?
Peroni Nastro Azzurro from our range of gift hampers was first launched in 2005. However, the Peroni brand has been around for a lot longer. Peroni was a big player in various iconic campaigns in the 60's, advertising fashion and Italian creativity.
The first Peroni brewery was founded in 1846 and grew its reputation from there. By playing a big part in Italian culture, which includes fashion and cuisine, Peroni has made a huge impact on the world.
Which Gift Hampers contain Peroni Nastro Azzurro?
One of the gift hampers on Hamper Emporium where you can find the delicious Peroni Nastro Azzurro is the United Nations of Beer Hampers. Our United Nations of Beer Gift Hampers are packed with delightful international beers. Each of these beers are accompanied by a rich history, so they can be very interesting for beer lovers with an interest in beer history.
Additional classic beers you can find in our United Nations of Beer Hampers are Grolsch Premium Lager, Stella Artois Lager, Kronenbourg, and Becks. These beers are considered some of the most popular in the world and come from a variety of countries, this includes Belgium, France, The Netherlands and Germany.
Belgium and Germany are still considered the best beer countries in the world, so beers from these countries could not be missing from our gift hampers. However, we do need to mention that other countries are stepping up the quality and taste of their beer, hence why more international beers are becoming extremely popular. Peroni Nastro Azzurro is an excellent example of that.
Customers who purchase one of our United Nations of Beer Gift Hampers also get a variety of nibbles, which were all hand-selected by the Hamper Emporium team. For our United Nations of Beer Hamper, we chose some high quality brands which include the Native Australian Chip Company, Gaea, Baylies Epicurean Delights, Morgan & Albert's and Cat Cora's.
Which Recipient Will Appreciate a Hamper with Peroni Nastro Azzurro?
A hamper containing Peroni Nastro Azzurro is best gifted to beer lovers. Anyone who appreciated a good beer and likes to savour it in a dedicated glass will certainly appreciate one of our beer gift hampers. If you are interested in additional beer hampers from the Hamper Emporium, be sure to also have a look at our Australian beer hampers, for example the MicroBreweries of Australia Hamper.
---