Saxton Pear Cider 330ml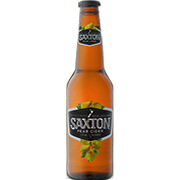 Traditional pear cider created by the McCashin's Brewery, well-known for its refined taste and complexity. Excellent pear cider with a strong pear taste and medium carbonation with just the right sweetness. Authentic pear cider made from New Zealand pears and without any preservatives, added sugar or additives.
A wonderfully crisp, old-fashioned pear cider displaying only a light carbonation with no preservatives.
Old fashioned crisp tasting that is lightly carbonated and no preservative or added sugars. Au Natural.
Crisp to the taste and crafted with traditional technique, it contains a light carbonations and is all natural..
---