Somersby Double Press Cider 330ml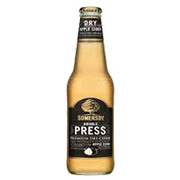 This English-style cider is a not too sweet compared to some, with a crisp clean refreshing finish. Crisp and refreshing, this English styled cider isn't overwhelmingly sweet like some, so enjoy! Not as sweet as some ciders, this English-style cider is perfect for enjoying with meals or solo.
This premium dry, English-style cider is perfect for those who don't like their cider too sweet.
A perfection of balanced sweetness makes this a premium addition to your dinner table.
It's a premium cider for a reason. Perfectly balanced, not too sweet and quality to the taste.