Stella Artois Lager 500ml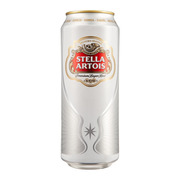 Classic and renowned Belgian beer, made from the finest hops and barley. Refreshing Belgian beer made from Saas hops that provide the beer a distinctive full flavour. Light lager coming from the Belgian Stella Artois brewery, a brewery with more than 600 years brewing experience.
Stella Artois has been brewed in Leuven, Belgium since 1926 and is still a crisp, clean and refreshing lager all year round.
Get a Taste of Belgian Beer with Stella Artois Lager!
Belgian beer has the best reputation in the world where aroma and flavour is concerned. In order to meet the needs of our beer-loving customers, Hamper Emporium added a number of Belgium beers to their range of gift hampers. One of these beers is a delightful Stella Artois Lager!
Can You Tell Me More About Stella Artois?
Stella Artois is probably one of the oldest breweries in the world. The brewery started creating beer for the first time as early as 1366, the year when the Stella Artois brewery was founded. Stella Artois predates the existence of Belgium, since the brewery was founded approximately 500 years before Belgium declared its independence.
Today, Stella Artois is probably one of the most recognisable international beers in the world. In addition to Australia, Stella Artois also exports its beers to other countries such as the United Kingdom. Since Stella Artois is so recognisable, you really cannot go wrong by picking one of our gift hampers containing Stella Artois beer.
Can You Provide Me with More Information On Stella Artois Lager?
Stella Artois Lager is widely available in supermarkets and dedicated beer stores all over the world. The beer is a typical pilsner beer, which usually has an alcohol volume between 4.8 and 5.2%. Depending on where in the world you are, the alcohol content may vary, since there are several version of Stella Artois being sold over the world. Stella Artois with a lower alcohol content can usually be found in countries such as the United Kingdom, Ireland, Canada and New Zealand.
The majority of Stella Artois Lagers is still being made in the original brewery in Leuven, Belgium. Even though the brewery has technically been around since 1366, the brewery has undergone some serious modernisations over the past few years.
Stella Artois also has a variety of breweries in other countries, including Australia. The Stella Artois you will receive in one of our gift hampers is therefore a typical Belgian beer, but made in Australia to guarantee perfection.
Which Gift Hampers Contain Belgian Beer?
Belgian beer Stella Artois can be found in the United Nations of Beer Hamper, although we do need to mention that we offer a variety of Belgium beers in our gift hampers range. If you are interested in getting more Belgian beers as a gift, we can certainly recommend exploring our gift hampers for more Belgian beer options.
Our United Nations of Beer Hamper contains beer from all corners of the world, including Italy and France. In the United Nations of Beer Hamper, customers can find classics such as Grolsch, Stella Artois, Kronenbourg, Becks and Peroni.
Customers interested in more exquisite Belgian beers should also explore our Premium United Nations of Beer Hamper. Inside this outstanding hamper, customers can find Belgian beers that are rightfully called "Best Beers in the World". These beers are the Belgian Hoegaarden and Chimay White Trappist. There are also additional beers from other countries that also belong to this category, including Bitburger Premium Beer, Menabrea Birra Lager and La Trappe Blonde.
There are many reasons why we chose Stella for our
gift hampers
. Belgian beer is famous and consumed all over the world and has enjoyed great success. Stella Artois definitely fits in the exquisite picture and could therefore not be missing from our selection of gift hampers.
---