Stella Artois Lager 500ml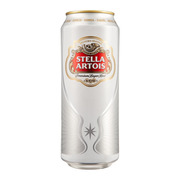 Classic and renowned Belgian beer, made from the finest hops and barley. Refreshing Belgian beer made from Saas hops that provide the beer a distinctive full flavour. Light lager coming from the Belgian Stella Artois brewery, a brewery with more than 600 years brewing experience.
Stella Artois has been brewed in Leuven, Belgium since 1926 and is still a crisp, clean and refreshing lager.
A 1926 Belgium beer that's classically clean, crisp and refreshing. A simple and beautiful beverage for savouring.
Brewed in Belgium since 1926, offering a crisp, clean and refreshing brew that's still enjoyed to this day.