Stoke Amber Ale 330ml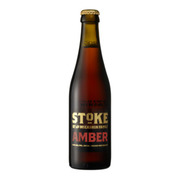 A gorgeous amber ale brewed in traditional fashion with organic hops and premium malt. Amber ale that is tank conditioned over three weeks, providing consumers with an ale that has a hint of honey and a certain smoothness. Brilliant ale made in the McCashin Brewery, a family-owned brewery with an entire line of gorgeous beers.
From the pristine isle of New Zealand this beer strikingly amber/red in the glass, with a sweet and slightly woody character on the nose.
A Pristine Beer Experience with Stoke Amber Ale
Beer lovers value a good quality ale. When you want something extraordinary, we can definitely recommend Stoke Amber Ale. The beer is produced by McCashin's brewery, also famous for Rochdale Ciders. Curious what Stoke Amber Ale can provide you? Read on and find out more!
Pure Enjoyment from McCashin's
McCashin's Brewery was founded by Terry and Bev McCashin. The couple bought the brewery from Rochdale Cider in 1980, but their goal to become one of the best brewers in New Zealand was far from easy.
During that time, there were two major breweries, Lion Nathan and Dominion Breweries. In order to gain footing in this versatile market, Terry and Bev needed to come up with something original.
The McCashin's did obtain their success by creating original recipes and by handcrafting beer and cider in their brewery. The McCashin's also wanted to be associated with great quality and flavour, so they decided only to use the best organic ingredients.
Now McCashin's is one of the most successful breweries in New Zealand, but even though they are very successful, they still have an incredible passion for beer and cider.
Because of the great care and organic ingredients used to create beer and cider, some Stoke Amber Ale could not be missing from our gift hampers. If you want to try one for yourself, check out our beer gift hampers and find a McCashin's brew that fits you!
Stoke Amber Ale
Hamper Emporium is very familiar with Stoke Amber Ale and after trying a bit of this gorgeous beverage, we decided to add it to our selection of gift hampers.
Stoke Amber Ale is definitely a great fit for the quality gift hampers of Hamper Emporium. The ale has a slight hint of honey, but also strong biscuit tones. Stoke Amber Ale also has a velvet finish which makes you want to drink more of this gorgeous ale.
Another reason why we included Stoke Amber Ale in our selection of gift hampers is the amount of awards this particular ale has obtained over the past few years. Stoke Amber Ale obtained the International Beer Challenge Award and the New World Beer and Cider Award.
Great Stoke Range
If you cannot get enough of the Stoke Amber Ale in our
gift hampers
, we can definitely recommend trying one of the other Stoke Ales produced by the McCashin family.
Stoke Ale consists of various ranges. Firstly, there is the foundation range, containing the Stoke Amber and Stoke Gold.
Other ranges you will find for Stokes Ale is Recognition (Cirrus Wheat and Rich Porter), Bomber (Smoky Ale and Bohemian Ale), Seasonal Release (Great Oak Red Ale and Coconut Vanilla Pilsner) and Non-Alcoholic (Ginger Beer and Lemon Lime & Bitters).
All of these great ales have something unique to offer, so even the most critical of ale lovers will definitely find something they like in this range.
Want to enjoy a Stokes Ale from our range of gift hampers? Do not hesitate to give us a call or take a look at our amazing selection of hampers!