Stoke Amber Ale 330ml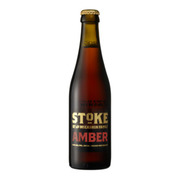 A gorgeous amber ale brewed in traditional fashion with organic hops and premium malt. Amber ale that is tank conditioned over three weeks, providing consumers with an ale that has a hint of honey and a certain smoothness. Brilliant ale made in the McCashin Brewery, a family-owned brewery with an entire line of gorgeous beers.
From the pristine isle of New Zealand this beer strikingly amber in the glass, with a sweet and slightly wood.
Wonderful woody essence and dazzling with it's personal proclamation of luxury in amber/red colours.
An amber/red colour leaves a sweet and slightly woody essence on the nose that is simply wonderful.