Barossa Cider Co. Squashed Apple Cider 330ml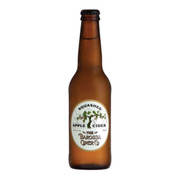 Authentic tank fermented cider with rich and creamy flavours, created from the finest South Australian apples. Cider created in Barossa, providing consumers with a fruity sweetness and creamy aftertaste. Handcrafted cider made from the best apples in Southern Australia, fermented in authentic cider tanks.
An artisan cider made from a special blend of South Australian apples, it finishes long, lean & crisp.
Aussie apples from South Australia create a crisp finish that results in true brew satisfaction.
A cider made with blends of fresh South Australian apples captures a crisp finish that lingers.
---