10 Creative Pampering Ideas For Baby Showers
Author: Nikki Barnett Date Posted:8 April 2020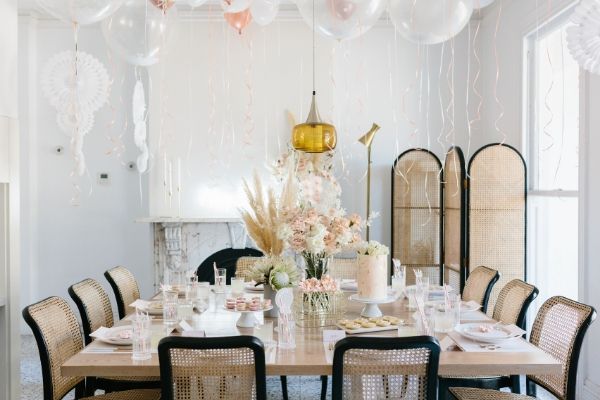 Get Ready To Plan The Best Baby Shower Ever
Having a baby shower is often the traditional way to celebrate a cuddly bundle of joy before it arrives. It's a great opportunity to spoil the mum-to-be and stock up the nursery with pamper hampers and gorgeous baby gift baskets.
Here are some creative baby shower ideas that will help to give the guest of honour a memorable day and keep her totally entertained. You can also check out our blog on planning the perfect baby shower for some extra tips.
However, sometimes we are unable to be together with our loved one or best friend. If that's the case, see it as an opportunity to break from tradition and mix things up a bit!
Why Having A Baby Shower Is So Meaningful
Celebrating a new baby is not only fun, but can also make a new mum feel supported and less overwhelmed. It can help to relieve the anxiety and stress with some of the best therapy around: quality time spent with friends and family.
Babies also need so many things when they arrive. Thoughtful gifts from friends will ensure that the everyday essentials are covered. Giving personalised baby gift baskets packed with fabulous skincare products or clothing will help to stock the nursery with beautiful items. You can also indulge the mum with luxury pamper hampers that she would probably not think of buying herself.
Thinking Outside The Baby Box!
We've compiled some interesting and unique baby shower ideas that we hope will make for an unforgettable day. Remember, enjoying baby gift baskets, having fun and good conversation is an important part of the celebration, even if you can't be together. We hope it gets your creativity flowing!
Invite The Men In Your Lives
Traditionally, baby showers have been ladies only. Why not break from the norm and include a masculine element? Plan something completely different with a fun theme that everyone can enjoy, or invite everyone to a baby buffet. With some careful planning and the inclusion of partner games, it could go down in history!
Take The Fun Outside
If you're planning for a summer baby shower, then the weather will be perfect for a celebration outside. You could arrange a simple grill menu and plan some extreme outdoor team games like a water relay or a Hula Hoop marathon. If you want to go one step further, set up a small marquee and bring in caterers for a touch of sophistication.
Make It Just For Mum
If the mum-to-be is well-prepared, or it's not her first baby, maybe the new bundle of joy doesn't need many baby items. In this case, it can be all about focusing on pamper hampers and special gifts just for her. Every new mum will enjoy the TLC of being completely spoiled with indulgent treats and luxurious products.
Head Out To The Salon
Instead of a baby shower at home, why not gather friends together and indulge in a spa or salon afternoon? Splash out on the full range of beauty treatments and feel rejuvenated and relaxed with a massage, manicure and facial. Then take a trip to the local cake and coffee shop for her favourite desserts and a baby gift basket opening ceremony.
Bring Out The Best China
Throwing a tea party is a really fun way to celebrate the occasion. Make it a fully themed event, from the fun pamper hampers and gifts to the guest's outfits. Then bring out the colourful china cups! Catering can be tea sandwiches, scones, wonderful desserts and chocolate treats. Then capture some memorable photos of all you ladies in your best tea dresses.
Design Your Own Onesies
Get artistic and let guests tie-dye or paint their own designs on white cotton baby onesies. It's a fun pastime, and you can award prizes for the most creative or funniest creations. Best of all, the new mum will have a whole baby gift basket of special thoughts, reminding her of the celebration.
If Time And Circumstance Keep You Apart
Sometimes it's just not possible to be together, but it's still so important to share the occasion. Long-distance baby showers can bring people together. You can even share the joy of opening gifts using apps like Zoom. When distance or circumstance separate you, try one of these fun ideas:
Design A Signature Gift
As an alternative to a pamper hamper, choose a gift that the new mum-to-be will love and ask everyone to sign it. It should be an item that she can use every day, put in the nursery or hang on the wall. For instance, it could be a beautiful picture frame, a glazed plate, the baby's name or a nursery mobile. Family and friends can even leave their fingerprints or a short, meaningful message to mum and bub.
Turn Books Into A Library
Start a lovely book collection as a baby gift basket for the new bundle of joy. Get loved ones to contribute with one of their favourite children's books. They can write a note in the front cover with thoughts and well-wishes for the new baby. Imagine mum's joy opening them all and starting the baby's very first book collection.
Create Nights Of Storytelling
Similarly, friends and family can create beautiful storytelling recordings. With this, they can record themselves reading a storybook for baby's bedtime. They can also include the book itself as an extra gift. This is a really special thought that will create memories for mum-to-be for years to come.
Send A Hamper Full Of Love
Pamper hampers for mum and beautiful baby gift baskets packed full of goodies will always go down well. Source soft baby clothes, cute toys and childhood books. Alternatively, treat mum with pampering organic skincare, relaxing treatments and delicious snacks. Everyone can choose their own gift, and add messages or fun items to personalise it.
Show Mum-To-Be Your Support However You Can
Holding a nurturing baby shower is all about showing your love. In many ways, where you host it and what you do is not as important as just being together. Whether that's in person or online, make sure mum feels cared for and supported.
Celebrate with fun party gifts or choose from our gorgeous baby gift hampers for Mum & Bub. Design your own unique baby shower or spoil her with decadent pamper hampers.
Whatever you do, make memories that she will enjoy and treasure for a lifetime. Happy planning!