10 Mother's Day Gift Ideas She Will Absolutely Love in 2020
Author: Nikki Barnett Date Posted:1 April 2020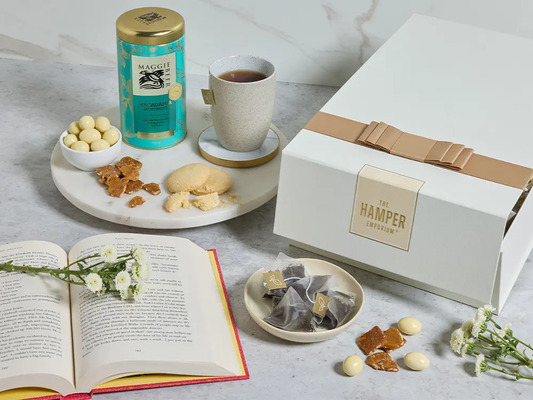 Mother's Day is swiftly approaching!
It's April, and we all know what that means… Mother's Day is swiftly approaching! If it feels like the day has snuck up on you, you're not alone. When life gets busy, brainstorming awesome Mother's Day gift ideas is often the last thing on our minds. We want to spoil Mum but often don't know where to begin.
Luckily this isn't our first rodeo! Here at The Hamper Emporium, we specialise in putting together incredible gifts for Mum, from pamper hampers to other unique Mother's Day gifts that she is sure to love. We've been delivering happiness to Mums Australia wide (and beyond) for long enough to have some amazing ideas up our sleeves. So look no further, here are some Mother's Day gift ideas she will absolutely love.
Pamper Pack
We don't know a mum out there who doesn't deserve a little more 'me time'. Whatever she does from day to day, it's likely that she would jump at any excuse to turn off her phone, run a relaxing bath and absolutely bliss out. Buy Mum a beautiful silk robe, a scented soy candle or some indulgent chocolates. Better yet, get her a selection of everything. It can be hard to choose gifts for mum, especially when you don't want to repeat last year's idea, but this thoughtful present speaks volumes. Tell the special woman in your life that she deserves to be celebrated.
A Bottle of Wine
It's beautiful in its simplicity. If you're after a Mother's Day present that will hit the mark every time, buy her a high-quality bottle of her favourite wine. There are all types of mums out there, and this translates to her drink of choice. Is she a Francophile who adores croissants and fromage? Easy, gift her with a bottle of the finest quality champagne. Does she adore rich, fruity flavours? Consider a bottle of Australian red wine. For spirit lovers, splash out with a bottle of gin or even cognac. She'll be able to savour the flavours and perhaps discover something new.
Board Games
If Mum loves hosting dinner parties, why not give her a selection of board games that she can whip out once dessert is over? She'll be creating vibrant memories with her guests for years to come. You could opt for a classic like Monopoly, Scrabble or even Cluedo. For general knowledge aficionado mums, try a trivia-based game that will test her expertise. It's a unique present that she won't forget in a hurry.
Dinner On You
With everything happening in the world, you may not be able to actually visit Mum on her special day. To bridge the gap, why not gift Mum with an IOU of dinner at her favourite restaurant, redeemable once you're able to? You will be able to support local businesses once they reopen their doors, as well as cherishing time spent with loved ones. It's a win-win situation! Mum will look forward to sharing a bottle of wine and delicious food with her treasured family members. In the meantime, share a long phone call or a video chat with her to catch up on life. After all, it's this connection between you that truly matters.
Journal
Give Mum the gift of self-reflection with a beautifully designed journal. Maybe she's a word lover, always clutching a novel or the newspaper. Maybe she's a busy woman who relies on lists to get through each week. Either way, she will be grateful for an elegant place to collect all her thoughts. Maybe she's always been curious about bullet journaling! In that case, a journal with blank pages would be perfect. She can be creative and experiment with new layouts. Otherwise, a lined notebook is ideal for the mum with classic tastes. Either way, she will simply adore this thoughtful gift.
Framed Photographs
Memories are often the most valuable things we can possess. For an inventive gift that will touch her heart, get her favourite family photos printed and framed so she can display them proudly around the house. Dig up old family photos; yes, the ones she took on that old film camera! Or perhaps your chosen moments are more recent. Weddings, graduations, anniversaries… They're all unforgettable milestones in life that deserve to be commemorated. Give her a daily reminder of all the love in her life, she'll be bound to cherish them forever.
House Plants
For all the green thumb mamas out there, look no further than a delightful house plant for her to nurture and love. There are many benefits to keeping plants inside. They clean the air, help boost healing and can even lift your mood! If she doesn't want anything high maintenance, we absolutely love succulents. They need very little and look absolutely stunning. If her home already resembles a greenhouse, go with something unique that she doesn't have yet. We adore Jade Plants and String of Pearls. The possibilities are endless!
Sustainable Items
If your mum is passionate about caring for the environment, consider giving her a sustainable gift. Whether it be reusable produce bags for the supermarket, an alluring reusable coffee cup or even wooden cutlery, you don't have to sacrifice on style to save the planet. She will be so besotted by her earth-friendly gift that she'll be brimming with gratitude! If she's a smoothie lover, a selection of fancy metal straws will go down a treat. Don't forget the Mother's Day card made out of recycled paper.
Elegant Homewares
We couldn't write about the best Mother's Day gifts in Australia without including homewares. After all, a woman's home is her castle too! You have endless options to choose from. You could opt for something simple and functional, like beautiful serving bowls or classic bookends. Or perhaps she'd prefer an ornamental gift. Choose a modern sculpture crafted by a local creative, or an illustration that you just know will complete that blank piece of wall. Ensure it's lovingly gift wrapped so she is suitably surprised. It will fill her with joy, and make the house feel just that little bit more complete.
Memorable Picnic
If Mum loves the outdoors and always knows the spots with the best views, give her a little something to take on her next adventure. Gift her with everything she needs to create a memorable picnic with her loved ones. So what are the absolute essentials? Well, this depends on Mum. If she's an absolute foodie then we recommend putting together a selection of Australia's leading snacks and nibbles. Give her artisan crackers, local quince paste and roasted almonds to top it off. If time is of the essence, you can always choose from a range of Mother's Day gift hampers. We can think of a few that would be perfect for picnics! With contactless delivery on orders, there's nothing stopping you from giving Mum a gift that she'll remember for a lifetime.
Make a memorable gesture
No matter what you gift Mum with, make sure she feels absolutely spoiled this Mother's Day. She will hold the memory dear and appreciate the thoughtfulness that went into her amazing gift. Your loving Mum deserves to be pampered, and there's nothing more loving that a kind gesture to show her how much you care. Don't miss out on an opportunity to give her everything she deserves, and more!