10 Top Tips For Bringing Joy To Mums
Author: Nikki Barnett Date Posted:6 April 2020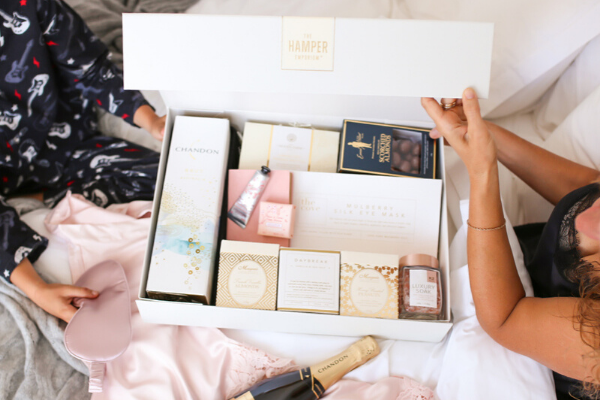 10 Ways To Bring Joy To Your Mum
If your mum is a little frazzled at the moment, it's time to get creative and find new ways to spark joy in your mum's day. Do you want to know the secret to a happy mum?
Being a mum can be tough sometimes. Even when the world is running as it should, mums are busy working long hours, caring for their kids, trying to keep the house in order, and managing that un-ending pile of laundry. There are times when every mum feels overwhelmed. Mother's Day is the perfect time to remind her that you're grateful for everything she does for you and that you want her to be happy.
Finding creative ways to brighten your mum's day can be tricky. Sometimes it's hard to know what you can do to show your love and make her smile. We want to make it easy for you to bring joy to your mum, so we've put together 10 top tips for bringing joy to mums.
For dads, if you're looking for inspiration for simple ways you can help your kids make your wife's day special, we have the advice you need. Remember, you don't need to plan elaborate or grand gestures of love. Quite often, it's the little things that count the most when choosing the best Mother's Day gifts.
A Day in the Sun
Minimise stress by taking time out of a mum's busy schedule. Just quietly sitting in the sun and getting some fresh air is a simple way to help your mum destress. It's not just the peace and quiet that helps – exposure to sunlight increases the brain's release of the happy hormone, serotonin, which helps improve the mood and makes people feel calm and focused. Give your mum some time to escape the rush with nothing more pressing to do than just breath and enjoy the moment soaking up the sunshine. Encourage her to put her feet up, bring her a cup of coffee, some decadent snacks, give her a great big hug, and then tiptoe away…
Family Picnic
Mums love any excuse to spend time with all the family. Surprise her with a special family picnic. All you need is a picnic blanket, a comfy cushion (or a couple of chairs!), a jug of iced water, and a gourmet picnic hamper with all mum's favourites already picked out. If your mum loves chocolate, you'll make her smile with a gift basket full of yummy chocolates and sweet treats. Chocolate hampers are a super affordable way to bring joy to your mum. Make your hamper even more special by planning a picnic to share it with her. Spending some quality time together as a family is a simple way to spark joy on Mother's Day.
A Cozy Corner for Reading
If your mum loves snuggling up with a good book, make her day by creating a cozy quiet corner for her to read in. Place a comfy chair under a window or in a quiet corner of the house, put a little coffee table next to the chair, gather a blanket, and put on some music. For a fun surprise, you could make a special card, blindfold your mum, and lead her to her cozy corner all prepared with a cup of tea and a new book. Your mum will love feeling pampered and made to feel special. Don't forget to keep her stocked up with cups of tea and nibbles through the day as she escapes into the world of a good book.
Flowers for the Soul
The sweet scent of flowers has the ability to soothe and calm. Floral scents can make a woman feel more feminine, rejuvenated, and happier. But flowers aren't always the best gift. For those who love the scent of flowers but don't want to buy fresh-cut bouquets, there are a heap of options for alternative gifts that aren't flowers. Delicate floral perfumes are a wonderful women's gift. Bring joy with the fresh floral scent of roses or cherry blossoms with essential oils and fabulous skincare products that your mum will love. Scented floral candles are also lovely pampering Mother's Day gifts for a mum who loves flowers.
Cook Her Dinner
There are few things more draining than the daily dilemma of what to cook for dinner that everyone will eat. Followed by washing up. Solve that problem for your mum by cooking dinner for her. Treat your mum to a night off with a simple meal that everyone can help prepare. Dinner doesn't have to be complex. A delicious pasta with gourmet sauce, fresh herbs, and sundried tomatoes is guaranteed to please. Add in a bottle of wine, and mum will be feeling the love. Don't forget to clean up afterwards!
Hide and Seek Treats
Fill her day with sweet surprises. Create a day of joy for your mum with a surprise treasure hunt that lasts all day long. If you buy a Mother's Day hamper full of snacks and nibbles, there's nothing to say you have to give it to your mum all in one go! Your mum could wake up to a sweet surprise of chocolate-coated macadamias on her bedside table. Followed by a gift box of fine chocolates stashed in her underwear drawer. She could discover a box of toffee popcorn on top of the TV. Perhaps a plate of crackers, olives, and tapenade will magically appear on the kitchen table at lunchtime. Salted nuts and peanut brittle for an afternoon snack. And then top off a perfect day with a bottle of wine for her to enjoy with dinner. Finish it off with a special card on her pillow for her to discover before she goes to bed. Your mum will love a day dedicated to making her smile.
Watch a Movie Together
Your mum will love to share some quality time with you on Mother's Day. Spending time together is such a simple yet important way to show your love. Find out what movie or TV series your mum has been wanting to see, and then make a date to sit and watch it with her. Plan a movie marathon with all the kids picking a movie to share with mum. Make sure you don't choose something just because you want to watch it! Be thoughtful and choose a movie your mum will enjoy. Plan it ahead of time and set the loungeroom up with snacks you can both enjoy together. Mother's Day gifts that bring joy are all about making memories together.
Make a Movie With Mum
We've all seen the awesome videos on YouTube with all the family lip-syncing away to their favourite song, or being crazy with some hilarious home fitness routines. Get your mum in on the action and record a funny video of you all singing and dancing to her favourite song. She'll love the chance to spend the day doing something funny with her kids, and will have a great Mother's Day memory recorded on video to look back on over the years. A day of laughter and fun family time is the perfect way to spark joy. Who knows, perhaps you'll all go viral on TikTok.
Write Your Mum A Letter
A hand-written letter is a lovely, personal way to express your gratitude and show your love to your mum. You don't need to write an epic long letter to make it special! Just jot down a few simple words about why you value your mum, your favourite memories of things you did together when you were younger, and why your mum is the best. You could even try adding a few hand-drawn flowers, or cutting cute images from magazines, or wrapping some little chocolates up inside the envelope. A personalised card or letter is a great way to bring joy to your mum this Mother's Day and it isn't expensive!
Have A Gift Basket Delivered
If you don't live close to your mum or you can't visit her this Mother's Day, it's even more important that you come up with a special way to bring her joy. Mums always miss their kids and wonder what they are doing, but on Mother's Day, it is even more important to send your love. While sending a gift isn't quite as good as being there in person, it's a great way to let your mum know you are thinking of her. You'd be surprised how much a Mother's Day gift hamper and a skype chat will brighten your mum's day! "All mum needs is the love of her family. And chocolate."
Remember, you don't need to wait until Mother's Day to show your mum how much she is appreciated. Thoughtful Mother's Day gifts will always fill your mum with warm fuzzies, but a random and spontaneous gift for her from all the kids is priceless. A big hug, a word of thanks, and a pampering gift just to say, "I love you, Mum!" is a wonderful way to recharge her batteries and bring joy to your mum.