10 Ways To Pamper A Bride Before Her Big Day
Author: Nikki Barnett Date Posted:6 July 2020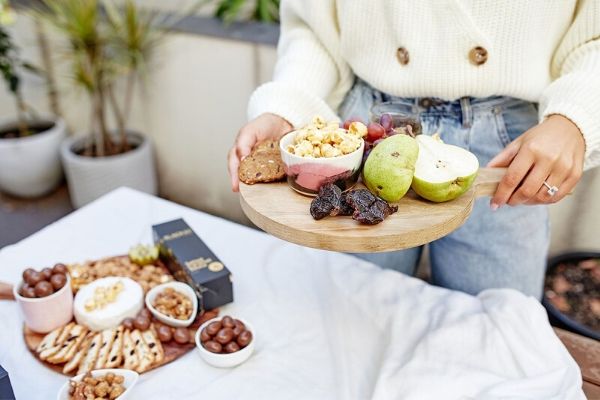 Throw a little pamper party to relax her jittery nerves
A wedding is a beautiful celebration of two people joining their lives together. A wonderful day full of laughter and happy tears to share their joy with their closest and dearest. It is the biggest day of the happy couple's lives so far, and everyone wants it to be perfect. But organising a wedding, no matter if big or small, can be extremely stressful. Thinking of every little detail and planning it to perfection can be exhausting. It is therefore very important for the couple to take time out during the lead up to their special day.
Do you have a close friend tying the knot in the next few weeks and going a little stir crazy? Why not treat her to a pamper day, surrounded by her best friends and indulging in some luxury? Pamper hampers are a wonderful treat to make a bride to be feel special.
Here is a compilation of 10 ideas on how to pamper the bride before her big day. Any of these pamper ideas can be done at home or at a venue of your choice. Your friend will be forever grateful for this.
1. Healthy meal
Cook up a storm or take your friend out for a beautiful nutritious meal. Many brides will be rushing around madly trying to plan their wedding and organise every detail themselves, up until the big day. Unfortunately, in all the madness they often find very little time to look after their bodies and cook a healthy meal. Grabbing a quick pizza or a greasy burger on the way to meet the wedding planner or have another fitting of the dress can quickly become a habit. In the long term, this can make her feel tired and exhausted. It is extremely important to eat well, nurture the body and get some good grains and fresh fruit in. She will feel revitalised and full of energy!
2. Facial
Give your friend her signature glow back! Stress and bad food choices can, unfortunately, show on the face in the form of spots and skin problems. Treat her to a rejuvenating facial to cleanse her skin and bring back some balance, but remember to book them in at least two weeks before the wedding. This allows any potential skin purges as a result of the treatments to calm down.
3. Manicure
Everyone will be looking at her hands while she's showing off her new ring. Get her nails buffed and polished before the big day and let her choose a coat complimenting her wedding colours. This will not only tick a job off her wedding chores list, but you can also both enjoy some bonding time followed by a nice glass of champagne.
4. Pedicure
Tick another thing off the bride's to-do list. Either go see her favourite cosmetician or enjoy a night with the girls. No matter if she's wearing open toe wedding shoes or not, it always feels wonderful getting your feet spoiled. They will be ready for a big day and night of dancing with friends, family and her beloved.
5. Spray tan
Nothing looks better than a glowing tan with a white dress, but beware... nothing looks worse than straplines. A spray tan is a beautiful way to get a sunkissed look without exposing the skin to harmful UV rays. Just remember, don't organise this one last minute.
6. Massage
Help the bride forget about all the stresses in her life. A relaxing massage is the perfect way to pamper the bride before her big day. No matter if by herself, with friends or even with her fiancé, this will help her forget all worries and slip back into a peaceful state of mind.
7. Good sleep
So many brides arrive completely overtired on their wedding day. Give your friend the gift of sleep. Gifting a floating experience voucher is an extremely personal and thoughtful gift and often the experience of a lifetime. This will give the bride the opportunity to float on cloud nine for a while and forget about her to-do list. Help her relax with tea and candle hampers to create a moment of calm.
8. Yoga and meditation session
Breathing will help the bride fight all jittery nerves leading up to and on the wedding day. Breathing makes sure you can stay in the moment and enjoy, stay focused and positive. Meditation and yoga are two wonderful ways of calming your internal thoughts down and remembering what is important. It teaches you how to breathe slowly and take a moment for yourself. No matter if a group session with her best friends or a class on her own, this will help the bride relax and get a little break before concentrating on the main tasks ahead again.
9. Movie night
Getting married is a big step in life. Choosing to share your life with someone else is exciting but at times can also be scary. Sometimes it feels like letting go of the old and starting a completely new life. The cure is a movie night. Get the girls together, pyjamas on, popcorn ready and go. Either flick through some old photo albums together, share some memories of teenage crushes, watch some home videos or choose her favourite Netflix rom-com to have some laughs.
10. Checklist
Sharing is caring. Offer your friend to take some jobs off her wedding to-do list so she can take a break every so often. Write thank you notes, talk to vendors, drive some bags and boxes to the venue or be the morning after person—anything will help and put a smile on your favourite bride-to-be.
What girl doesn't love being pampered?
Why not enjoy the relaxation and invigoration of the beauty parlours at a girl's night in? Here at the Hamper Emporium, we believe every woman deserves to be swept away into a world of pure bliss. Our pamper gift hampers are the perfect gift boxes to delight her senses.
No matter what pamper party you have planned for your friend, our luxury wine and pamper hampers will make an excellent gift to fulfil any bride's dream.
The L'Occitane Cherry Blossom & Moët Hamper features a range of aromatic joy, including a gorgeous scented candle, a soft satin robe, a silk eye mask and skincare products—beautifully presented alongside a bottle of exquisite champagne.
Browse our selection of wine hampers where each drop has been perfectly paired with an exclusive range of gourmet artisan produce. No matter if your tribe enjoys a bubbly champagne, a sparkling rosé or a gorgeous red. The possibilities are endless and all hampers come with FREE Australia-wide delivery.