11 Easy Steps To Surviving Christmas Day
Author: Nikki Barnett Date Posted:12 December 2020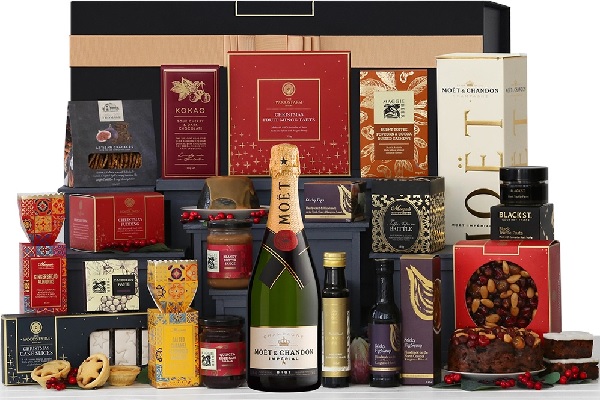 Christmas Day is nearly upon us!
In less than a week, we will all be having a joyous time eating, drinking and making merry. At the Hamper Emporium, it's a time of excitement and hard work as we prepare to send out our fabulously festive Christmas gift baskets. So, we understand that for many people, the lead up to Christmas can also be stressful.
The whole idea of Christmas is to have a much-needed break with family and friends. You're not supposed to need a holiday afterwards! So how exactly do you survive the festive season and come out unscathed?
Christmas Gift Baskets And Other Great Ideas!
Most of us are trying to make Christmas 'perfect' for everyone. But it's important to remember that being together and having fun is the number one priority. So, why not make things easy on yourself and check out our ideas on how to survive Christmas Day?
1. Forward Plan For Supplies
There's no point spending time worrying about food shopping. Start the very minute you think about it and stock up with your needed supplies well before Christmas. Make life easy for yourself by ordering online for bulky items, Christmas gift baskets, decorations and presents. Make sure you have a small emergency supply of useful gifts under the tree just in case someone arrives unexpectedly too. Then all you have to think about is fresh fruit and veg before the big day!
2. Don't Feel You Must Do Everything
If you are the Christmas host and have to plan the menu, cooking and activities, then it doesn't mean you must do everything yourself. Ask for some help! Guests can prepare and bring different courses or contribute cold meats, salads and desserts. You could recruit some help in the kitchen and put the men in charge of drinks and entertainment. Schedule the day around some 'you' time, and make sure you can relax or watch your favourite Christmas movie.
3. Prepare For The Festive Feast
It makes sense to prepare as much as you can on Christmas Eve. That includes laying the table or sorting out the BBQ if you're planning a seafood feast. Stick to favourite 'tried and tested' recipes and pre-do as much as possible. If you're planning a traditional roast, then it's easy to make stuffing, vegetables and accompaniments earlier and freeze them. If you're not cooking, Christmas gift baskets are ideal for tasty treats on tap all day. Put the drinks on ice, get everyone involved and keep it fun!
4. Timing Is Of The Essence
There is nothing to say that you must start the Christmas merrymaking at lunchtime. You can plan a leisurely afternoon feast or even a sophisticated supper. However, if you're sticking to midday, then switch the cooker on early and prepare the kitchen for action. Make a plan for timings and remember to factor in a break for you. Although we're sure they wouldn't mind, you probably don't want to be entertaining in your Christmas pyjamas.
5. Everything In Moderation
Christmas is about enjoying what you love, but that doesn't mean you have to do everything to excess. If you want to last until the day ends, and not be asleep in a corner, then moderation is the answer. Try to apply this throughout the day and keep your fingers out of the Christmas gift baskets too! Alcohol lovers should have soft drinks on hand and save the serious drinking for later in the day. Everyone should pace themselves and not stuff themselves at the first course!
6. Plan Some Sleep & Relaxation
Sleep and leisure time are essential for our body to recover and de-stress, even on Christmas day. All the excitement and hard work can affect sleep patterns, so ensure the lead up includes some early nights. If you want to be the life and soul of the party on the big day, some quality sleep and relaxation are needed. You don't want to burn the candle at both ends and be too tired to enjoy the fun and happy times fully. Your nearest and dearest will fully understand if you take a few minutes for yourself.
7. Simple Pleasures Save The Day
Remember to treat yourself! Christmas is all about giving, but a simple pleasure for yourself is a wonderful thing too. It will boost your energy levels and mood for sure. Plan small treats, pampering items, or one of our unique Christmas gift baskets just for you. If you enjoy exercise, then head outdoors during the day. Take some alone time or include guests in a walk with the dog or a fun activity to help dinner go down. We guarantee it will lift everyone's mood.
8. Fun Is The Ultimate Goal
With so many things to organise at work and home, Christmas Day can easily be taken too seriously. The priority should be to have fun and make memories. It's an enchanting day, especially for children. A time for laughing, hugging, sharing and playing, whatever your age. It's the perfect day for creating magic, so make time to do just that! Letting your hair down is the most important part, even if the dinner is late or a complete disaster.
9. Traditions Mean Making New Ones Too
We all have our quirky Christmas traditions handed down throughout the years. These are really important to honour on Christmas day, whether it's a splash in the pool or wearing silly hats all day. They are the beautiful things that make it so special and it just wouldn't be Christmas without them. So, why not make your own traditions that will create new memories? This year, start a fun activity, put Christmas gift baskets under the tree or open your crackers with breakfast!
10. Don't Be Tempted To Spend It Alone
If for any reason you're not able to be with family and are considering spending Christmas Day alone, please think again. You might feel that you don't want to impose on friends, but for most people, it's 'the more the merrier'. Do something about it and don't feel lonely on this joyful day. Invite people over, offer your home as a venue, seek out invitations, plan to share some online Christmas drinks, go to holiday events, and do your favourite festive things. You could even volunteer with like-minded people. But please don't spend it alone!
11. Have A Game Plan For The Aftermath
Here are some great ideas for the afternoon that will keep the Christmas momentum and laughter flowing until midnight.
Head out to the beach or park

Break out the crazy board games

Watch an old Christmas movie

Take a treasure hunt hike

Get crafting for New Year!

Swap Christmas gift baskets

Share extra Secret Santa gifts

Take hilarious photos together

Lend a helping hand
Christmas evenings are a perfect time for reflection, enjoying your special gifts, or quietly sitting under the tree lights reading a Christmas book aloud. You certainly don't want to be cooking again, so why not tuck into one of our delicious festive hampers? They're perfect for sharing around and packed full of luxury treats that everyone is sure to enjoy.
Browse our festive collection of fabulous Christmas gift baskets today and make your life even easier this Christmas!