2 Office Gift Ideas To Make You Stand Out
Author: Nikki Barnett Date Posted:2 September 2019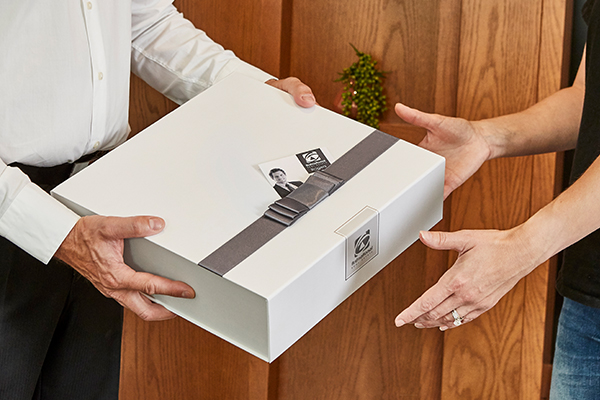 2 Office Gift Ideas To Make You Stand Out
You may spend time with them every day and think you know them really well but buying work colleagues a surprise gift can be exhausting!
Whether it's for a birthday, a thank you, or at the end of a major successful project, gift buying can be difficult. All too often it results in a purchase that is unwanted or lacking in imagination.
Let's be completely honest - how many of us need yet another paperweight, mug or desk accessory holder? In 2019 it is time to step up our office gifting game!
The Hamper Emporium has the ideal answer. It doesn't have to be expensive either, as our exclusive gourmet gift hampers are provided at a variety of super prices. Whether your nine-to-five friends enjoy a hearty glass of red wine or an ice-cold designer beer, you will find something for everyone's taste.
We've perfected our hamper range over the years, making your gift-giving experience hassle-free. You can also include branded items for that extra stylish touch when giving gifts to people who don't work in your office.
A gift hamper from The Hamper Emporium is a truly memorable gift to share in the office or as a private token of your appreciation. Or simply because you're feeling generous!
Say Thank You At Any Time Of The Year
Whether it's a thank you gift for clients or colleagues or a hamper to show your staff how much you appreciate their hard work, look no further. Our exclusive luxury food and drink hampers will tick all those boxes.
They fit the bill for competition prizes, staff incentives, celebrations or just because you feel like treating someone. Let's not forget Christmas gift-giving either!
With an emphasis on sharing, there's a variety of choice and lots of lush goodies in the mix to share the love around!
Solving the problem of buying a gift that's relevant and tasteful, we have put together hampers with premium brands, award-winning delicacies and tasty treats. The only thing that improves on the delicious contents is sharing it with some great colleagues or clients.
The Hamper Emporium will make your special gift a success every time. Our hampers are designed to appeal to pretty much any taste and are the ideal way to show your appreciation.
They range in size, contents and price, to cater for all occasions and budgets, so you are sure to find the perfect choice for you. Check out two of our most popular and top-selling gift baskets to see what's on the menu.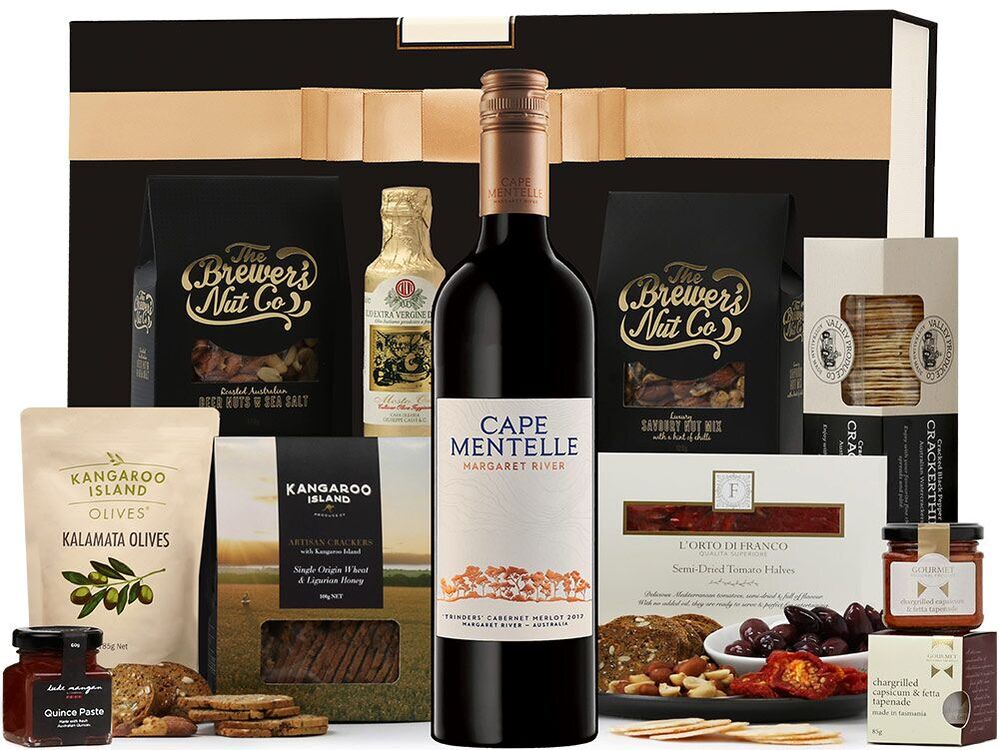 If you're looking for a hamper that's perfect to impress and can be shared out, then try the extremely popular Red Wine & Nibbles Hamper. It's also a great way to kick off the Friday feeling or after-work drinks!
There are several reasons this gorgeous gift hamper is one of our all-time best sellers.
First up is the choice of Cape Mentelle 'Trinders' Cabernet Merlot for red wine lovers. It was awarded 93 points by James Halliday of the Australian Wine Companion, and it's not surprising. It has plenty of subtle woody, earthy notes blended with fruity blackcurrant and blackberry overtones. Fragrant, young and vibrant, it's fabulous for any occasion.
Tasmanian-made Tapenade, flavoursome Mediterranean semi-dried tomatoes and gold-wrapped Italian Olive Oil are on the menu too. Care and share with a selection of gourmet dips, Kalamata olives, savoury nuts and cracker thins.
For white wine enthusiasts, swap the heady red for the award-winning Islander Estate subtle and silky Chardonnay with our beautifully presented White Wine & Nibbles Hamper.
A luxury black keepsake box and embossed paper lining finish this perfect gift. It's sure to create a lasting impression and all for just $99!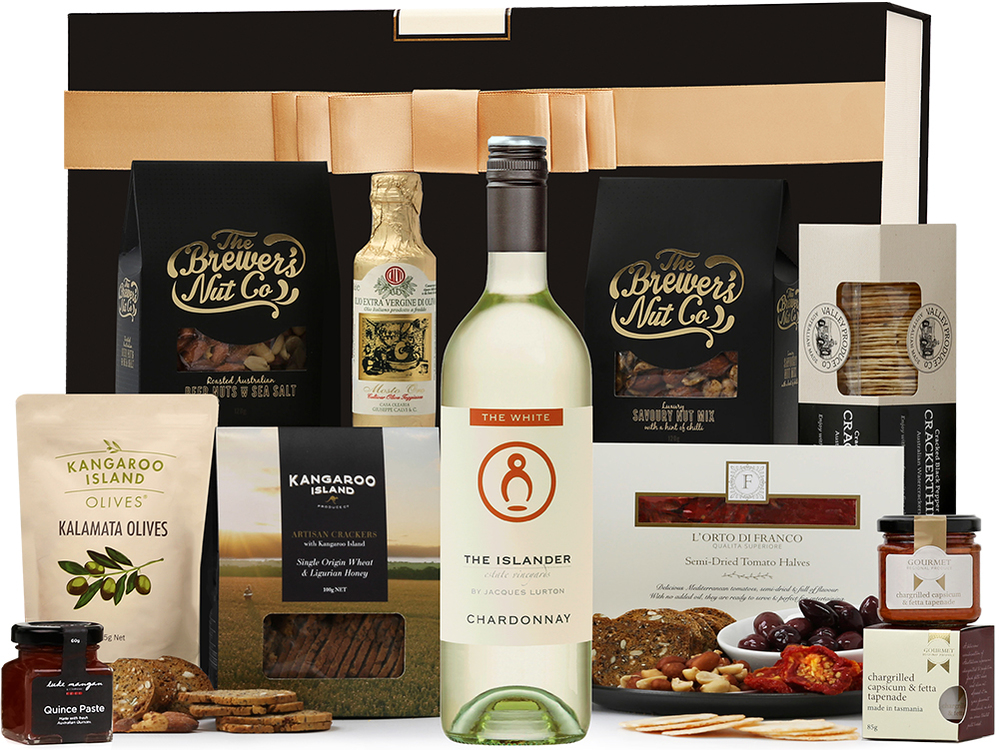 Why not think big and spoil that special member of staff or buy the whole office a Hamper filled with goodies.
The Ultimate Foodies Hamper is the ideal addition to any celebration, with a feast of foods including savoury nibbles, biscuits and chocolate.
Who can resist sharing fine artisan produce? A journey around the world with flavour-filled delights and delicious delicacies await. There's something for everyone in our Hampers, from sweet to savoury and everything in between.
Savour the taste of Baylies Epicurean Delights gourmet crackers, Kangaroo Island Kalamata olives and Gourmet roasted eggplant tapenade. Tickle your taste buds with Tasmanian Black Truffle Paste, Luke Mangan Quince Paste or Salted Caramel Sauce!
Of course, we didn't forget a choice of hand made smooth chocolate, fine biscuits and sweets to share around.
Presented in our luxurious customised gift box, it's a treasure that will last long after it's empty!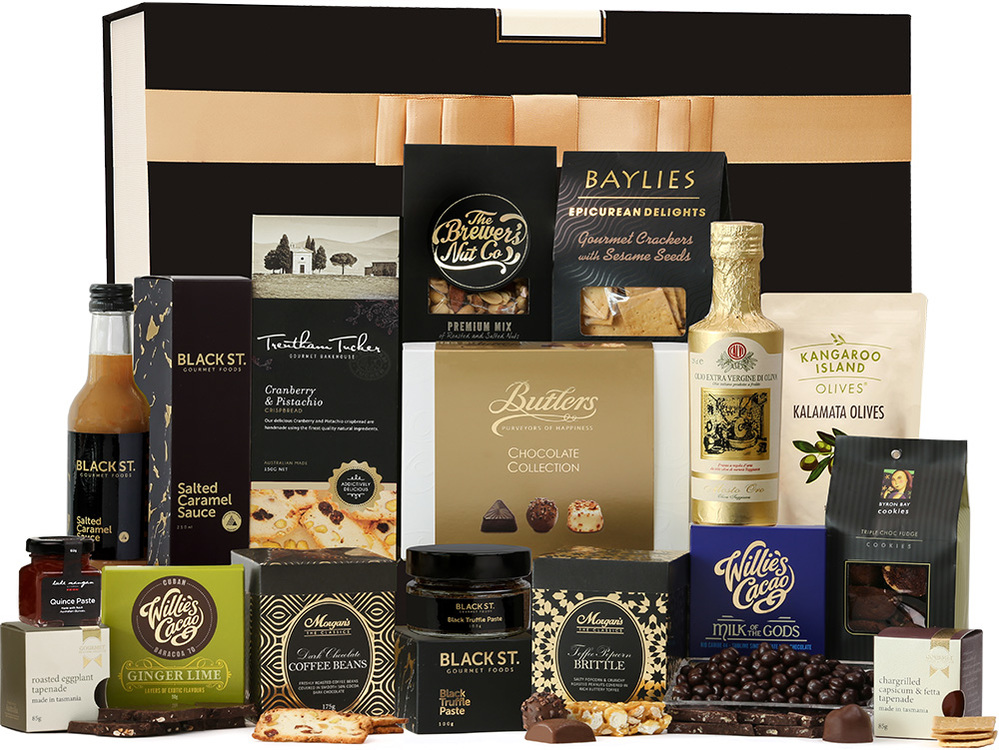 All Hamper Emporium gifts, including the Red Wine & Nibbles and Ultimate Foodies Hamper, include free Australia-wide delivery to any address.
There's also a free embossed gift card for your personalised message.
Get ahead in the gift game and say an impressive thankyou to someone by ordering a hamper today. These are just two great ideas for the office, but there are lots to choose from.
Hamper gifts fit any special occasion. Gourmet lovers, foodies and wine aficionados alike will just love them!