3 Of The Best Corporate Food Gifts For Those Important Clients
Author: Nikki Barnett Date Posted:11 November 2019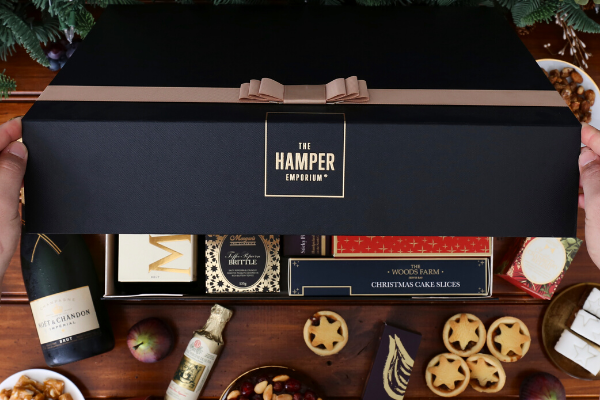 Have you had time to read our other blogs yet? Then you will know how vital saying thank you to your valuable clients is, especially at Christmas.
This blog is dedicated to showcasing our best corporate food gifts and Christmas hampers for 2019. Promotional products ensure that your brand presence is highlighted among your clients, so we'll show you precisely what we have on offer for sophisticated corporate branding too.
The Best Corporate Food Gifts Are Surprises
Corporate hampers from The Hamper Emporium will enhance your brand awareness in a refined way and add a wonderful personal touch. The very best corporate food gifts will show your appreciation at important times and be remembered long after the recipient takes their first bite.
Corporate events

Holiday season festivities

New product launches

Project collaboration

Personal gifts for your customers

Team celebrations

Visiting clients attending conferences

Christmas!

Just because you want to
We offer an extensive range of the very best corporate food gifts with mouth-watering contents thoughtfully chosen and lovingly packed by us. They are sure to make an impression, especially if you add corporate branding to add extra impact. Our enticing hampers include the ultimate in gourmet food baskets, celebration hampers, premium wine boxes and other personalised items.
Selecting The Best Corporate Food Gifts
Knowing your clients is a key ingredient when choosing the best corporate food gifts to send. You can never really go wrong with a gift hamper, but if you know if they're a foodie or a chocaholic it can help! Letting your customers relish in the luxury of artisan products and flavour sensations can be a unique experience.
Customising and personalising your corporate gifts will always leave recipients impressed. Not only with the attentive gesture but also the thought and attention to detail. As a token of appreciation, the very best corporate food gifts should be delicious and slightly decadent, meaning they will be a gift that will truly make an impression.
Here is our choice for 3 of the best corporate food gifts which will thrill without the need for any added alcoholic tipple.
The Best Corporate Food Gifts Are Branded
Here at The Hamper Emporium, we specialise in everything corporate. We love to produce extraordinary gift hampers that will not only set you apart from your competitors but make them smile.
Professional Branding Team
You can choose from our templates, but sometimes you might want an added touch. Our expert team is here to help at any time to assist with ideas or maximise your business branding. We are only too pleased to help!
Memorable Custom Food Hampers
We want to share the tastiest, most memorable, and best corporate food gifts available. Gifts arrive beautifully presented in our signature keepsake hampers, gift boxes or handcrafted wooden cases. Your gift messages are always personalised and attached to each individual gift hamper.
Gifts That Cater To Every Taste & Budget
Our gift hampers help to express your thoughts in a simply delicious way. From a luscious gift of creamy chocolates from the finest chocolatiers to one overflowing with gourmet artisan products. We'll help you to select the best corporate food gifts to suit your budget and clients taste.
Sophisticated Corporate Branding
We will happily brand all of your hampers with your company's chosen colours, logo and business card. Logo's are printed in gold or silver on luxury satin ribbon, and there are 12 design templates for gift cards. Of course, you can also work with our Graphic Design team to customise the best corporate food gifts that suit your brand perfectly.
Personalised Gifts
It always adds a personal touch and enhances brand impact to include a specially chosen gift. You can add branded hamper sleeves or wine wraps to complete your corporate food hampers. Or alternatively, choose a premium wooden chopping board with an engraved swing tag or a gorgeous keyring engraved with your company logo.
Bulk Ordering
No gift is either too big or too small here at The Hamper Emporium. We pride ourselves on giving each of our best corporate food gifts the attention it deserves, whether it's one or one hundred. Our Bulk Order Form can be used when there are over six delivery addresses or for multiple recipients at the same address. We are all just a phone call away.
Corporate Gifting Platform
Once you set up an account, you can enter addresses that you regularly use so that they can easily be used again. If you are planning to send the best corporate food gifts on a large scale, then we provide dedicated account managers for ongoing business. You can also manage your own hampers using our corporate gifting platform at www.myhampers.com.au!
Australia Wide Free Shipping
Yes, shipping is completely free across Australia, and you can even keep track of your deliveries online. When your order is dispatched, you will receive an email with your delivery tracking link so that you can watch it on its journey.
So, now you are all set to make a lasting impression by sending the best corporate food gifts to clients that matter. They will look fabulous and be packed full of quality products from infamous brands. There's nothing quite as welcoming as a surprise hamper to ease the strain of your client's hotel stay.
And yes, we can deliver them there too with a warm welcome note!