Wrap Up Your Work Before The Christmas Party
Author: Nikki Barnett Date Posted:13 December 2019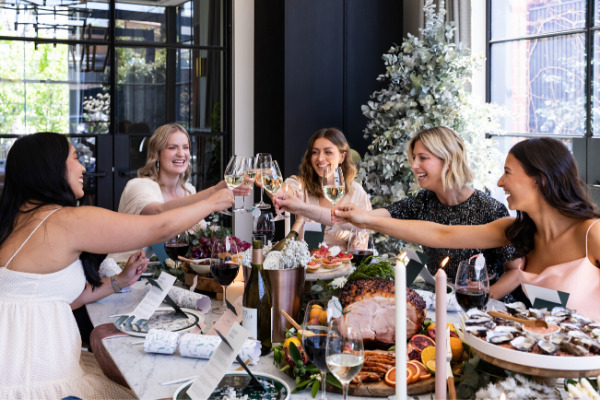 Let The Christmas Festivities Begin
Sometimes, finishing all your duties and jobs before the work Christmas party can seem impossible. If you have holidays booked over the festive season as well, it can feel like a mammoth exercise. But it really doesn't need to be!
At The Hamper Emporium, it's one of our busiest times of the year too, so we have to be well prepared in advance.
To help you enjoy your work Christmas party and well-earned holidays to the max, here are our handy pre-party tricks. Wrap up your work, switch off your computer, and let the festivities begin.
Planning Should Include Some Fun
We all look forward to our work Christmas party and the holiday season that follows it. If your party organiser read our blog about company Christmas party ideas, then it's going to be a momentous event! For some, it's just a simple matter of finishing up work as usual and getting ready to party. For the organisers, it's likely to be a day of stress and last-minute rushing around. If your type of work means you can't leave things unfinished, then you will probably feel like a ton of extra jobs are piling up around you.
It can be difficult to cram in this additional work, especially when you're feeling in Christmas holiday mode. It's really important not to end up working late for days to compensate for your work Christmas party blowout and time off. Planning is vital if you want a festive time, finishing work at a reasonable hour, and relaxing before the event.
Do it wisely, and there might even be time to tuck into one of our delicious Christmas hampers with your colleagues and have some extra fun!
Our 3 Top Tricks And Tips
1. Find A Quiet Place And Focus!
One of the easiest ways to zoom through your workload is to make a comprehensive list and then find the best place that works for you to power through it. If you need somewhere quiet, grab an office or meeting room. If working from home is your preference, then make sure you have planned this well in advance of the work Christmas party. Focusing on the jobs at hand will mean they are completed faster, and you will be stress-free!
Find the best venue

Clean out your drawers

Tidy your desk and filing trays

Make a concise 'To Do' list

Answer all outstanding emails

Set your 'Out of Office' email
2. Plan, Prioritise And Delegate
Many of us work longer hours during December trying to get as much as possible completed by the work Christmas party or Christmas Eve. For some, including us, it's also one of the most hectic and exciting times of the year. Deadlines and demands on your time can be overwhelming. So, take a step back and decide on the things that can wait. Some of your tasks might actually benefit from being left until the New Year. Prioritise your workload and prioritise which tasks need your immediate attention.
Once you have decided on the priorities, make sure you also delegate! Don't make the common mistake of thinking that only you can complete specific tasks; entrust them to other colleagues. It's an excellent opportunity to pass on some responsibility and clear the decks before the work Christmas party celebrations begin. There's no need to feel guilty about delegation; it's all hands on deck during the festive season!
3. De-stress And Don't Obsess
You really don't need to get every single thing done! It's great to tie up loose ends and complete tasks, but not at the expense of enjoying the work Christmas party. If you have holidays too, it's essential they don't become recuperation time due to the extra stress. Be efficient, complete what you can, delegate and de-stress. Then you can look forward to the fabulous evening ahead.
Leave yourself a 'to-do' list for your return detailing unfinished or postponed tasks and what needs your immediate attention. Remember, everyone's in the same boat, and it's the season of goodwill. So why not celebrate with your colleagues when you finish and wind down ready for the work Christmas party festivities!
Start The Party Early!
There's no reason not to start the festivities early and get the whole team to revel in the work Christmas party mood. What better way than by ordering a tempting hamper feast to share around? Club together, bribe the boss or treat them from your own pocket. Just make sure you reward yourselves!
Here are our top two choices for crowd-pleasing festive corporate baskets brimming with gorgeous goodies to share around.
Classic Celebration Hamper
Crammed with selections of meticulously chosen chocolates, treats and nibbles, this is a hugely popular choice. Deluxe handmade truffles, mouth-watering triple choc fudge, rich shortbread and crunchy nut mixes are just for starters. Then feast your eyes on the gourmet selection of savoury treats! There's also refreshing bottles of Cape Mentelle Cabernet Merlot and Moët & Chandon Brut Imperial NV Champagne.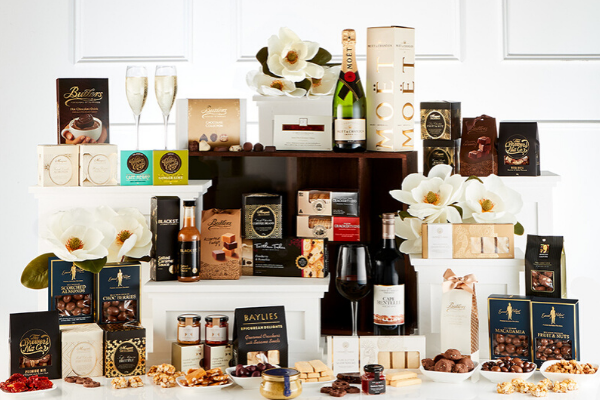 A deluxe hamper featuring an extended range of crowd-pleasing nibbles and treats.

It's the perfect way to reward yourself before the work Christmas party this year!
The Emporium Hamper
This delectable hamper has something delicious for everyone and more to spare. There's a huge collection of Ernest Hillier and Butlers finest chocolates, toffee brittle and crisp roasted nuts. For gourmet tastebuds, try Tasmanian truffle paste and salted caramel sauce or eggplant tapenade. Then, you can pop open the Dom Perignon Brut Vintage Champagne or one of the choice selection of sophisticated wines.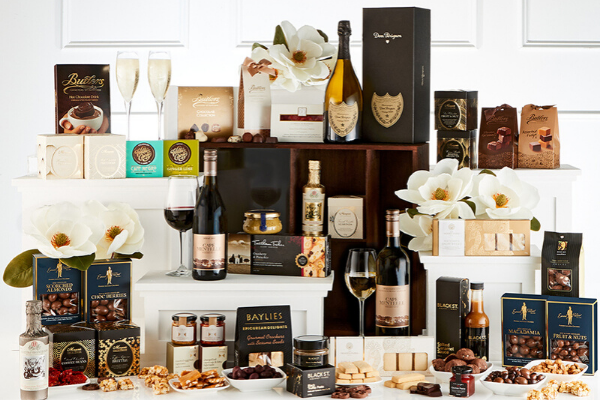 Exquisite Luxury for the finest of celebrations

Big and beautiful, this is sure to start the work Christmas party with a bang!