3 Ways To Celebrate His Birthday At Home
Author: Nikki Barnett Date Posted:23 March 2020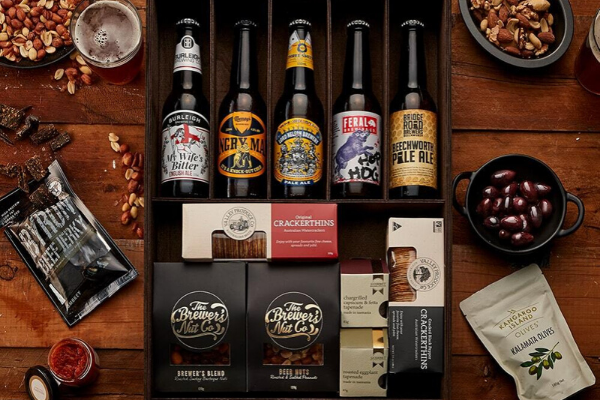 Fun Ways to Celebrate Long-Distance Birthdays With Your Loved Ones
When your friends, family, colleagues or loved ones celebrate a birthday, it should always be cause for some serious celebration!
Although we might not be able to hold parties or even come together for dinner, we can still enjoy a fun, new experience. If you're apart, for whatever reason, it's time to get creative and make someone's birthday extra special with unique holiday celebrations.
Here at The Hamper Emporium, we've been giving some thought to just some of the ways we can all share in festivities from afar. From crazy video parties to thoughtful care packages; delicious hampers to pampering gifts for men.
Start The Day With A Sunny Smile
Before you plan how to celebrate, it's important to know what that particular person loves. This is the key to success! If it's not someone close to you, then find out about their favourite treats, stores, pastimes, drinks or even small details like if they enjoy surprises. With family and friends, it's much easier to plan unique holiday celebrations that will always be remembered.
Birthdays should never be forgotten, and no matter the distance between us, we should try to ensure that a person feels thoroughly spoilt. You could even build-up to the big occasion by sending something exciting every day for a week before. Label each envelope or small gift with the day to open it and include loving messages, funny thoughts or meaningful photographs. Whatever you decide to do, these small acts of love will be much appreciated.
The morning of your birthday should always be magical too! It's a feeling we can enjoy at any age, not just as a child. It's wonderful to phone or message early and plan some fun surprises to greet the birthday person. It can be anything from personalised gifts for men in your life to colourful balloons, or even a tasty breakfast delivery! It's all about starting the day off with a smile and sending love across the distance.
12 Simple And Small Ways For Everyone To Celebrate
Here are some easy and inexpensive ways to wish someone a wonderful birthday from afar. Spread some joy and happiness by personalising your unique holiday celebrations this year:
Write a handwritten letter - it may be old fashioned but it speaks volumes

Make your card - there's nothing nicer than a homemade card to show you care

Send a cheery bouquet of flowers - choose tulips or colourful Gerber daisies

Leave some favourite treats or sumptuous chocolates on the doorstep

Tie beautiful birthday balloons to their doorknob or car door

Hide special small gifts in their mailbox or on a garden treasure trail

Email them a special gift card for their favourite online store

Sneak onto their patio and leave pots of pretty flowers

Take them on a virtual shopping trip - and get your wallet out

Phone them up and sing a cheerful rendition of Happy Birthday

Order their favourite drink or food for breakfast, lunch, or dinner

Send them fun photo memories to keep forever
Unique Holiday Celebrations For That Special Person
Of course, if you're looking for a really special way to wish that certain someone "Happy Birthday", then it needs to be something memorable! Just because you can't be together on the day itself, doesn't mean it can't be a wonderful time to share. Unique holiday celebrations are actually quite easy to plan today, even across the miles.
Here are just a few fun ideas to get you thinking!
Make His Very Own Birthday Party Box
Making your own "birthday in a box" is a super way to send your love to your partner and have some fun at the same time. Choose a theme and then create some magical moments with gifts for men that will make him smile all day. You can select some essential party ingredients and then add a selection of his favourite things or your personal gifts for men that will blow him away!
Card

Balloons

Blowers

Party Hat

Confetti

Birthday Banner

Candles

Sweet & Savoury Treats

Mini Birthday Cake

Your Personal Gifts

A Personal Video From You To Him
Technology today means that you can very easily record yourself performing Happy Birthday or a special song or message. You can then send it to him privately, or shout your love out loud and make it public on YouTube or Facebook. Or why not use one of the new websites or apps that allow you to create video montages? In just a few minutes you can send messages and photos from family and friends the world over. As unique holiday celebrations go, how special is this?
Hold A Film Night With A Difference
Being separated doesn't mean that you have to miss out on a date night either. Modern apps like Zoom mean that you can even synchronise watching your favourite film together, wherever you are. You can video chat first, share a birthday toast and then settle down on the sofa with a classic movie. As you can share your experiences, be sure to remember to have some chocolates, popcorn and birthday cake on hand.
Throw A Virtual Birthday Party
Skype, Zoom and Facetime allow you to immediately connect with others across the globe. Why not arrange a virtual party for him, with all his oldest friends and family? You can make it even more of a fun surprise by sending out party bags to them all beforehand. Include an invitation, balloons, a hat or some fun ideas for party games. It will undoubtedly be an evening of entertainment and hilarity. You can even watch his face as he opens all the gifts for men you sent!
Send Him A Fabulous Gourmet Hamper
If time is a constraint, then a fabulous idea is to send him a luxurious gift for men from The Hamper Emporium. Surprise him on the day itself with an extra special delivery of succulent gourmet treats and delicious nibbles. You can choose from savoury or sweet selections and add in a bottle of his favourite drink, from wine and whisky to beer and cider. Or choose a distinctly masculine pamper hamper with personalised leather accessories!
Browse through our full range of hampers and start planning the next long-distance birthdays and unique holiday celebrations today!