3 Reasons Your Wife Needs A Luxury Pamper Hamper
Author: Nikki Barnett Date Posted:20 April 2020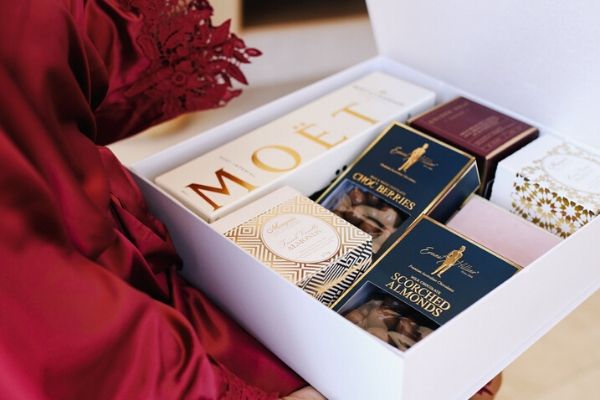 Why She Deserves to be Pampered
Love never needs a reason, and neither should you. It's always a great time to surprise and spoil your wife with a gift to say, 'I love you'. When you give a gift 'just because' you are really showing your wife that she is on your mind and you wanted to do something nice for her. These sorts of surprise gifts are wonderfully important for keeping your relationship spontaneous and intimate.
If you're already a romantic at heart, and you love buying surprise gifts for your wife – thank you! We assure you that your wife loves you for it. If, on the other hand, you're like most men and you wish you knew how to surprise your wife but you never know what to get her, or if it's a good idea to buy a present, we're here to help.
As Australia's premier supplier of gift baskets and pamper gifts, we can help you to choose the best gift to buy your wife, and help you to know when it's a good time to buy an extra special gift for her.
Why You Should Buy Your Wife a Luxury Hamper
There are three important reasons why you should buy your wife a luxury pamper hamper:
1. For a special occasion like her birthday, Mother's Day, Valentine's Day or anniversary.
2. To show your appreciation for everything she does for you and the family.
3. To nurture and strengthen your marriage.
Buying the best gift for your wife should be easy! So, we're here to help with all the gift inspiration you need to nail your next gift buying occasion.
Special Occasion Hampers For Your Wife
If you're buying a present for a special occasion, and you know you need to really impress her, but your wife hasn't given you any hints about what she would like, we have the answer!
If you need a luxury pamper hamper for your wife for a special occasion like an anniversary or Valentine's Day, make sure you choose a more romantic hamper suitable for a celebration. A gourmet food hamper, something with chocolate, or a gift basket with Champagne are appropriate for a romantic special occasion you are celebrating together. If you need a gift box for a more personal special occasion like her birthday, Mother's Day, a promotion at work, a Christmas hamper, or a special gift just for her, then a luxury pamper hamper full of things she'll enjoy is exactly what you need. A hamper packed with luxurious skincare products, body cream, perfume, a scented candle, and other goodies to make her feel like a queen is the perfect gift for your wife on these sorts of special occasions.
If you want a little something just to surprise her by having a gift delivered to work or home to let her know you are thinking of her, we have a range of wine and sweet treats hampers for under $100 that will make her feel loved. Don't disappoint her on this important occasion. Choose a present to make her smile. She'll be delighted with your incredibly thoughtful gift.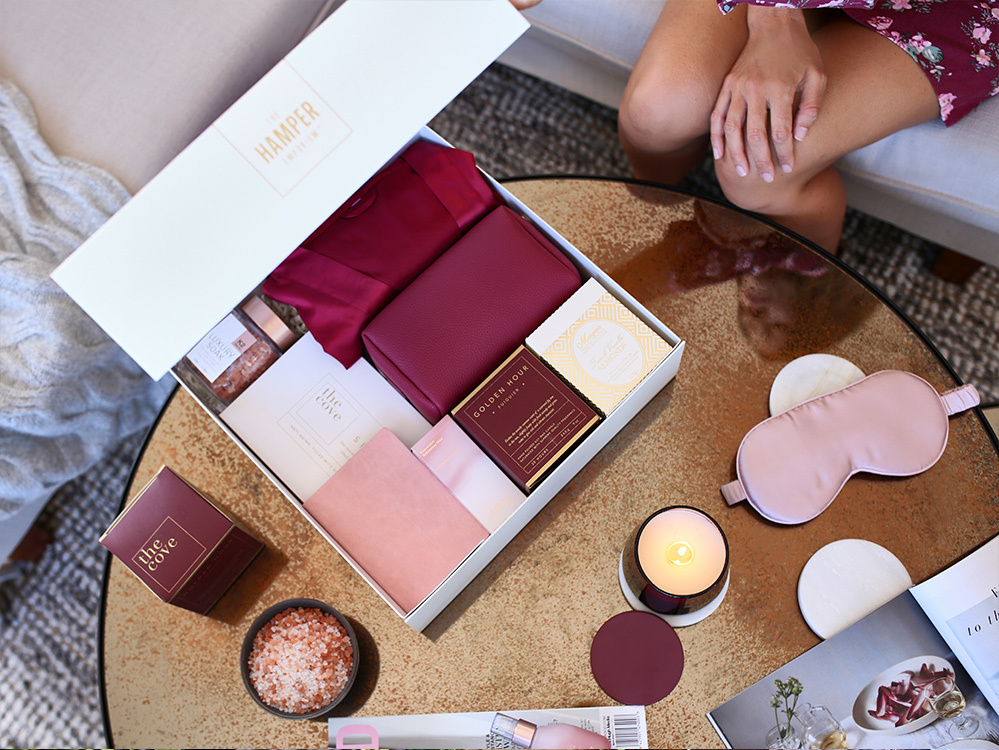 A luxury hamper is sure to delight her. We love the Jurlique Rosewater & Mulberry Silk Hamper!
An Indulgence Hamper To Show Your Love
Luxurious hampers for women are the perfect way to show your appreciation for everything your wife does for you and your family. We've all heard the saying, 'happy wife, happy life'. While it does make a fun joke, there's more than just a little bit of truth in it. Your life together is more likely to be filled with happiness if you both feel loved and cherished. It can be easy to get wrapped up in the busyness of life and forget to make time for the small, but important, things like reminding one other how much you love and value each other. Do you remember the last time you did something just to make your wife feel special? If you don't remember, then there's a good chance your wife doesn't either. One of the easiest ways to make your wife happy is to remind her how special she is to you. She deserves to be pampered.
When things are the most hectic and you are both busy, that's the exact time you need to step up and make an effort to show your appreciation. Your wife needs a luxury pamper hamper as a token of your love. Your gift might include a bottle of wine, chocolates, gourmet food, or beauty products. Choose a gift to make her smile and that captures your sentiment.
A luxury pamper hamper is the sort of gift that says, "Put your feet up and relax". If your wife deserves a break from her busy schedule and you want a gift that clearly says that you know how hard she works and you want her to take time out for herself, then a luxurious relaxation hamper is the best gift for her. Our pamper hampers for women include an assortment of pamper gifts just made to relax and rejuvenate. Our premium L'Occitane Cherry Blossom & Chandon hamper for women includes everything you need for a special gift for her.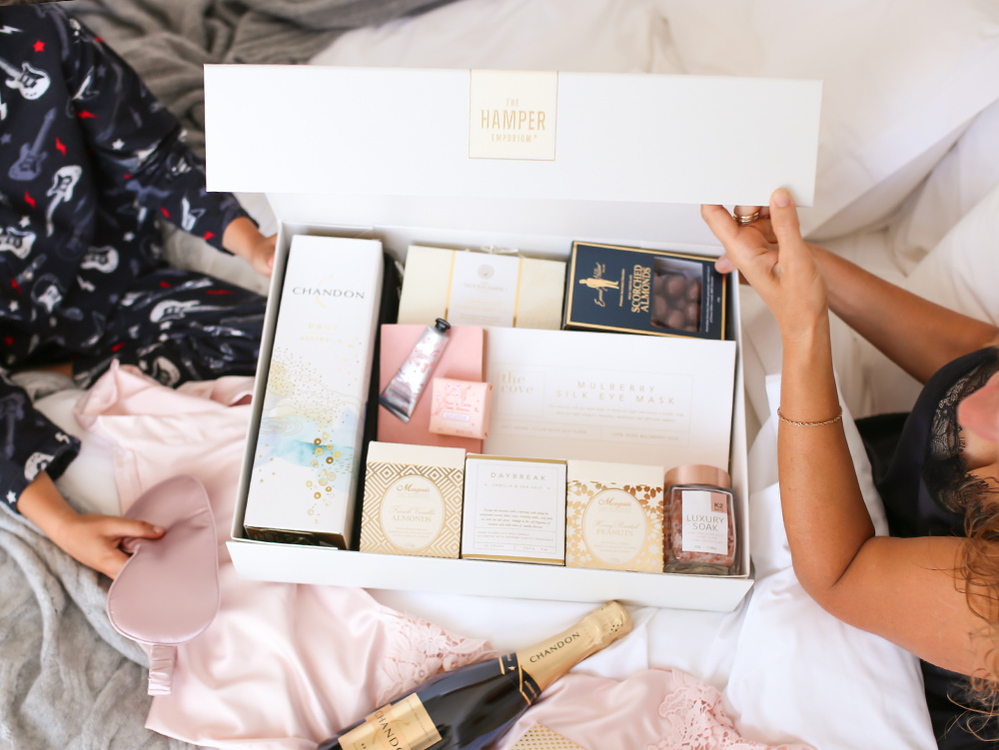 Our stunning L'Occitane Cherry Blossom & Chandon hamper is the perfect romantic gift.
A Romantic Hamper To Share As A Gift For Your Wife
One of the best ways to strengthen your relationship with your wife is by showing her how much you love her. Sometimes, the act of giving can mean more than words. We know how hard it can be for a husband to give the perfect gift to his wife. Even when you have been together for many years, it can still be hard to know just what to buy as a gift to surprise your love. For some reason, it's always hardest to know what to give your spouse when you really want to get it right.
The true importance of a gift for your wife is the meaning behind it. Make sure you choose a gift that clearly expresses your feelings. This doesn't have to be the most lavishly expensive gift. A personal gift that shows you've put some thought and effort into choosing something she'll love will always be more touching.
There's no better gift for your lover than something you can share and enjoy together. Create memories by spending some quality time together. A luxury hamper for couples will create an incredible experience for you to enjoy together. Show your wife how much you are still in love with her by giving her a gift that includes time spent with you.
Go above and beyond with a truly incredible gift to express your love. Plan a decadent feast with gourmet nibbles, sweet treats, fine wine, and you. Any hamper with a bottle of Moët Champagne will very clearly show her that you want your gift for her to be special. If your wife loves gourmet nibbles, the Vintage Moët Hamper will be the start of a beautiful evening.
The Ultimate Foodies Hamper with Moët will have all your bases covered with chocolates, gourmet food, and Moët & Chandon Champagne. This is one of the best hampers for men and women to enjoy together for a romantic evening. Light a candle and spend the evening enjoying fine food and each other's company.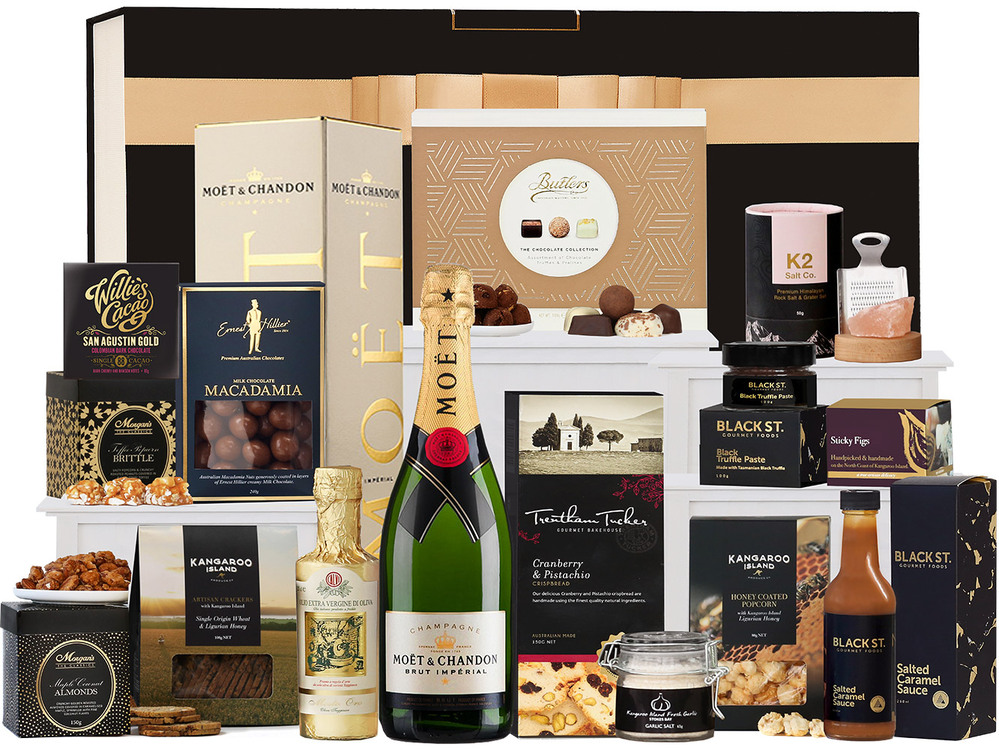 Go the extra mile with the Ultimate Foodies with Moët Hamper.
What sort of gifts do women prefer?
Quite often, the best pamper hamper is one that you choose with your wife's preferences in mind. If she loves long relaxing baths, then a gift hamper full of lovely scented skincare products and bath soaks will be just perfect for her. If your wife doesn't enjoy pampering skincare, but instead loves to cook, then a gift hamper full of incredible artisan foods and gourmet treats will be more impressive. If your wife has a sweet tooth, then she'll know you were thinking of her when you chose a hamper full of the finest gourmet chocolates and sweets.
Your wife deserves to feel loved and know that you cherish her and your relationship together. Remind her every day that she means the world to you with simple gestures of love like making her a priority, truly listening when she speaks, spending time together, and the occasional romantic gift to delight her.
Small, regular gestures make a world of difference to maintaining a strong relationship with your spouse. But occasionally spoiling your wife with a more lavish gift is a simple way to bring joy and really make a wonderful impression.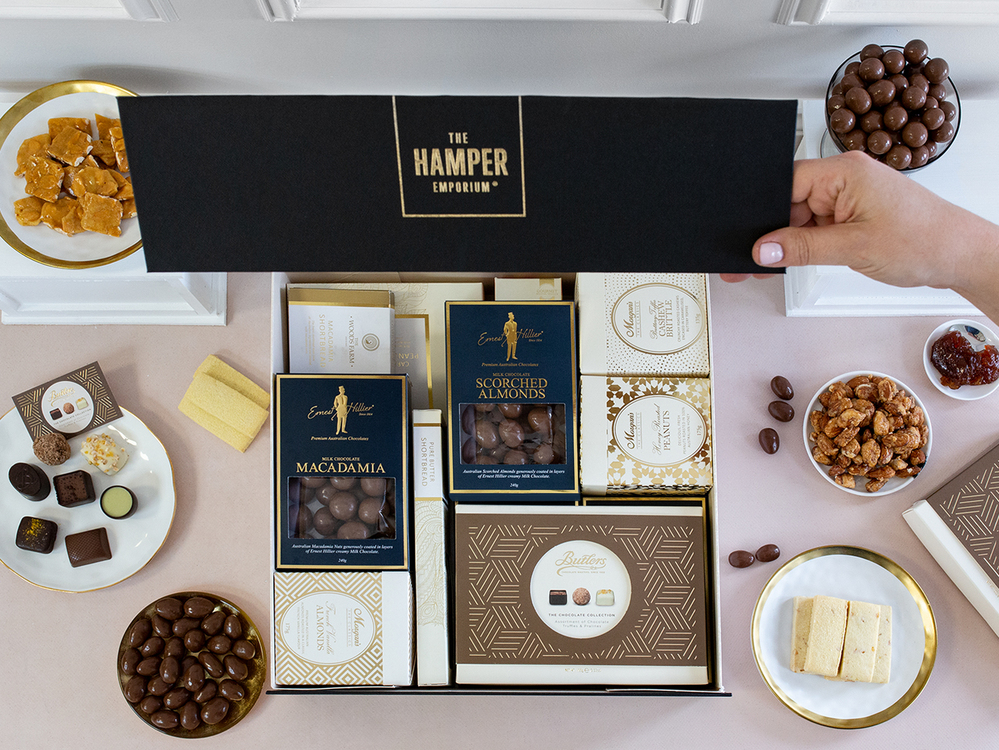 Indulge her sweet tooth with the Sweet Epicure Hamper.
Include a personal message with your gift delivery
The team at the Hamper Emporium is here to help you choose the best gift for your wife. We offer fast and free delivery Australia wide. And we have a range of delivery options to suit you. We offer gift delivery direct to her residential or work address for a sweet surprise. If you need express delivery, we can help with same day or next day delivery options in major cities throughout Australia.
All our gift baskets come with the option of a free personalised gift card. Make every moment count by including a premium card with a sweet message to your wife. Luxury pamper hampers are the best gift to show your wife you love her.