3 Things A Baby Gift Hamper Should Contain
Author: Nikki Barnett Date Posted:25 May 2020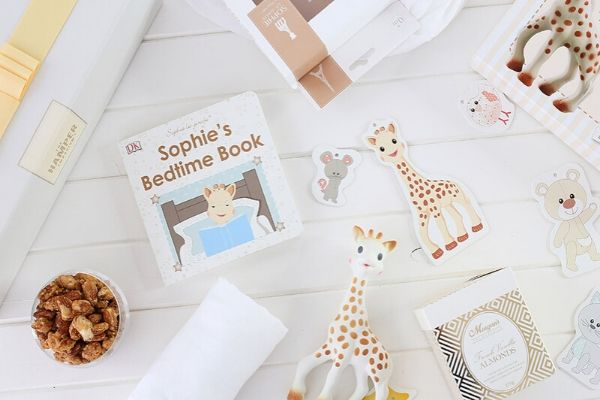 The perfect baby gift hamper
When you're selecting a gift for new parents, it can be easy to get overwhelmed. Do you get them something practical or indulgent? Would they prefer sweet mementos or useful, everyday items? Welcoming a baby into the world is a time full of unique joys and challenges. You want to equip the parents and bub for all the glorious firsts, as well as the sleepless nights. Here are the three must-have items that will make your baby hamper unforgettable.
Nurturing baby skincare
When sourcing baby skincare to gift to a newborn, it's important to find products designed specifically for babies. That may seem obvious, but you'd be surprised! Many products on the market are advertised as being suitable for both baby and adult skin. This isn't ideal, as both need vastly different care! Ensure you're giving bub the care and attention they need by choosing products that don't irritate or dehydrate their precious skin.
At The Hamper Emporium, we only select baby products that:
Use hypoallergenic ingredients

Maintain the pH balance of a baby's skin

Are free of parabens, dyes and phthalates

Do not have alcohol or harsh chemicals in them
Two of our baby skincare range suppliers
L'Occitane
This well-known French skincare company has produced the delightful Shea skincare range for babies. Used as a cosmetic ingredient for many years, Shea butter is the fat extracted from the nuts of the Shea tree. It has a lovely creamy texture and is suitable for even the most delicate of baby skin.
The Shea tree is one of the world's most sustainable products. Found in the Western Africa savannah, they are native to the area and grow freely, not in dense plantations. Shea butter also contributes to the local economy and habitats.
The Hamper Emporium includes a range of L'Occitane products in some of our Baby Hampers, like the Iconic Baby Essentials Hamper. These fantastic hampers can also be purchased with the addition of a gourmet gift, or a fabulous bottle of Moët & Chandon Brut Imperial NV Champagne.
Jurlique
This holistic company began almost 30 years ago. Its goal is to achieve a unity with nature, preserving nature's integrity with the production of pure and authentic skincare. Their skincare is always a perfect gift for special occasions for any mum and dad, but in our baby hampers it is only for bub!
Jurlique is an established Australian company and has earned a well-deserved reputation for their primarily natural approach to skincare alongside their extensive knowledge of advanced biodynamic* and organic farming techniques help us avoid synthetic pesticides and herbicides. For 30 years+ their sustainable farmland, in the Adelaide Hills, produces 'undiluted nature' directly to your skin.
The baby creams, oils and shampoo for babies has been dermatologist and Paediatrician tested, ensuring only the best for your baby.
Fabulous baby toys
Baby deserves only the best, and we keep this in mind when selecting the toys for our newborn gift hampers. It's important that each toy serves a function beyond just how it looks. To give the little one the best possible start in life, we curate a range of books and toys that stimulate the five sense of a newborn. Many of our gorgeous toys are also eco-friendly or borne of sustainable farming techniques. That's why these toys are truly a gift they will adore!
Two of our baby toy suppliers
Sophie La Giraffe
This delightful brand is beloved around the world, and over 60 global awards prove it. This French company has been producing Sofie La Giraffe since 1961. The particular date was May 25th, Saint Sophie's Day, and that is how this adorable giraffe got her name! Sophie La Giraffe is a timeless and cross-generational toy.
Made with latex from sustainable farms in Malaysia, there are fourteen manual steps involved in creating Sophie. This includes being painted by food dye. The finished result is a gorgeous toy that will be beloved by bub and parents alike. Sophie La Giraffe is excellent for when a baby is teething.
Sheridan
Sheridan's Sebastian Bear is so loveable. He's soft, cuddly, and ready to be baby's new best friend. Even though he's made to bring joy to baby, he's also a favourite among parents... after all, who wouldn't love this bundle of joy? His gorgeous white coat with grey features make him the perfect addition to any nursery. Sheridan was founded by a passionate environmentalist. That's why the company is devoted to reducing the environmental impact of their products and work
Adorable baby clothing and wraps
Clothing bub is so important! New parents can be especially conscious of the materials that go near their child while they're developing and growing. If you're gifting a little one with clothing or wraps, make sure you choose only the best fabrics to keep them safe. Source soft, safe and practical attire for peace of mind.
Two of our baby clothing and wrap suppliers
Pure Baby
The ethos of this Australian company is to keep their products simple and beautiful by being aware of how they are produced and manufactured, maintaining a high level of social responsibility in both. Certified organic cotton is used in the production of the beautiful garments that are designed for functionality, the ability to let the baby's skin breathe and strength.
Bubba Blue
An Australian company with a passion for what they do and how they do it. Environmentally aware, none of their products contain harmful chemicals or dyes and are grown and manufactured using socially responsible methods. Bubba Blue are passionate about looking after the world new babies will grow up in.
Choose only the best
Welcome a precious new baby into the world with a memorable gift basket. For peace of mind, make sure you select the best products for the little one to cherish. It's a momentous occasion after all! Take advantage of our FREE Australia-wide delivery the next time you're shopping for a newborn.
While you're at it, why not add in an indulgent gift for the new parents as well? They're working hard and definitely deserve it. Browse our range of baby hampers online today with fine champagne and nibbles for the grown-ups alongside precious gifts for bub.